Our 5,000 mile wedding fundraiser!
$370
of $5,000 goal
Raised by
8
people in 61 months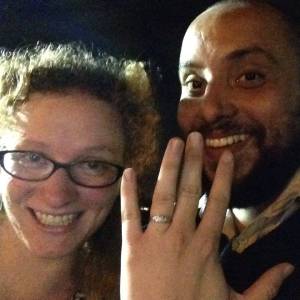 Our love is priceless but our wedding, unfortunately, is not.
Our story is nothing short of a miracle. God created US and put the pieces 5,000 miles apart so they could grow and hurt so that when he brought them together they could truly appreciate Him and His work in doing so. And we do.

Boy meets girl. Boy falls in love with girl. Boy gets down on his knee and looks up at her with his big brown eyes and says, "I want you to be my wife. Will you marry me?" Girl nods like a bobble head doll with a goofy grin and a "Yeah!!"

Now, rewind: I graduated in May from Heritage University's HU105 Teacher Preparation Program and by June I didn't have a job and was pretty convinced that I wasn't going to get one. With the encouragement of my mother I looked into missionary schools. I found Crossroads Christian Academy in Panama. Panama. It's only about 5,000 miles away from the only home I had ever known. But there was a peace in having the words come out of my mouth, "I am moving to Panama to teach fourth grade at a Christian school."

Upon arriving in Panama I, almost immediately, formed a new family. On Facebook I got friend requests left and right from new people who were reaching out to love me. I ran unfamiliar names (such as George Waffles) by my roommate to make sure they were safe to add.

There is something you need to know about me. I have a few different passions in my life: Jesus, children, and cats. So when this George Waffles character would post pictures or funny things about his cat, naturally it caught my eye. On August 30th, George and I had a 20 minute long comment conversation about cats. That was the when I fell in love. Yep, over a cat conversation. I didn't know that's what it was then but I knew whatever it was it was strong and it wasn't going away.

For George Waffles (Jorge Sucre), he will tell you that it was like getting hit in the head with a hammer. He was doing the simul-translating at church when the teachers were being introduced and when he saw this curly, redhead fourth grade teacher walking to the front of the sanctuary he was so caught up in her beauty that he actually missed a couple lines while translating. Love at first sight?

Now let's do a little back tracking for George too. At the strike of midnight (or there a few minutes after) George got with his mom, his sister, and his niece and they prayed for the things they desired most for God to provide them for on the coming year. George had been single for 8 years and had come to accept the fact that he would probably live life as a single man, but you see George is absolutely a family man and desired to have one of his own. He prayed, hand-in-hand with those ladies, for God to introduce him to the woman who would become his wife. He was very specific in things he desired for his wife. God did not disappoint. (In fact, according to George God went above and beyond everything he'd asked for.) There I was, Jana Fortune, fourth grade teacher.

After the cat conversation, George and I talked a bit online and he invited me to play board games at the home of a mutual friend. We played Dominion. I would just like to throw in that I technically won the first round, thank you. We had a lot of fun and no one spilled water on the game. This whole time there was this swelling feeling of happiness, peace, and this is where I am supposed to be. Later that night, George asked me to go to the movies with him. I agreed. We decided to go out to ice cream instead so we could actually talk and learn more about each other.

We shared our life histories, our deepest darkest secrets, our hopes, and testimonies. We decided to date. And then when George got home that night, God told him no. God still had work to do in me and wouldn't be able to reach me if I was distracted in a relationship. George told me that he didn't think we could be together, that I wasn't ready for it, that I needed to work on my relationship with God first and I didn't like it. But I realized really quickly he was right. I put a lot of focus into God and where I was spiritually. I learned a lot about myself in that time and I think that George "breaking up with me" was the best thing he could have possibly done for our relationship. We decided to just be friends. The love feeling never faded. It only grew. Finally it became too much to deny anymore and after a few meetings with the pastor we finally decided to date again. For real.

We already knew we were in love - but we were careful with the words. We didn't want to say it out loud until we solidly confident in where God was leading us so we said "I like you. A lot." and shared knowing looks until one evening, over hot chocolate and strawberry cheesecake at the Boulevard , George was taken by my reaction of horror in hearing some foul language and knew right then and there, without a doubt. "Jana, I love you! ... I love you!" "I love you too, Jorge." We held each other very tightly and smiled as we were finally to admit out loud the not-so-secret secrets of our hearts. We walked across the street to watch the lighted fountains dancing to the beat of the techno music for a while and then walked back to the car. Would you believe it? There were fireworks. I mean, big, bright, sparkle in the sky fireworks. That is actually the moment where the profile picture is taken. After we announced our love and while watched the fireworks.

At that very first ice cream date, George and I both disclosed that we weren't interested in dating for the sake of dating. Our intention with dating is to find the person God created for us to spend the rest of our lives with. It was really a no brainer at this point, though new into our "official" relationship we started talking about wedding details. After talking, planning, and moving dates around, and building a relationship with my dad to the point where he proposed to George, George proposed to me at the top of the stairs of the administration building, looking down at the Goethals fountain where we had spent so many dates. It was our special place. It was the perfect place.

We getting married June 28th, 2014 in my hometown. George and I will be flying from Panama about a week before our wedding and flying back about a week after. Our wedding is simple but any amount of donation to helping us bring our dream wedding to life would mean the world to us.



Our budget comes up to right around $5,000 and so it turns out that we are asking for a simple dollar for every mile we were apart!
Donations will help cover typical wedding costs, hotel, food, flights, men's attire, George's visa to get to Washington, my visa so I can stay here after we are married, and if there is anything left over at all it will go toward us building our home together.

Thank you so much for helping us have a seamless start to marriage! God Bless!
+ Read More
Be the first to leave a comment on this campaign.