89
9
Jason Kao Hwang to Record "Blood"
$6,320
of $6,000 goal
Raised by
91
people in 7 months
My name is
Jason Kao Hwang
. I am the jazz violinist, composer and leader of Burning Bridge, an octet of Chinese and Western instruments. The music you hear in the video is from our first CD.
I am grateful beyond words!  Through the generous donations of 91 people, this campaign raised $6280 by the March 1st deadline.  This exceeded our goal of $6000 to pay for the musicians of Burning Bridge, recording and rehearsal studio fees and transportation costs to record my composition, 
Blood
.  The additional funds will be applied to the CD mastering. My deepest thanks to all of you for your generous support
The recording was completed this past weekend! I am thrilled with our performance! Here's a photo from taken at the end of the session. Tired but happy faces!
Left to Right: Joseph Daley (tuba), Andrew Drury (drum set), Ken Filiano (string bass), Jason Kao Hwang (violin), Steve Swell (trombone), Sun Li (pipa), Taylor Ho Bynum (cornet/flugelhorn), Wang Guowei (erhu)
Though the campaign is officially over, I am leaving this site up for those who wish to contribute to the final production costs.
The composition:  Blood

One evening, while driving down an unlit highway, my headlights flashed upon the bleeding carcass of a deer. My heart rate thundered and air abandoned my lungs with explosive force as I swerved away, narrowly avoiding a collision. This shock to the senses made me reflect upon my mother's harrowing experiences during World War II in China. She was in a pharmacy that was bombed by the Japanese. Knocked unconscious, she awoke as the lone survivor surrounded by the dead. I also thought about the musicians I've worked with who fought in Viet Nam, like Billy Bang and Butch Morris. The magnitude of pain and sorrow that they endured is unimaginable. 
The composition
Blood,
which utilizes improvisation and written score, meditates upon the emotional traumas of war retained within the body as unspoken vibrations that reverberate throughout communities and across generations. Through
Blood 
the violence of deeply held memories are not relived but transposed into our sound. 
Blood 
in our sound rises within our voice to protest and defy humanity's constant state of war.
Blood
is liberated into our song. 
Blood
regenerates and flows into wholeness and strength.
Blood
premiered at the Edgefest (Ann Arbor, MI) in 2016, and was also performed at the 2017 Vision Festival (NYC).
The music and the band is ready to record!
The Musicians of Burning Bridge

1st row:
Sun Li
(pipa),
Taylor Ho Bynum
(cornet/flugelhorn),
Andrew Drury
(drum set)
2nd Row:
Ken Filiano
(string bass),
Wang Guowei
(erhu),
Jason Kao Hwang
(composer/violin),
Joseph Daley
(tuba),
Steve Swell
(trombone)
With Burning Bridge, the boundaries of aesthetic sensibilities, cultural assumptions, and my own personal history are set ablaze. We burn bridges between the traditional roles of the ensemble's instrumentation—whether jazz, classical, or traditional Chinese—to forge a single musical voice that resonates with distinct cultural overtones. With the poetic complexities inherent to this sound, the music possesses all the attributes of any human being.
I have worked with most of the players for over a dozen years.  Our long history together contributes mightily to the music.
The band was founded in 2009 with a grant from Chamber Music America/New Jazz Works. Our first CD
Burning Bridge 
was chosen as one of the Best Jazz Recordings of 2012 by Kevin Whitehead (NPR, Fresh Air); Ed Hazell (Jazziz), Robert Iannapollo (NYC Jazz Record), Steve Koenig (Acoustic Levitation), Giuseppe Segala (All About Jazz, Italy) and Lloyd Sachs (JazzTimes). The 2012 Downbeat Magazine Critics Poll selected me as the Rising Star for Violin. Here's a link to all our
reviews
on my web site.
 Chamber Music America recently featured us in the summer 2018 issue of their 
magazine.
We've performed at the Edgefest (Ann Arbour, MI), Freer Gallery (D.C.), Festival de Musique Actuelle (Canada), University of Massachusetts, Flushing Town Hall (NYC), Vision Festival (NYC), Roulette (NYC), Chicago World Music Festival, and the Bop Shop (Rochester, NY).  
Here's a link to my
bio
. Here's a link to the first
Burning Bridge CD
on Bandcamp, where you can listen for free.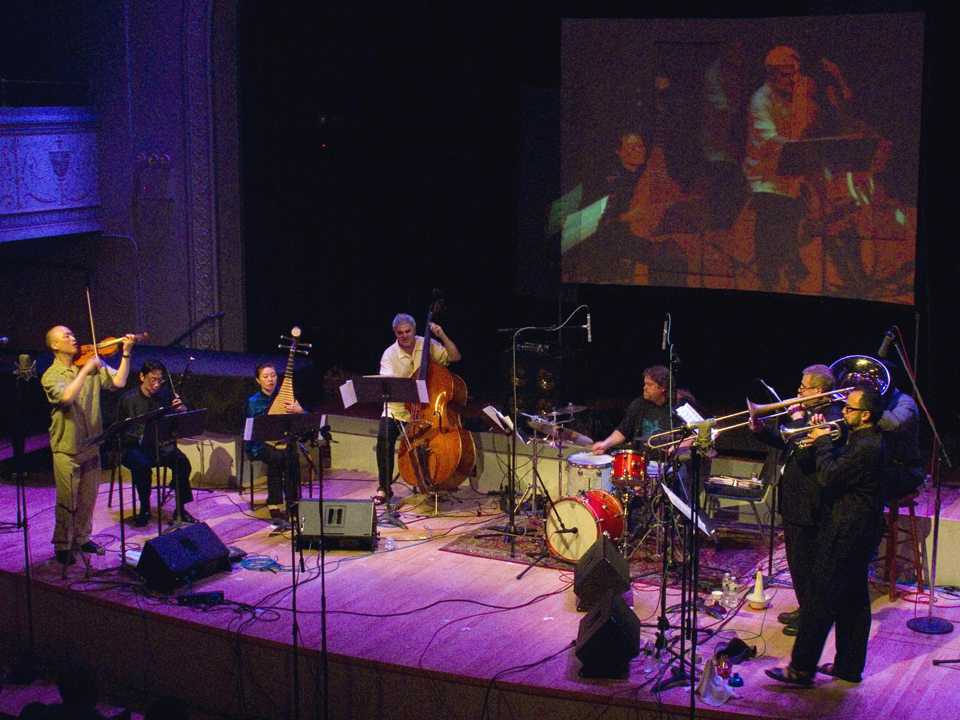 Budget

The fundraising goal of $6000 will pay for the musicians, rehearsal studio rentals, and transportation costs. If there is a surplus, funds will be applied to the recording studio, mastering, and CD production costs. I will not receive any money personally.
• 7 Musicians (not including myself on violin) @ $750/each = $5250
• 6 hours Rehearsal studio rental @ $65/hour = $390.00
• Tolls and Gas = $360 
I hope you will make a contribution.  Also, please help by sharing this link to your  friends and family via e-mail, Facebook or other social media.
Thank you!
Best wishes,
Jason Kao Hwang
+ Read More
Update 1
4 months ago
Share
Dear Friends,

I am grateful beyond words! My deepest thanks to all of you! Through your generous donations, from all 91 of you, the GoFundMe campaign raised $6320 by the March 1st deadline. This exceeded our goal of $6000 to pay for the musicians of Burning Bridge, rehearsal and recording studio fees and transportation costs to record my composition, Blood. The additional funds will be applied to the CD mastering.

The recording sessions took place March 11th and 12th at Kaleidoscope Sound in Union City, NJ. I am thrilled with our performance! So blessed to be working with creative and virtuoso musicians. Thank you Joseph Daley (tuba), Andrew Drury (drum set), Ken Filiano (string bass) Steve Swell (trombone), Sun Li (pipa), Taylor Ho Bynum (cornet/flugelhorn) and Wang Guowei (erhu)! Thanks you Kyle Cassel for your outstanding engineering. The tracks sound great!

Attached is a photo taken at the end of the day! Tired but happy faces!

As promised, for those of you who did not want to be anonymous, I have thanked each of you on my website.

I will send you all the gifts associated with your donation when the CD is released this fall.

Thanks again!

Best wishes,

Jason

+ Read More