Help Restore Livelihoods Haiyan Appeal
£5,573
of £1,000 goal
Raised by
45
people in 62 months
We believe that the most powerful way to help those in the wake of Typhoon Haiyan is to give the families the tools to make a living wage and lift themselves and their communities out of despair and destruction.
"...Not just giving fish to feed people for one day, but giving them the means to feed themselves for a lifetime."
Direct help for the hard-to-reach, hardest hit areas of the Philippines
Many lost their lives and many more lost their homes & livelihoods --- an estimated 5.5 million people affected, almost the size of Singapore's workforce! Whilst most of the media attention and relief aid is focused on provincial capitals such as Tacloban, we would like to funnel support DIRECTLY to the remotest islands where international aid has been extremely limited.
Thousands of families in the coastal municipalities of San Remegios, Bantayan, Madridejos and Santa Fe in Cebu rely on fishing for survival. But after typhoon Haiyan wiped out entire communities, their hope for survival was destroyed together with their fishing boats. (see map below)
How your money will help
Your donation is not merely a hand-out but a start-up funding to restore their livelihood, pride and lives. Here's how your money may be spent:
£10 would provide a family with "" nets
£25 would provide a family with "" hooks and fishing line
£50 would provide a family with"" fishing rods
£100 would provide a family with"" refurbish a damaged boat
£250 would provide a family with""a "BANCA" (boat in Filipino) and all the equipment they need to make a living. We hope to provide 330 boats for 330 families in target municipalities. #giveabancatoday
100% of your donation will go directly to the those communities affected. The materials will be locally sourced, therefore help can reach people fast, its environmentally friendly and it supports the local economy.
Who you will be helping
We want to help families who are struggling to bounce back so they include those who have family members / children with disabilities.
We will get updates from the families who will share with donors how the money is helping.
Safeguarding their future

The supported families are then able to in turn help their local communities to rebuild by contributing to the CALAMITY FUND helping the local people move forward with dignity and support one another into the future.
Supporting a local charity

We will be supporting the work of VSO Bahaginan, an independent charity based in the Philippines committed to fight poverty and disadvantage through a wide range of volunteering development programs.
VSO Bahaginan have worked in the affected areas before the storm and able to navigate the local context through their long-standing partnerships with the local communities and authorities. They are able to articulate needs and respond faster and with greater transparency and effectiveness.
See their work here.
Stories and photos: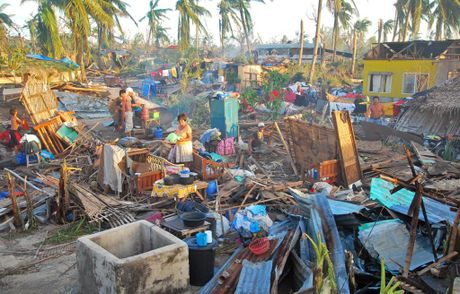 Filipinos clear up the debris of what is left of their homes after Super Typhoon Haiyan swept through in Bantayan Island, Cebu province.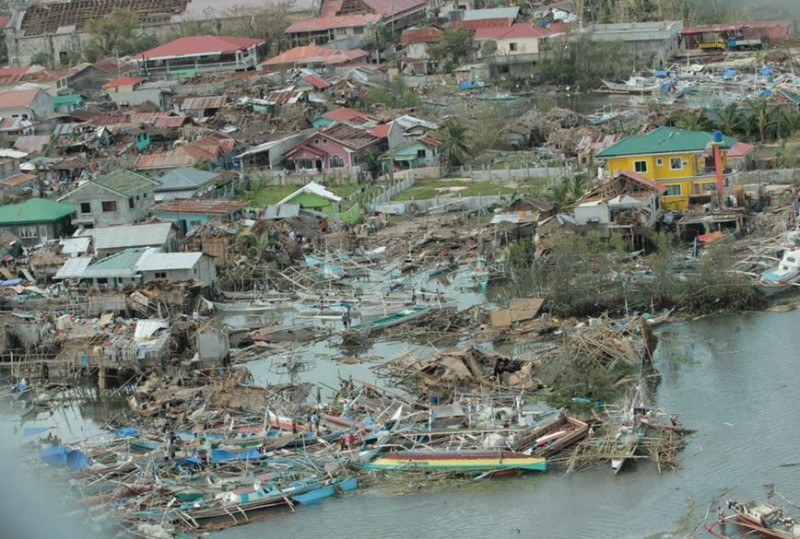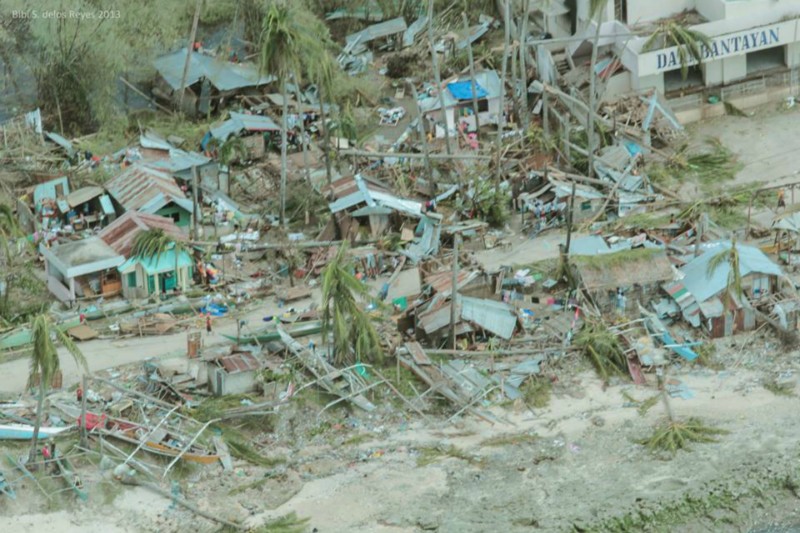 News reports say roads in the localities are either damaged, flooded, or blocked by debris, making it impossible for vehicles to pass through and bring much-needed relief goods to typhoon victims.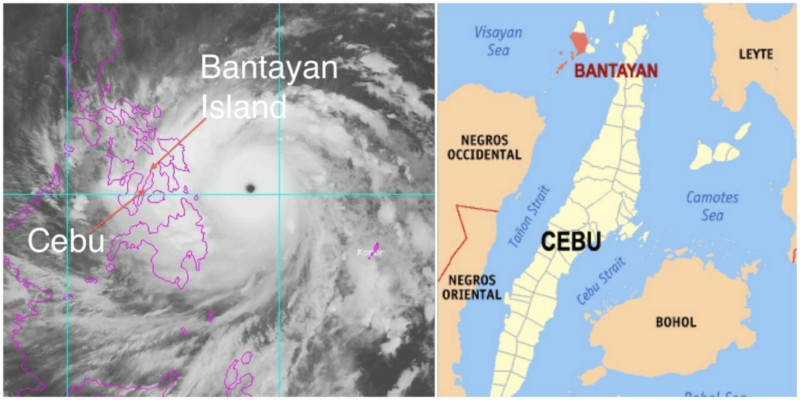 Donations for this project will be directed towards areas #1, #2, #3 and #15. Yolanda is the local name for Haiyan.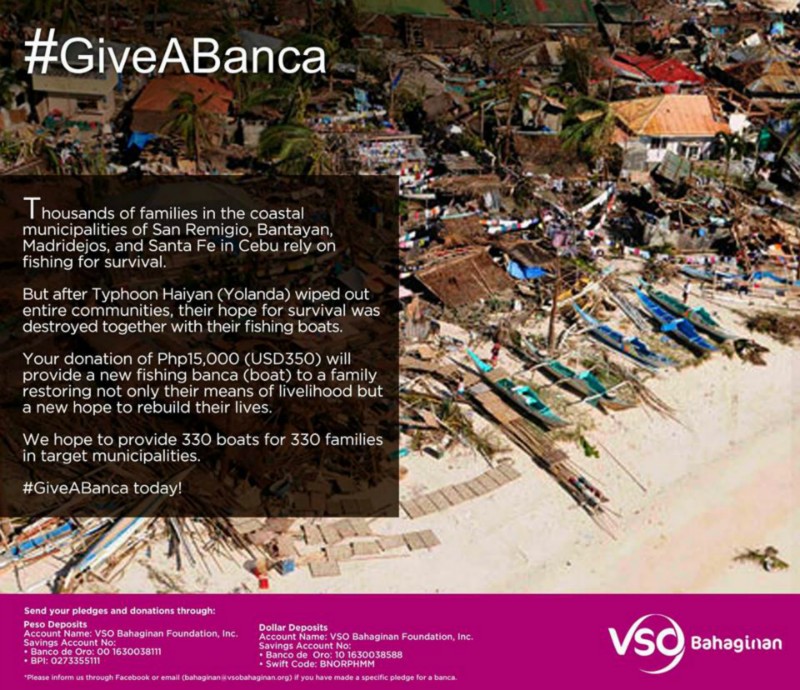 The local campaign in the Philippines - fundraising for 330 boats to help 330 families! The word 'banca' is the Filipino/Spanish word for small wooden boat locals using for fishing.
VOLUNTEER-LED FUNDRAISING PROJECTS: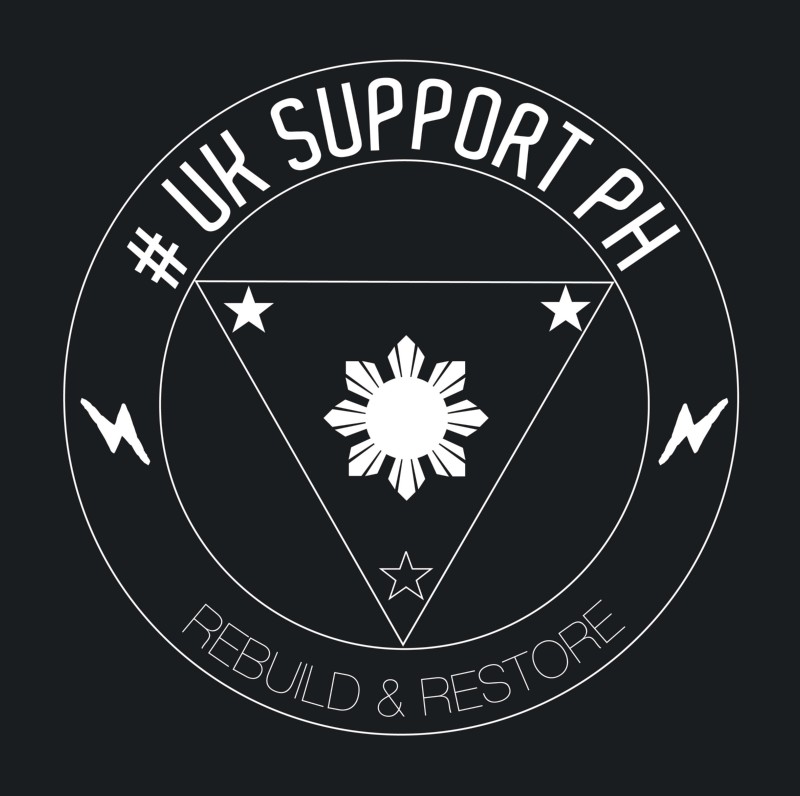 In the UK, as part of the #UKsupportPH campaign, a group of individual fundraisers, many from within the Fili community, have taken it upon themselves to set up grassroots fundraising events, campaigns and drives to support Haiyan victims. Check out our
Community Calendar
to see what we are up and how your can help/promote/collaborate.
A super supper! Taking over a swanky restaurant in Bloomsbury, London to serve Filipino favourites and fusions, all to fundraise for fishing boats!
Other ways you can help:
Join our fundraising volunteer team and help make a personal appeal to your friends, work colleagues, families via social media or offline to support this campaign. Every £1 counts!
Some ideas may be doing bake sales, doing a sponsored stunt (shave your hair!) or run, or even your own supper club! (scroll above for upcoming events in the UK as part of #UKsupportPH)
For queries about the project or how else you can get involved, contact volunteer Sam (London) - samjennings78@gmail.com /
07951922574
or VSO Bahaginan Volunteering Development Adviser for Southeast Asia, Pacific and China - Jay Ancheta (Manila) -
Volunteer UK/EU/US fundraisers team:
Sam Jennings (London/Manila)
Mae Williams (London/Cebu) via Pepe's Kitchen
Typhoon Haiyan Relief Pop-up Dinner team (Mike, Mark, Mae, James, Maryann,Fed, Mapet, Omar, Nigel)
Ivan Madeira (London)
Lala Avanetajado (Frankfurt)
Jella Igoy (Phoenix)
Hazel Ducay (London)
Francesca Palumbo (London)
PCF Supporters & Volunteers
Dawn Newton (London)
Rina Atienza (London)
Janette Robertson (London)
Ava Batay-an (London)
+ Read More
Be the first to leave a comment on this campaign.