My Parents Need Flood Assistance
$705
of $15,000 goal
Raised by
11
people in 32 months
My name is John Nash.  I am a life long resident of Louisiana and was born and raised in the very small and rural town of Burr Ferry, Louisiana.  

I am currently raising money for my parents, Sharon and Kelly Nash.  They have lost almost everything they own to record flooding which swamped Burr Ferry this past week.  My father managed to save some of his things, but they have lost all of their food, clothes, electronic devices, appliances, and their entire home and all of their exterior buildings (Carport, tool shed, pump house, storage building).  They have also lost the majority of sentimental items that they have acquired over time.  Once the waters go down, we will have a better idea of the things they have lost.

Like many in our community, my parents home and property is underinsured and the money they will be receiving from their incurance policy will only begin to help them recover.  They want to relocate and move away from this place to avoid future flooding incidents.

The money raised will be used to help my parents begin anew.  My sister has sectioned off some of her own land for my parents to relocate to.  They will be looking for a used trailer soon and they will need money to develop a pad for the trailer, install a septic system, and to install a water well.  All of the money raised here will go towards those basic necessities.  Your kind donations will ensure that my parents can have water at their new residence, a sewer system, and a solid foundation for their new home.

Your donation will mean so much to my parents, myself, and my sister, because my parents have been struggling for a while now.  My dad is disabled and unable to work due to a terrible back injury and my mother is working for a small wage for a company that is about to be sold, which will render her suplementary income obsolete.  They are entering the beginning of their retirement years and nature has forced them to restart.  Like many, life has dealt my parents a cruel hand by taking away everything they have worked for.

I would be very thankful for your support and please leave a comment if you donate with your name and any kind comments.  If you choose to remain anonymous, that is fine as well.  

My parents have lived here for 34 years and raised me and my sister from there.  My dad built his beautiful cypress home, porches, and exterior buildings by himself, with help from friends at times and with help from his family.  

As a child growing up, I watched my dad build and transform his property from  just a house sitting in the middle of a slough, to a nicely improved tract of land with an actual lawn.  He owns his land and he turned a small patch of swamp into a pretty good sized area that looked nothing like the slough he built upon.

It's all gone now.  Record rain fall that was predicted over a week ago filled Toledo Bend Reservoir at a record pace and when the Sabine River Authority made moves to lower the lake level, it was a little too late.  The flood gates had only been opened up to 12 feet once, and that was in 1999.  To lower the lake this time, they had to raise the gates up to 22 feet.  
Please help me and my sister get my parents back on their feet.

AS THE WATERS WERE RISING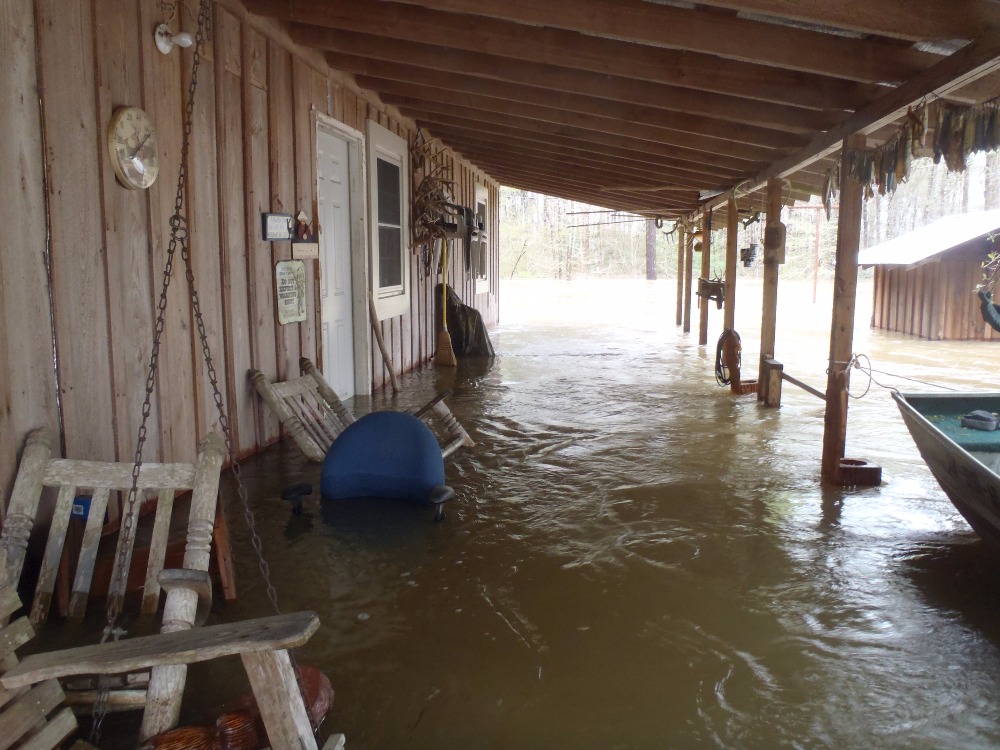 This is a shot of my parents front porch as the waters were rising.  You can see the pump house in the back, stranding strong against the current.



This is a view from the porch of the carport.  The Toyota is sitting there getting submerged by the rising waters.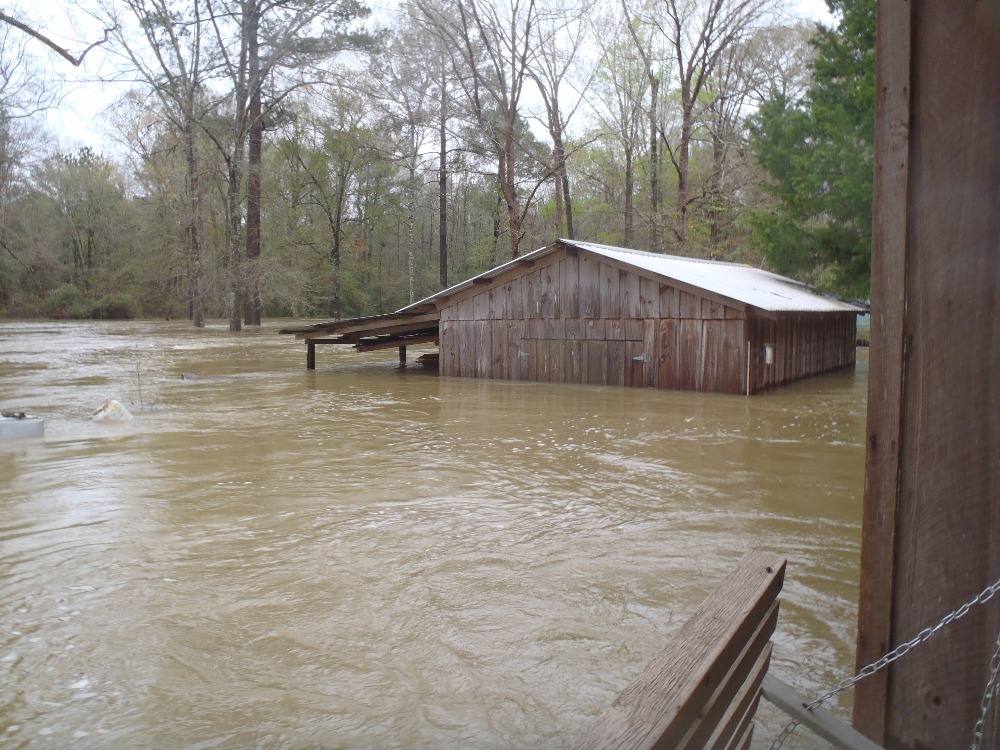 This is the tool shed as the waters are rising.  It's standing strong against the current here.  Keep scrolling down to see just what happened.



This is my parent's living room as the waters were rising.  My parents had no time to get any of their personal belongings out, and the living room looks as it did before the floods started coming.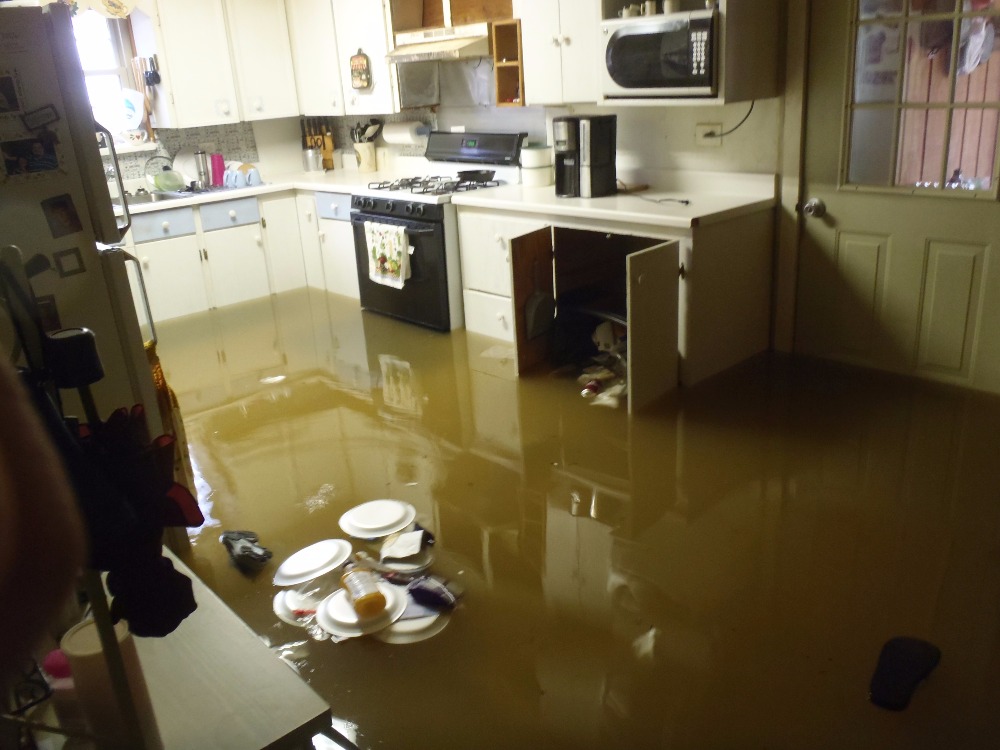 This is my parent's kitchen/dining area.  Their trash can has flipped over and has left a mess.  through the back door is the utility room.  There are dishes and things left alone.  There was no time for them to stow them away.



My parent's hallway was flooded.  When these pictures were taken there was still electricity coming into the house.  



My parents bathroom.  Everything is out and floating around.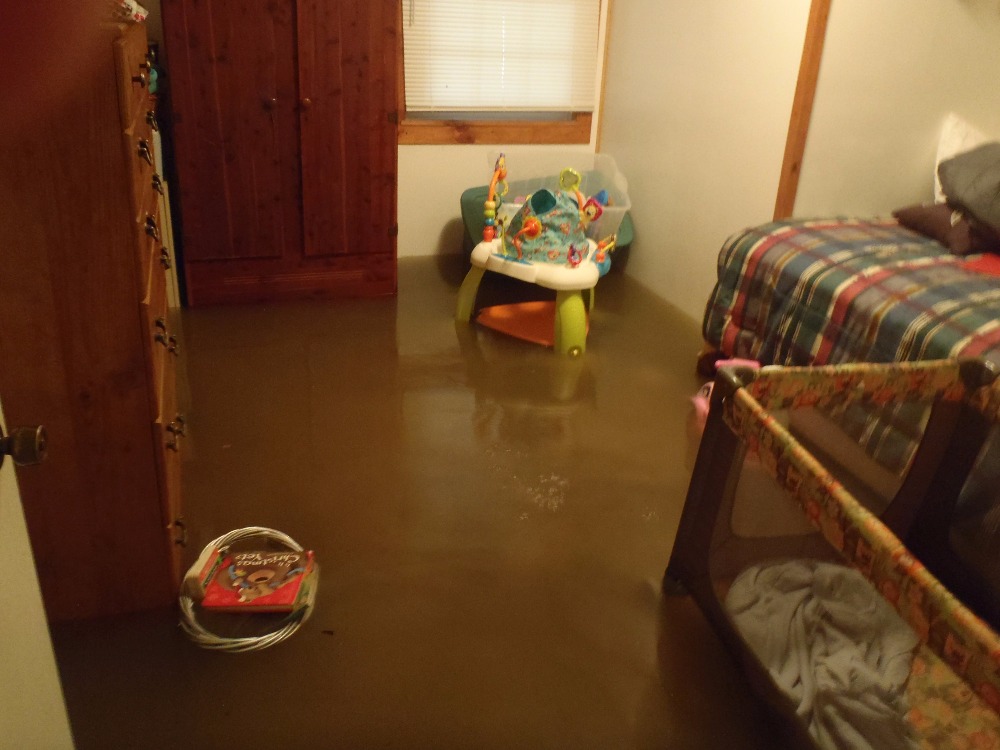 This is Misty's old bedroom.  The floating toys are my daughter's toys.  Had my parents had time, they would have been able to save the furniture.  Had they had any inclination things would have been this bad, they would have had the means, the help, and the time to get everything out.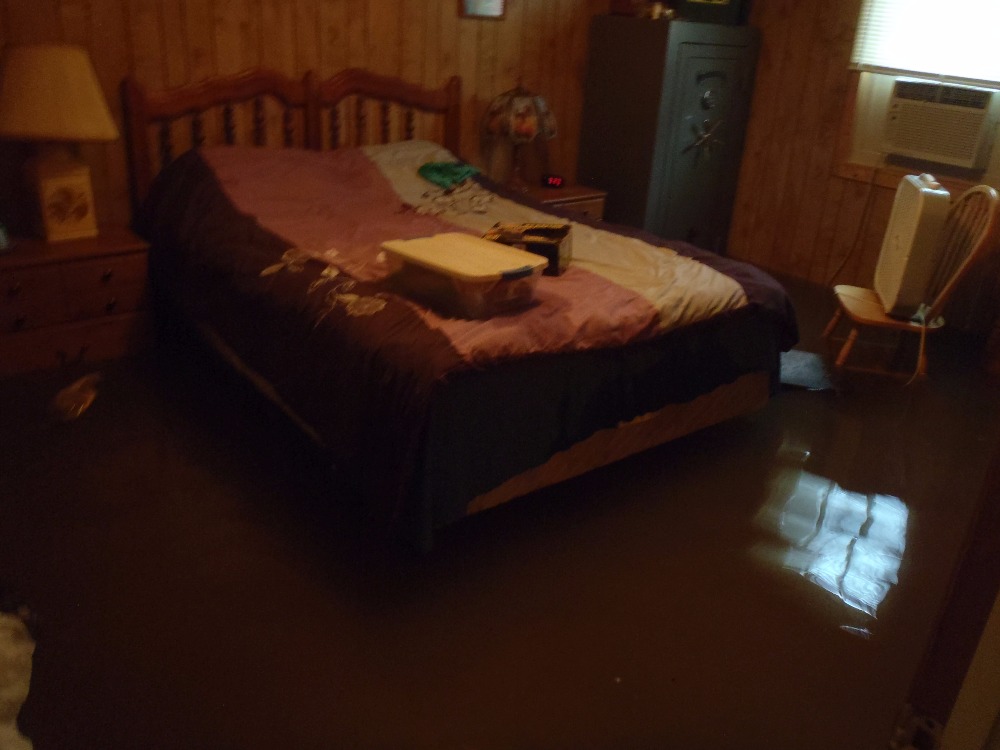 This is my parent's room.  As you can see, they started throwing things on the bed.  In 1999, this trick worked and it saved my mother's sentimental items.  This time this entire room from floor to ceiling went underwater.  A sure sign of my parents not having time to move are evident from the fan.  My dad would have taken it had he known it was going to be this bad.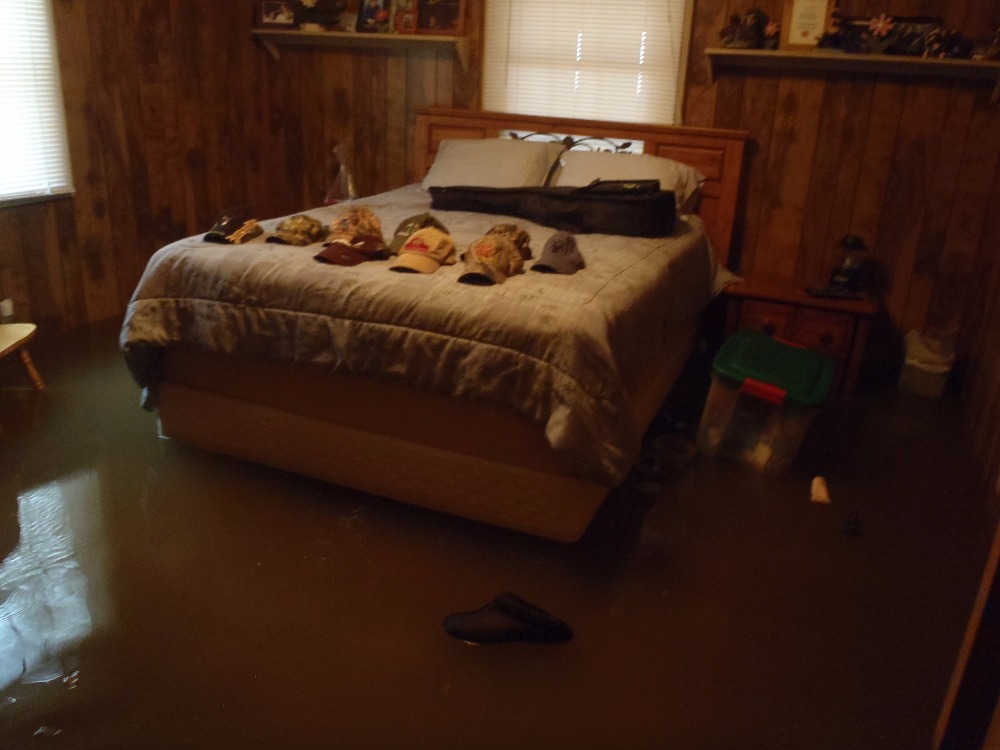 My old bedroom.  Things are already floating.  This room has the original wall paneling and ceiling from when it was built.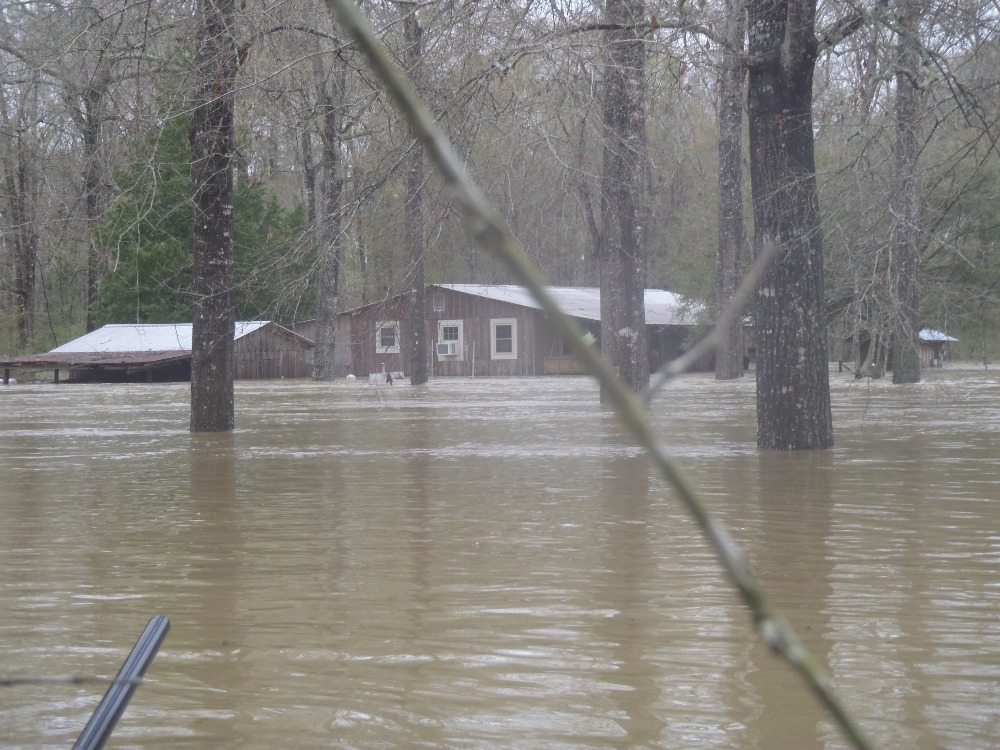 This is when my dad and brother-in-law were leaving out.  This is the last time my dad will see his place as it stands.  In this picture the water was rising alarmingly fast.  Some people were saying it was rising as fast as 1 foot per hour, which would explain why he did not get to save as much as he wanted.

THE PEAK OF THE WATER AND RECESSION


This photo is of my parents home. The water was still rising and that night, according to records, the water rose up high enough to submerge the rest of what you see here.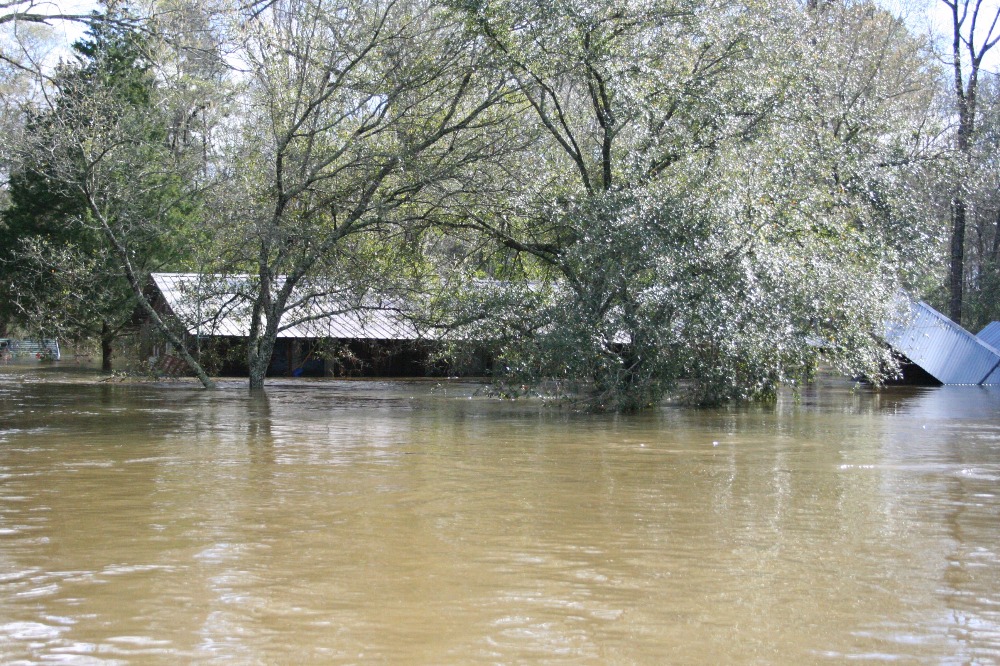 This is their home as the waters have begun receding. The water is easily eight feet lower in this image and at the time of this posting, it should be down even more.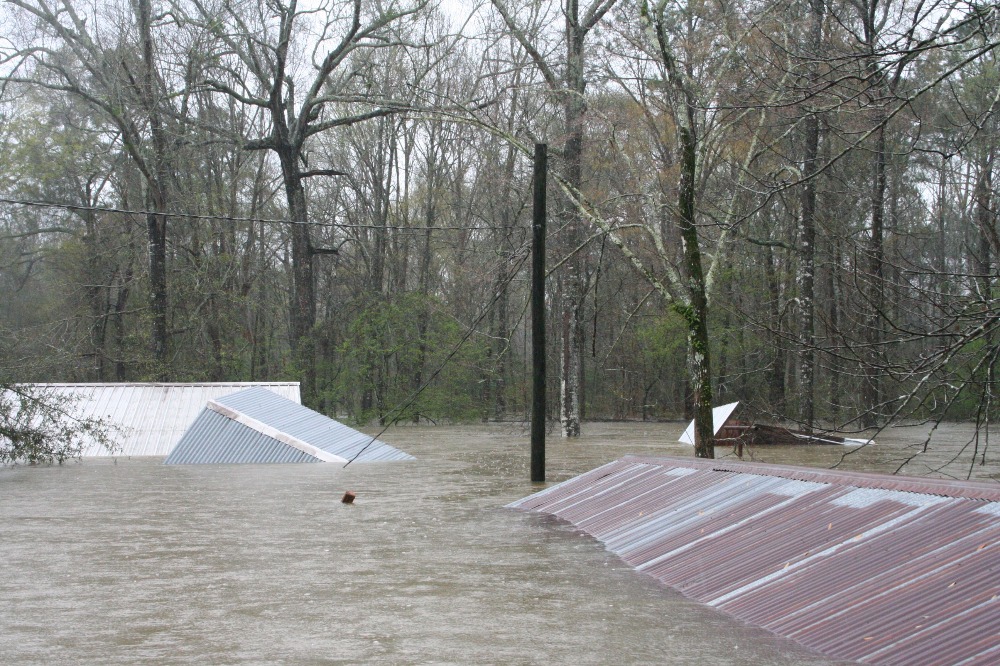 The buildings you see here are my parent's carport (With the rusty tin roof), the pump shed (The building to the left with the corrogated tin that looks like its floating, and their storage shed, which is floating on its side, door down.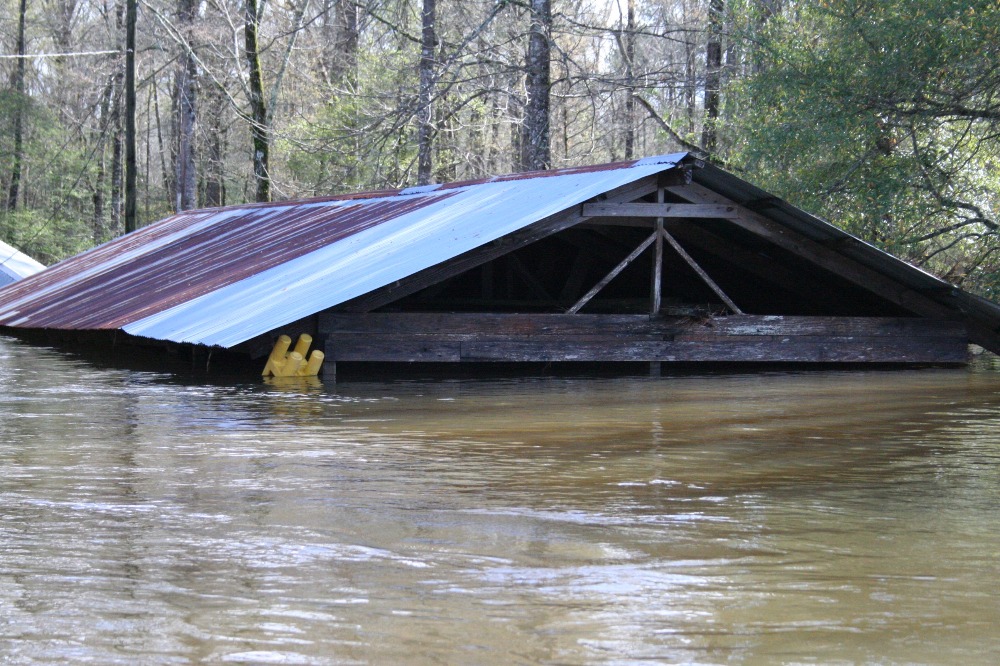 This is their carport as the waters have started falling.  My dad's Toyota is currently under there along with his lawnmowers and a four wheeler.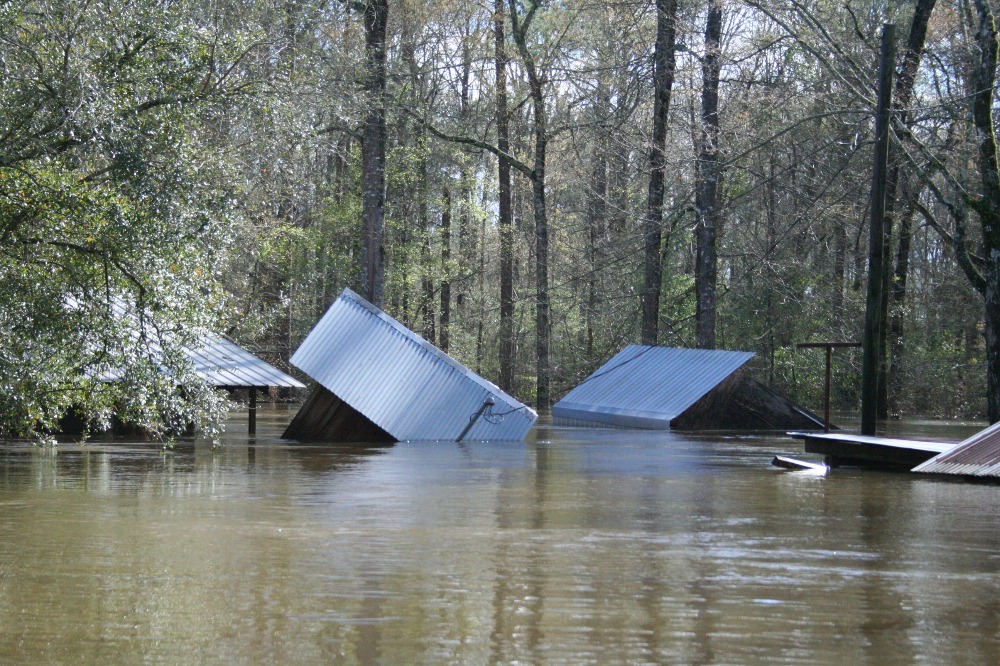 Here is the pump house and the storage shed as the waters begin to fall.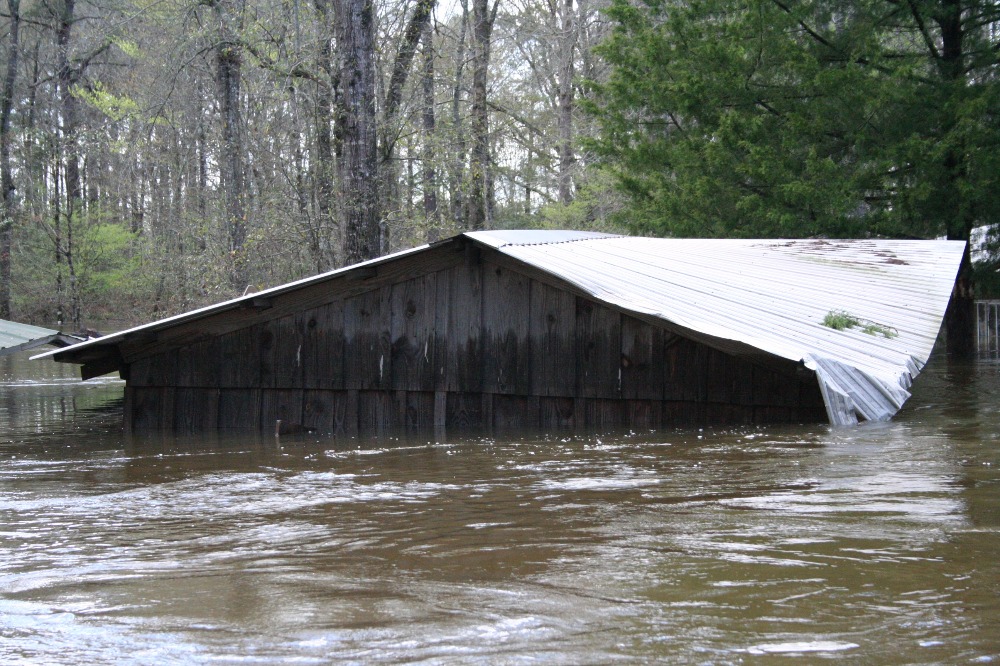 This is my dad's tool shed.  It should be rotated clockwise and up in front of the cedar tree in the background.  It was ripped from the foundation and all of the tools he has acquired over his life are currently underwater and most likely under sand and mud.  We could not get a photo of the tool shed when the waters were higher because the current was too swift and my dad was having a hard time focusing on navigating.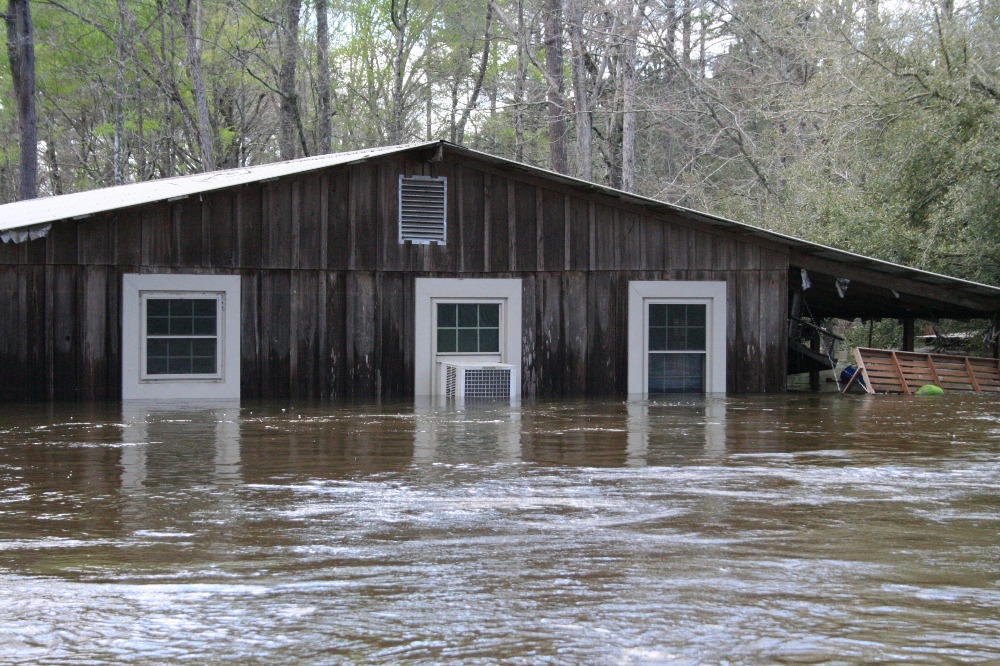 This photo was taken as the waters have begun receding.  The water was probably at around 7 feet at this point.  Imagine the water over the top of their home.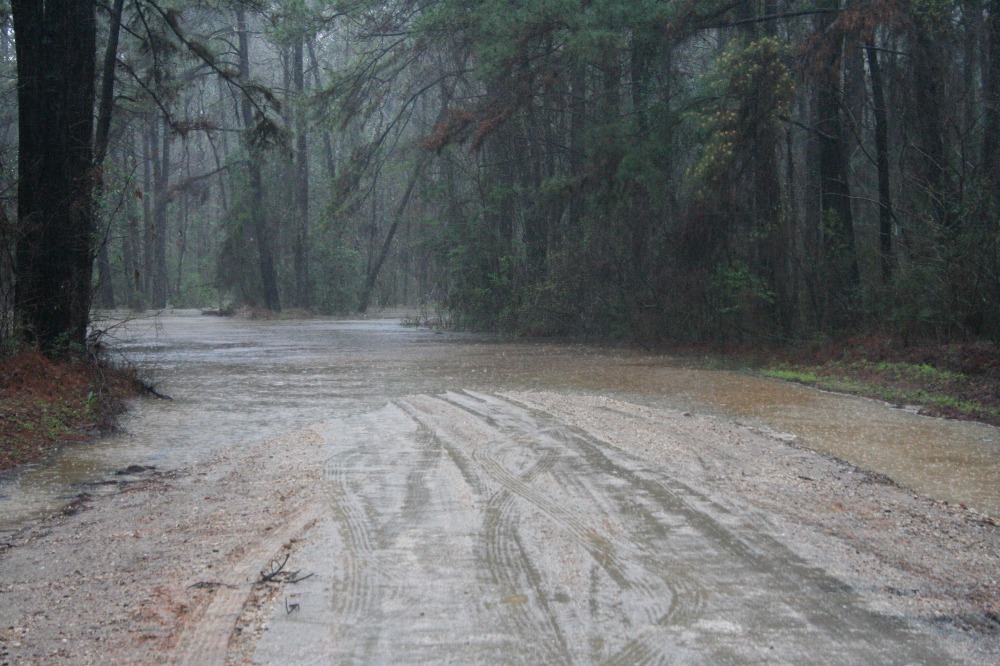 This is where the water came up to when we went to my parent's house when it was still rising.  This was the highest the flood waters have ever been in our town's history.  Places that have never flood were flooded from this release of water.  This is the road my parents live down.

I want to thank my nephew Bowen and my brother-in-law Lance for helping with the photos.  Also want to thank my cousin, Harvey Nash for all of his help going in when the waters were at their highest and braving the current with us.  I wanted some photos to show you all the severity of the event, and I believe that has been done.

If you want to see more and read more information, you can visit my personal web site, Just Chill Here , where I am keeping a photoblog of the events around my town.














+ Read More
Be the first to leave a comment on this campaign.