19
2
95 Stories: Love Thy Neighbors Day
$1,110
of $2,000 goal
Raised by
19
people in 12 months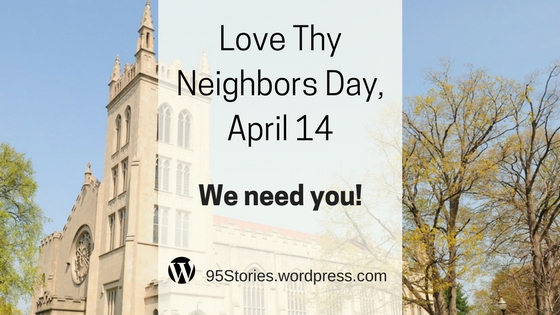 Welcome to the
95 Stories Project,
a coalition of POC and LGBT students of Hope College engaging our community through both dialogue and peaceful activism.  We published 95 stories of racism and homophobia to ask our college to acknowledge that these issues must be solved with real policy change. We seek to create the community, media awareness, and campus allyship to jumpstart those activists—and that means you! 
Affirming both activism and dialogue, we need your help raising funds for Love Thy Neighbors Day, April 14. Running alongside Hope's Admitted Students Day, the 95 Stories Project wants to achieve 3 things:
1) Celebrate the life and beauty LGBT and POC students bring to Hope by being proud, out and about all over campus, with huge, hand-painted welcome signs explicitly for prospective minority students. "Welcome to Hope! You are loved; you won't be alone!"
2) Welcome prospective students with hundreds of packets of homemade baked goodies, packed with little resource booklets for minorities to navigate their new life at Hope!
3) Publicly offer our list of policy change proposals before the college president, student body president, and deans of student life and chapel.  The spirit of these proposals is to encourage students to love their neighbors and fellow minority students. We affirm student activism --and it doesn't always look like a protest. Sometimes it looks like this. 
It's a big event, and we'll need lots of financial support from alums and Holland allies to sponsor the hand-decorated banners, the glossy--and much-needed--resource booklets, snacks, and transport this project entails.  Our student activists have invested long hours, resources, and community opposition to make LTN Day a possibility on this campus --your contributions would would allow our reach to go that much further!
Once again, alums, donors, and friends near and far --thank you for all the support you have shown us these past four months --in the midst of our work online, our peaceful student protests, and the dialogue our work has inspired in a community we love. Trite as it sounds,, even a little helps.  We can't wait to make LTN Day a day of celebration, solidarity, and encouragement for students old and new on campus --help us make a difference for our Alma Mater.
Courage and candor,
THe 95 Stories Team
+ Read More
Update 1
12 months ago
Share
All righty folks -we're already $115 dollars in three days! It's been a powerful experience, watching the contributions of cookies, baked goods, and resources pour in. That said, we're still seeking to really extend our reach to all admitted students through bona fide Hope hospitality -and we'll need you! A dime or a dollar a denarius will do. Dear ALums, you'd asked frequently how to help. Frankly this is one way we could really do with support. <3 See ya at the finish, folks!
+ Read More