6 Million Military Kids
$725
of $10,000 goal
Raised by
9
people in 48 months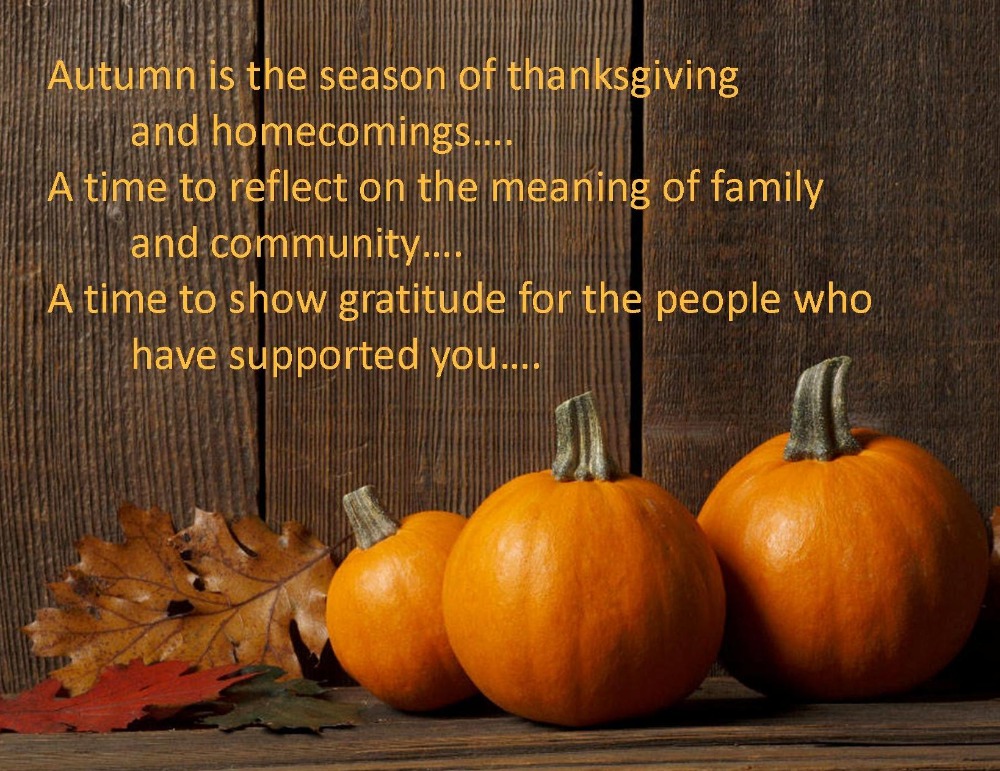 Homecoming is a particularly poignant for our military kids. Holidays have special meaning for military and veteran families who have spent so many special days separated by deployments.
The 6 Million Kids Campaign is our way of saying "thank you for your service" to 25,000 military kids.  It's a way of showing them that we care and that Hometown America recognizes their family's sacrifice.  Won't you help show our military kids a little love this holiday season by sponsoring a military child in school?  Your gift of $6 will keep on giving the entire school year.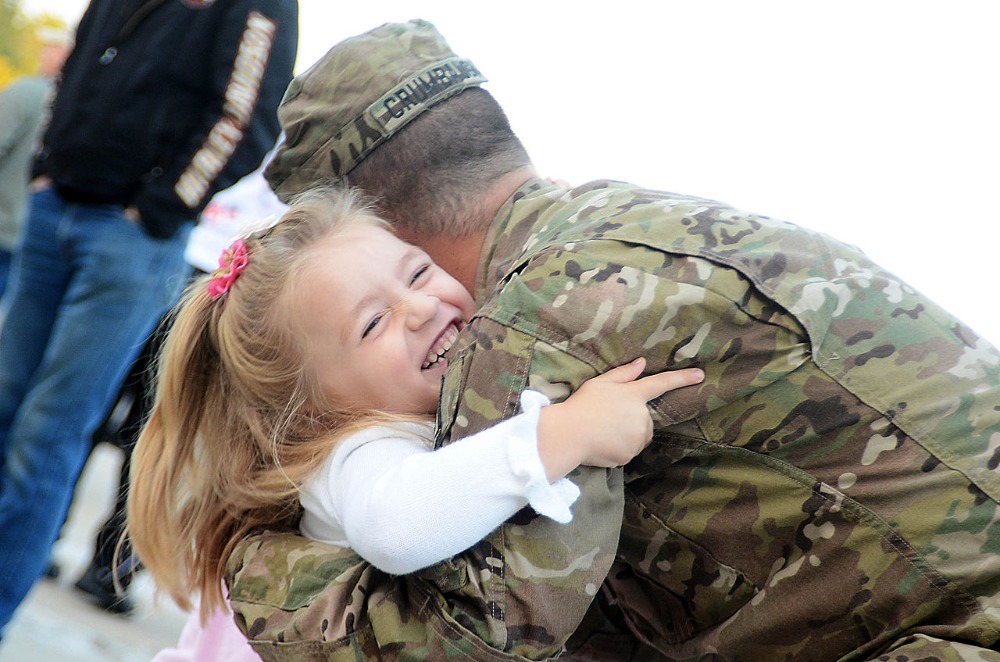 Why 6 Million Military Kids?
  By 2020, America will be home to roughly 6 million children in post-9/11 veteran and military families.  We talk a lot about our soldiers transitioning home as we end more than a dozen years of war.  But, we don't talk much about their families. When mom or dad serves, so do military kids.  The post-9/11 wars affect more than 6 million military kids under age 18.  They need our support.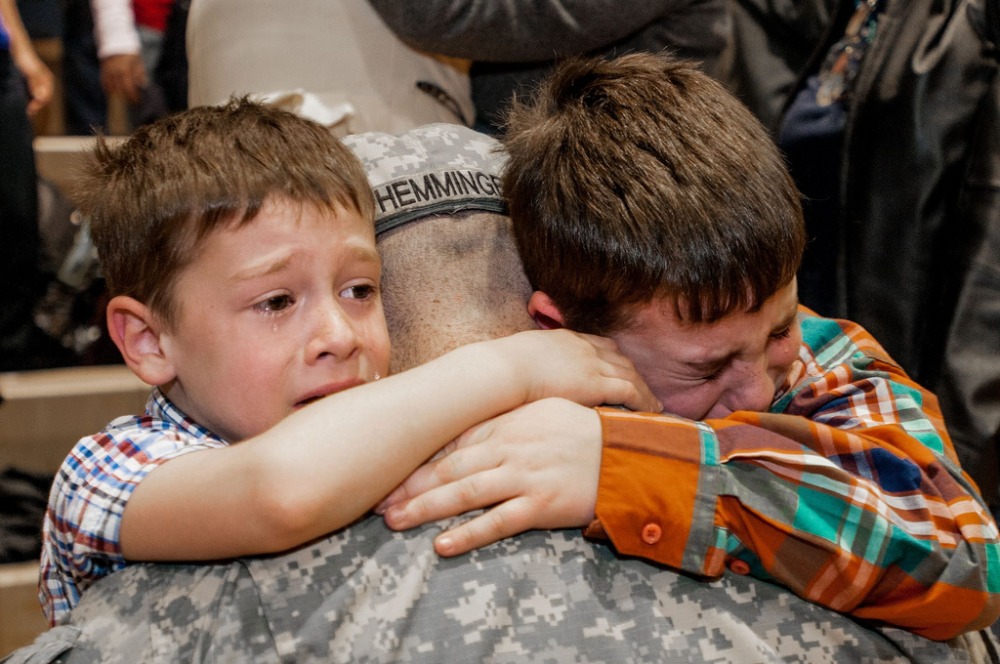 Nearly all of them will attend civilian schools, but our schools aren't prepared.  These children bring unique needs to the civilian schools they attend. Principals, teachers, and PTAs need free and very low cost solutions to help support them.  You can think of Veteran Studies Weekly as "military/veteran-friendly schools in a box."  Your gift of $100 will sponsor an entire classroom of kids for an entire year.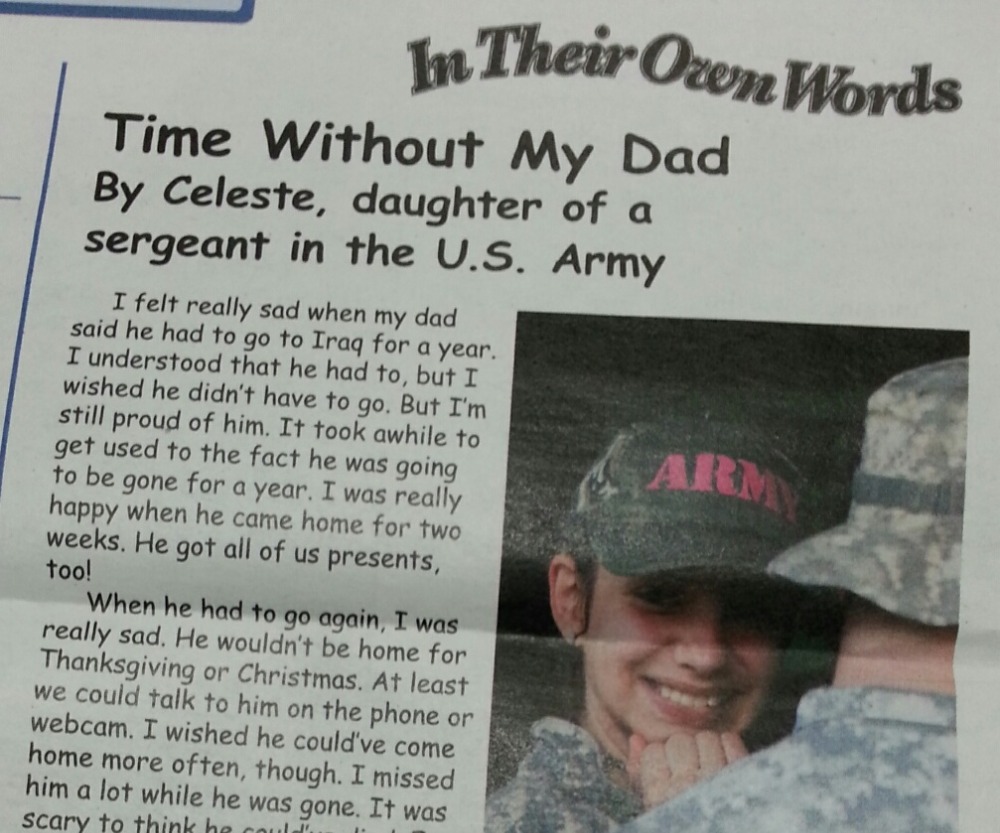 Why do you mention Kickstarter in your video?  
To be candid, originally this crowdfunding campaign was designed to be on Kickstarter.  Why?  That's a long boring story.  What's appalling is that our project was rejected by Kickstarter...twice!  Apparently, Kickstarter likes potato salad but they don't don't like military kids. Sadly, at Kickstarter they do not understand the value of saying "Happy Veterans Day" to 6 million military kids in a way that is fun and creative.
Fortunately, Go Fund Me saw the value of helping military kids, and we were approved within an hour.  Clearly Go Fund Me cares enough to say "Happy Veterans Day" to 6 Million Military Kids.  Your $5 donation will tell Kickstarter that you agree that kids are more important than potato salad.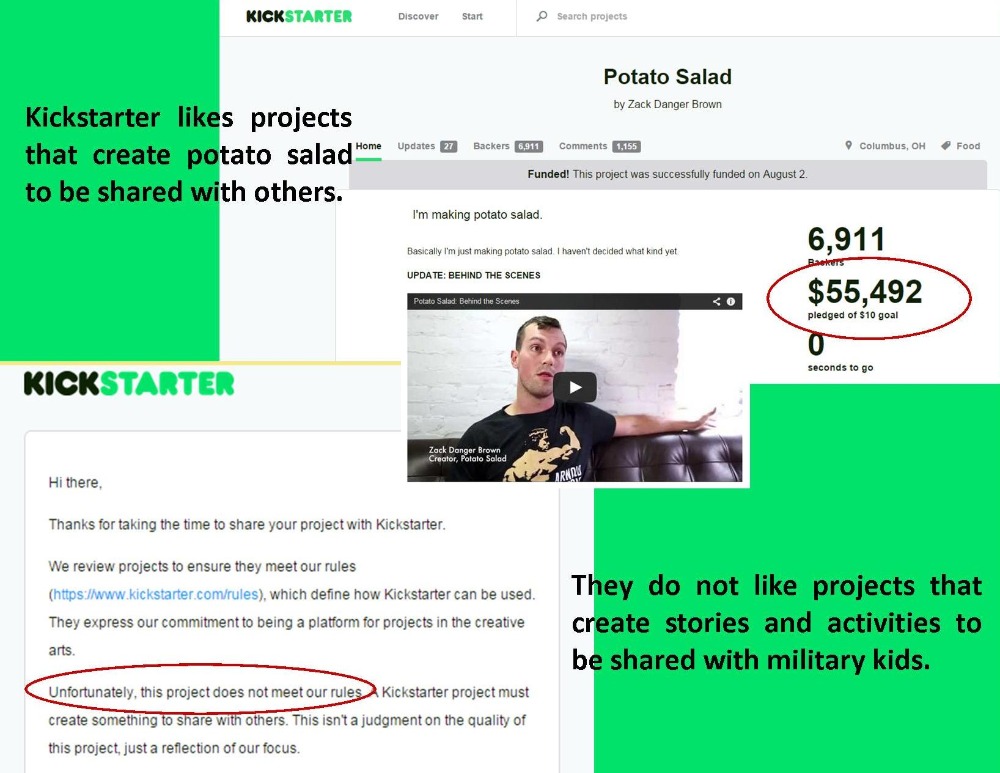 What's the Impact?
 Veteran Studies Weekly is the first school curriculum designed to engage both military kids and their civilian peers.  When civilian kids and their teachers understand the lives of military kids better, it makes school transitions easier.  It means that thousands of young military and veteran kids see themselves and their families reflected in the classroom.  They know that they matter and that someone understands them.  They know that other Americans care.  Why not be one of the first to say "thank you for your service" to 25,000 military kids?  
Where will the money go? 
 As a potential donor, you deserve to know exactly where your money will go!  Veteran Studies Weekly is already published and available for purchase.  The purpose of the 6 Million Kids Campaign is to pay for a large press run to provide the curriculum free in April 2015 to military installation schools and schools with heavy post-9/11veteran populations.  There are shipping fees for the curriculum and small administrative costs to set up the teachers' access to the teacher guides and other online resources.  The incentives plus S&H account for about 10% of the donation amount.  There are also non-negotiable fees to GoFundMe and Uncle Sam.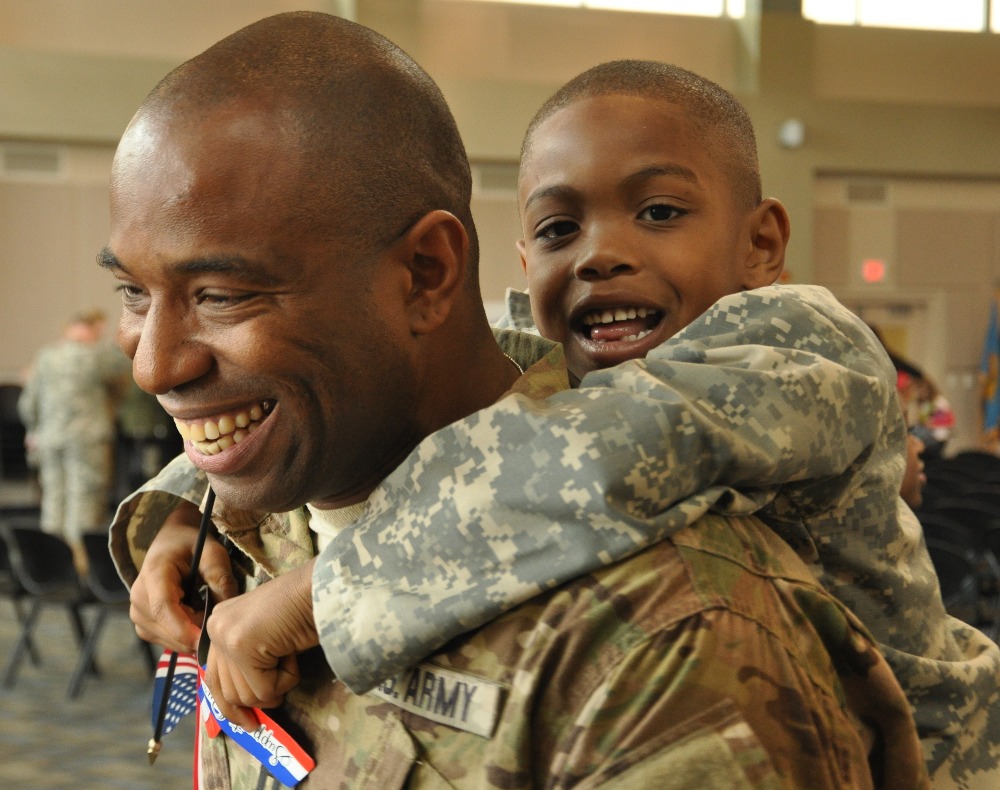 Why April?  
April is the Month of the Military Child.   


How is Veteran Studies Weekly unique?
 Veteran Studies Weekly uses a "newspaper" to help kids learn about the human side of veterans and military kids, not military history.   This is what makes this innovative and unique.  Kids can connect to veterans and their families as real people, not the GI Joe stereotypes they see in the media.  Every edition also includes service projects to help military families and resources to learn more about the real lives of veterans.  It aligns with national standards for what teachers already teach--reading comprehension, writing, spelling, critical thinking, etc.  So, classrooms can be more supportive for veteran and military kids without teachers taking time away from teaching.  We believe it's a first of its kind curriculum and we're really proud of it.  
Want to learn more about Veteran Studies Weekly?
 You can visit the 
6 Million Kids website
.  But, we hope you will makea donation first, or come back after you've learned more.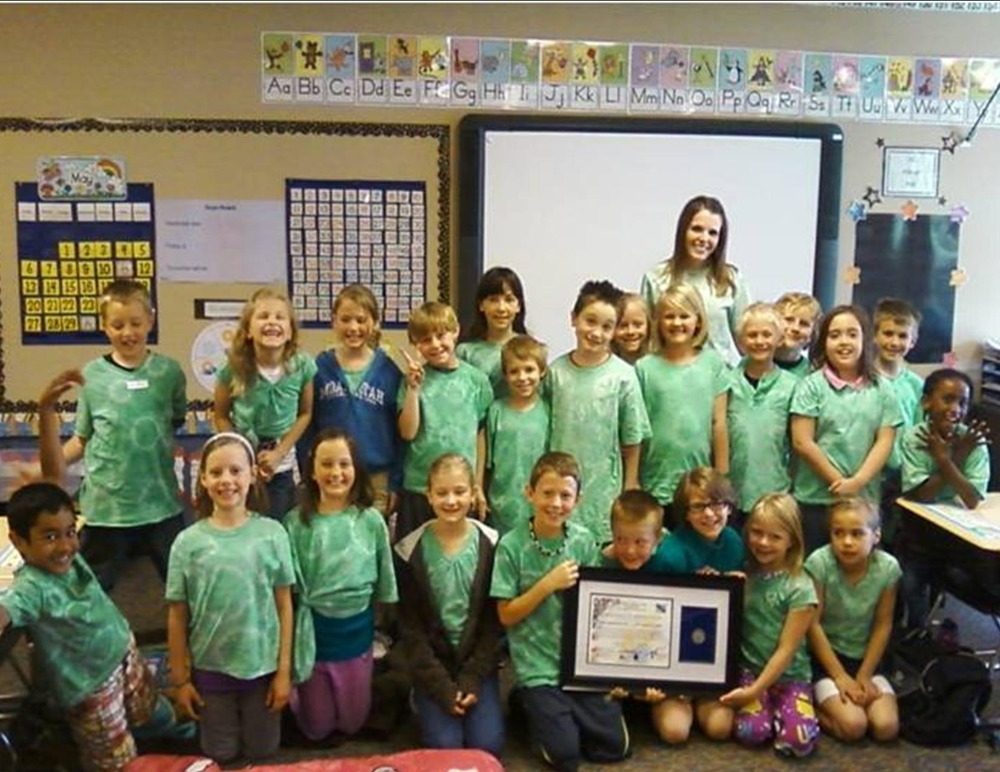 What do teachers say? 
 Here's part of a recent email we received from a teacher in Virginia:  "I LOVE THEM!!!  I am a huge fan…and I think the newspapers are a fantastic way to teach and enrich topics in a fun way."  Your gift of $100 to fund a classroom gives the teacher access to  60+ pages of teacher's guides and an ebook copy of my book Untying the Yellow Ribbon. If you have a child grades 3-6, you will be able to designate his or her classroom.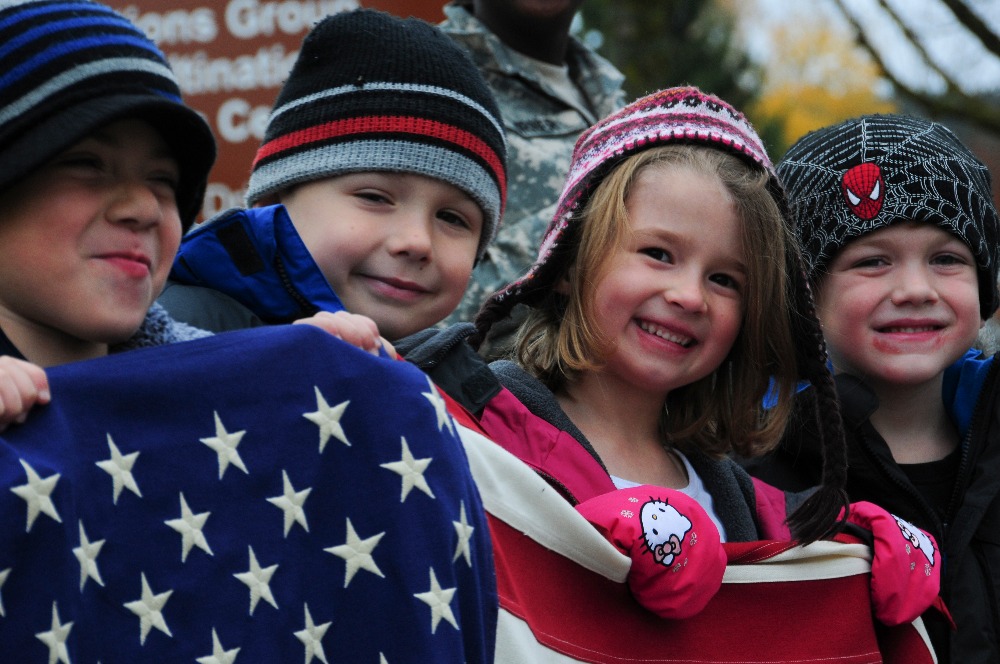 Stretch Goals:  
The goal of the GoFundMe campaign is to put Veteran Studies Weekly in 100 classrooms in schools near military installations and in counties with high populations of post-9/11 veterans. This will positively impact the lives of roughly 2,500 to 3,000 military/veteran kids.  The big  goal is to put Veteran Studies Weekly in 1,000 classrooms, impacting 25,000 to 30,000 military/veteran kids.  That will require $100,000.  Wouldn't that be a way to say "thank you for your service" to 6 million military and veteran children?
Risks:  
The risks are extremely low. Veteran Studies Weekly is already published and available for sale. Studies Weekly is a well-established curriculum publisher that services 21,000 schools and has hundreds of curricula.  The challenges are mostly logistical, especially when we exceed our goals. This would be a good problem to have, no?  I will happily respond to your questions about this project. Just email me!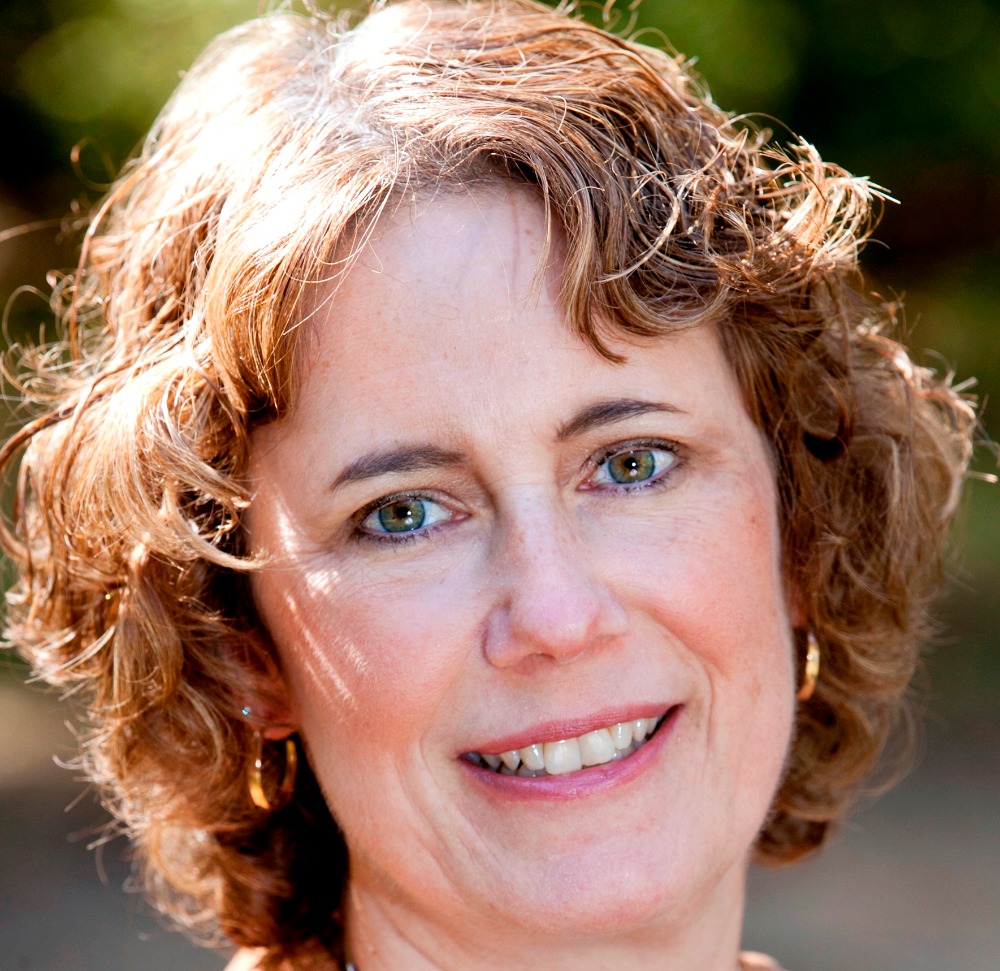 Who is "The Veteran Lady?"  
Hi! I'm Gretchen Martens, affectionately known as "the Veteran Lady." No, that's not a cheesy marketing gimmick. It is a name affectionately given to me by the wife of a retired city manager. It followed me around for a few months and just kind of stuck!
In March 2013, I met Ed Rickers, President of Studies Weekly. The rest is history!  
Want the full story
?  You can find it on our website.  But, we hope you'll consider supporting a veteran/military kids first!
Want to learn more?
 You can visit the following weblinks:  
6 Million Kids Website
Untying The Yellow Ribbon Book Website
YouTube Video Channel
Gretchen's LinkedIn Profile
+ Read More
Be the first to leave a comment on this campaign.