Hartford Students Want to Talk Peace
$5,834
of $5,500 goal
Raised by
71
people in 45 months
My name is Giana Gleeson and I am a Spanish and History Teacher at the Law and Government Academy at Hartford Public High School in Hartford, Connecticut. Just three short years ago I was a senior in college when I was invited to attend the 11th World Summit of Nobel Peace Prize Laureates in Hiroshima, Japan. As one of only four U.S. students invited to the conference, I had the honor of meeting and working with some of the most influential people and organizations in the fields of peace building and human rights. At the closing of the conference we teamed up with some members of the Japanese youth to deliver a Final Declaration on Behalf of the World's Youth to the Nobel Laureates. In this declaration we urged Nobel Laureates to provide the youth of the world with a clear path to participate in the conversations and activism for human rights and peace. We demanded that youth involvement is crucial to create sustainable peace for the future.
They listened. Today, three years later, I write to raise funds for my own students who have recently been invited to attend the 13th World Summit of Nobel Peace Prize Laureates in Warsaw, Poland this coming October. This is a momentous opportunity for the five Hartford Public High students that have been selected. They will give a voice to our city, our state, and our country. These students have demonstrated their passion for making our world safer, healthier, and more prosperous for all. There is no doubt that the lives of these students, if able to attend, will be forever altered. This opportunity will change the trajectory of each of these student's lives and, for the first time ever, will bring them outside of their city and into the movement for a safer, more peaceful world. Without your help, this trip will not become reality. This opportunity is enormous, it's beautiful, it's life-changing and you could play a role in making it happen! Read below for more specific information about the city of Hartford and the World Summits. Check our our blog at
hphspolandforpeace.blogspot.com
. Contact gleeg001@hartfordschools.org with any questions/comments! And of course, don't forget to donate! Link to Summit Brochure:
http://www.nobelforpeace-summits.org/13brochure.pdf
What is the World Summit of Nobel Peace Prize Laureates?

For a few days each year, Nobel Peace Prize Laureates convene to discuss the world's most pressing issues. From literacy and poverty to nuclear weapons and advancements in science, leaders from all over the globe come together to make sense of the status of our world. This conference is called the World Summit of Nobel Peace Laureates. It has been heralded as the most important event in the field of peacemaking.
This year will mark the 13
th
World Summit of Nobel Peace Laureates and the emphasis on youth will be stronger than ever. The Summit has placed incredible importance on empowering youth to be active in their home communities and around the world. Students will learn about the accomplishments of the Nobel Laureates, interact with other youth from various nations around the world, and most importantly, engage in direct dialogue with the Nobel Laureates themselves. Students will also be participating in specialized workshops with various organizations and leaders where they will gain knowledge and skills in the areas of peacemaking, human rights, and global citizenship.
What is Hartford Public High School/ Hartford, Connecticut?
Hartford Public High School is actually the second-oldest public secondary school in the United States. Founded in 1638, it has undergone many changes over its 375 year existence. HPHS is now broken down into smaller learning communities instead of one larger high school. Still situated in the same building, HPHS offers the Law & Government Academy, the Nursing Academy, and the Academy of Engineering and Green Technology. Three students from the Law & Government Academy and two students from the Nursing Academy have been selected as the delegates on the trip.
I was originally placed in the district of Hartford by Teach for America. TFA is an organization that places passionate teachers in underserved, high-poverty communities. Hartford is one of these communities. Thus, the importance of this opportunity for these kids is invaluable. After working here for the past two years I have seen how high poverty and associated circumstances can often create barriers to excellence. More importantly though, I have witnessed students and teachers break down these barriers to rise up towards achievement. This experience at the Summit will be one of these moments that will set a new standard for what is possible for Hartford and it's students. They are amazing and deserve nothing less than this incredible experience.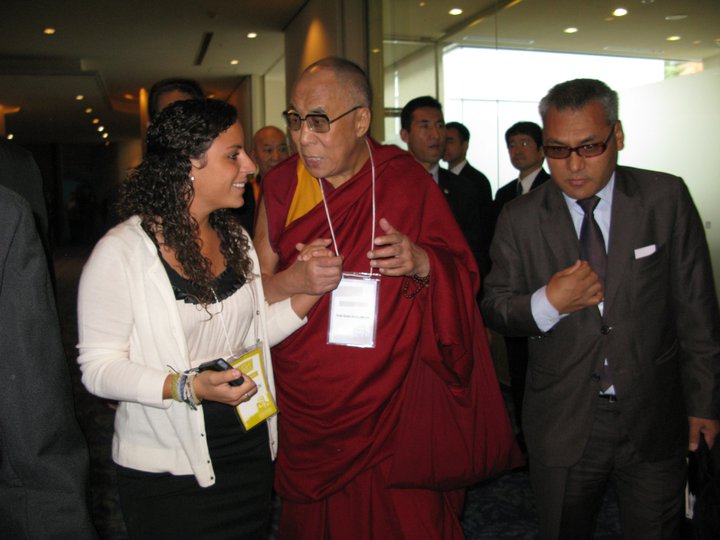 (Giana Gleeson with His Holiness in Hiroshima, Japan)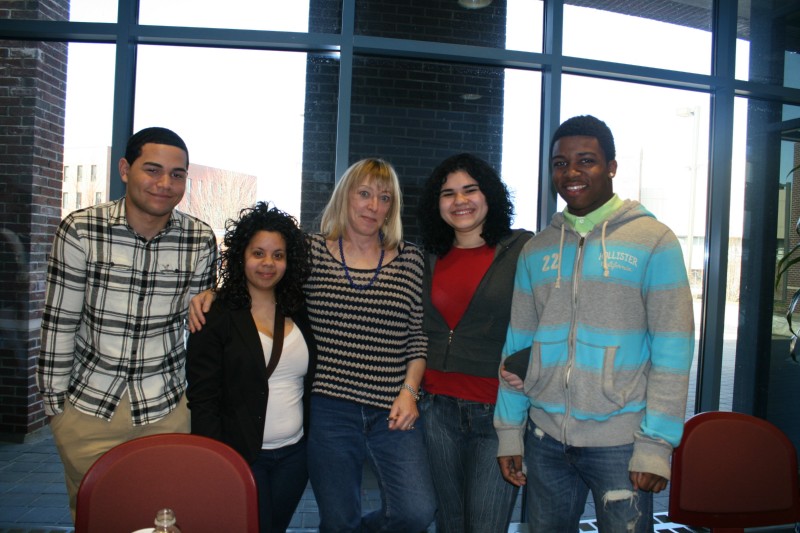 (Students with the wonderful Nobel Laureate Jody Williams at her book tour at UCONN)
+ Read More