Amanda Hall Wessman Gravestone
$1,405
of $1,394 goal
Raised by
23
people in 47 months
Amanda Mathilda Hall was born in Sweden on April 7, 1848 to Anders Hall and Edla Maria Bruhn. She married Johan Bengtsson Wessman in 1872 in Göteborg, Sweden. After joining The Church of Jesus Christ of Latter-day Saints, the family could not afford to travel together to America, so Amanda and Johan sent their daughters Fanny and Bertha first, followed by their sons Herbert and Henry. Amanda and youngest son Joseph came next, and Johan finally emigrated in 1896. The Wessman family settled in Kamas, a small town in the mountains above Salt Lake City, Utah.
Johan died shortly after he arrived in Utah and is buried in Kamas. After he died, Amanda moved to Salt Lake City and supported herself and her youngest children. As she grew older, she spent many years working in the Salt Lake Temple.

Amanda Wessman died on February 15, 1931. She is buried in an unmarked grave in Wasatch Lawn Cemetery in Salt Lake City.
Since she was the driving force behind the emigration of the Wessman family to America, we would like to honor this courageous woman with a grave marker. Because her husband Johan's gravesite is unknown, we will also list his name on her gravestone.


Emily Wessman and Amy Tanner Thiriot, two of Amanda's great-great granddaughters, are planning a simple granite marker with an engraving of the Salt Lake Temple. The cost to engrave and place the marker will be $775. We hope to have the donations collected by June 15 and the stone placed during the summer of 2013.
Please contact us if you have any questions, to see the gravestone design, or to send a contribution by check. For project updates, see the Johan and Amanda Wessman Family page on Facebook or TheAncestorFiles blog, where you can also find Wessman family history and photos.
+ Read More
Update 2
Posted by Amy Tanner Thiriot
40 months ago
Share
The new gravestone in Wasatch Lawn Cemetery.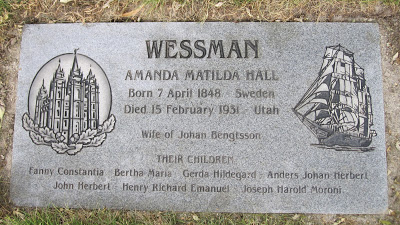 + Read More
Update 1
Posted by Amy Tanner Thiriot
40 months ago
Share
Read a Previous Update
We are almost ready to have the stone engraved and placed. We decided to have a slightly larger stone with the names of all the children included, especially since two of them were buried in Sweden. This increases the costs slightly, but we're close to having enough to cover it. Even though a number of Wessman grandsons in the area have construction skills, the stone must be placed by the cemetery, and the costs for that are higher than we originally estimated. But the end is in sight for the project. It's been so lovely being in touch with so many of Johan and Amanda's descendants. We appreciate everyone's generosity, both donating on the fund raising site, or sending checks to Emily. There's a picture of the new design for the gravestone at https://www.facebook.com/JohanAmandaWessmanFamily
+ Read More
Thank you so much to everyone who has helped with this project so far. We're moving ahead with some of the practical arrangements with the cemetery, and we'll be ordering the stone soon.
+ Read More