12th man, send Hawkblogger to Super Bowl

Brian Nemhauser, author of Hawkblogger.com, is an ambassador of the Seattle Seahawks and the 12th Man. Since 2007 he has written over
1400 blog
posts regarding the Seattle Seahawks, and never, ever, asked for anything in return.
http://www.hawkblogger.com/
Brian has booked his plane tickets to New York Super Bowl XLVIII with the hopes of the opportunity to be able to buy a ticket at an affordable price. With the average ticket price of $4000 and the lowest after market price to sit in the nosebleeds being $2500, Brian won't be able to make it to the Super Bowl without the support of the 12th Man.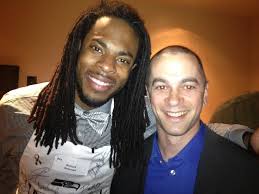 Brian works a full time job outside of blogging, and supports his family & children. He didn't create this go fund me initiative, and knowing his point of view, he will be reluctant to accept any funds, but we won't give him a choice.

We all have an opportunity to experience the Super Bowl in a new way by sending one of our own.

What is GoFundMe?

Fundraising made easy >>
CONTACT
LINK
POSTER
REPORT
Steve Oates
28 months ago
Go Hawks
Ryan @nedrowyourboat
28 months ago
Thanks for all you do Brian! Your insight into the team (the roster outlook especially) is truly great. There is no doubt you deserve to be there! Say hi to the Big Apple for all of us fellow 12's.
Casey Zachary
28 months ago
I am donating $42 in honor of #42 because like Chris Maragos trying to be an emergency place holder, my wife has no idea what is going on here.
#12inTX Granger
28 months ago
No one deserves more to go and represent! Thank you for all you do! #12inTX
Casey Zachary
28 months ago
I'm donating $24 in honor of #24 cause after the Super Bowl we all going to Sizzler!!!!! @caseyzachary
Keith meighan
28 months ago
Wolf Grey Hawk
28 months ago
Thanks for all you do and the time you commit to bringing us info and inspiring 12s everywhere.
Sammy Agsen
28 months ago
I donate $10 on one condition. Once you arrive at MetLife Stadium......Get. Loud. And. Do. Not. Stop. Yelling. When. Denver's. Offense. Is. On. The. Field.....AKA Bring CLink and the 12s who can't go with you!!!! GO HAWKS!!!!