Support our Youth Voice!
$1,521
of $7,500 goal
Raised by
10
people in 34 months
Want to donate but can't use GoFundMe in your country? Donate here.  And don't forget to specify that you are donating to the YAC Travel Fund!

Need a currency converter so you know how much you're donating? Here are two simple ones to try: Yahoo! Currency Converter and Google Currency Converter!Who are we?
We are the  global Youth Advisory Council at 
Child Helpline International
. We are young adults from across the globe that came together for the first time during the International Consultation of Child Helplines in 2014. The pilot Council consists of five members from different regions of the world, who are actively contributing to the success and well-being of their generation by involvement in various global and local projects. We now have four new members, which will take over and continue the new work, starting in November 2016. 
We are:
Alan Nunez from Bolivia
Ana Alanis from Mexico
Evans Munga from Kenya
Faith Zumazuma from Malawi
Henri Drinjak from Albania
Jasminejit Kaur from Malaysia
Kiran Patel from New Zealand
Patuma Tonex from Malawi
Teryn Heckers from United States.
We'll be featuring stories about each of our members over the next few weeks, so please check back often!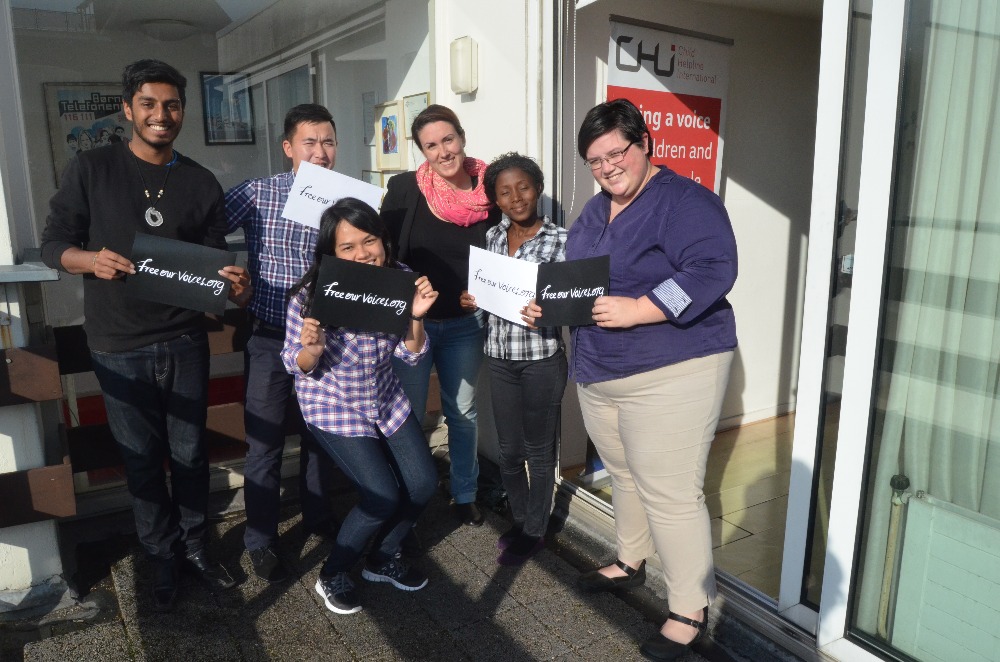 What do we do?
Our mission is to inspire meaningful youth participation by providing valuable feedback, insight, and meaningful support to Child Helpline International.
As Child Helpline International and its child helpline members are listening to the voices of children and young people, Child Helpline International would like to be a truly youth led organisation by 2020. A youth led organisation lets children and young people guide its strategy and encourages active youth participation in its advocacy efforts.
Objectives
The objectives of the Youth Advisory Council are to:
• Hear the perspectives of young people with regard to child and youth rights and the role of child helplines in the child protection systems in the different regions.
• Use these perspectives and viewpoints and Child Helpline International's data to annually identify specific child and youth protection themes in developing strategy and designing programmes and policies.
• Incorporate child and youth participation as a transversal component in the new Child Helpline International strategy 2016-2020
When staff members at Child Helpline International
want to make sure they are accurately representing the views of youth around the world, they turn to us. In addition, there are also regional Youth Advisory Councils for the European and Asian Pacific regions, launched respectively in 2015 and 2016, following the success of the pilot youth participation model.
What have we done so far?
In the course of our two-year existance, we have been involved and have participated in various global and local projects, spearheaded by Child Helpline International. We have also initiated many projects as a group, which we have successfully also launched nationally. We have provided feedback on an extensive number of projects, documents, posters and in-progress work in order to make sure the voices of children and young people are represented as clearly and genuinly as possible. 
Here are some of the things we have done in these two years: 
• Helped the global launch of the
Free Our Voices
campaign in 2014
• Carried out local youth-led Free Our Voices launches in Malawi, Kenya, the Netherlands and Malaysia
• Presented in workshops and gave speeches at the
International Consultation in 2014
• Participated in regional meetings for the
LEAP
 (Leadership in Empowering and Activating child helplines in Protecting children online) initiative, which aims to engage child helplines in reducing online child sexual exploitation through
#WePROTECT
. YAC members were at the meetings in
Paraguay
and Kenya.
• Participated in Child Helpline International's first 
Social Media Takeover Day
• Started a
website
and online blog in order to regularly post updates from the Youth Advisory Council members on current-day topics of interest and concern
• Created and launched an
electronic book
called "Adam's New Adventure" to teach children about child helplines and to raise awareness about Free Our Voices
• Provided feedback on Child Helpline International's global reports
Why are we raising money?
Every two years, Child Helpline International hosts the International Consultation (IC) of Child Helplines that brings together leaders from child helplines across the world as well as partners from the industry, telecommunications and child protection sectors. 
This year's IC will take place in Bangkok, Thailand from November 14-16. The event will focus on: 
• Ending violence against children
• Child online protection
• Gender 
• Child helplines in emergencies
Another important element of IC 2016 is the participation of Child Helpline International's Youth Advisory Council (YAC). The YAC will play a key role in the development of the agenda and will participate in panels and workshops across the whole IC 2016. 
Want more info about this year's IC? Click here for the IC website.
We are raising money so that all 9 members of the global Youth Advisory Council can attend this important event and participate as actively as possible.
Why is it important for the Youth Advisory Council to be at the International Consultation?
• The IC is all about child helplines and how they can support youth. Having the voice of youth loudly represented through the participation of the Youth Advisory Council is essential for a successful event. We want to be there so that we make sure the concerns, opinions, and perspectives of today's youth are represented and listened to.
• The YAC members play a pivotal role in many aspects of the event. We will speak during plenary sessions - to help launch studies and collaborative documents. We will present during workshops regarding: child online protection, gender, child helplines in emergencies, and ending violence against children. During the regional meetings, we will have time to meet with the  child helpline members from our own regions and exchange ideas or start collaborations.
• We will host a special ceremony to celebrate the work we have accomplished as Child Helpline International's first youth advisory council. Then we will have the opportunity to pass on our legacy and introduce 4 new members of the YAC!
• This is one of the only opportunities that members of the YAC will have to meet in person. This face-to-face time is so important, especially because we have four new members. We are usually separated by thousands of miles and many time zones, making it hard to bond. Having some time to get to know each other in person makes a huge difference in building a strong team! And from experience, we know that the stronger our team is, the more we can achieve!
A bit more about the process of funding this trip...
So far, Child Helpline International has been able to raise about 60% of the funding needed to get all the Youth Advisory Council members to the event. Staff continue to work hard on finding ways to fund the rest of the costs, but members of the YAC feel so strongly about being at the IC that we are pitching in to help with the fundraising!
What will the money be used for if the goal isn't met?
We need the full amount of funding in order to send all of the current members to this year's IC. If we don't raise enough money to send everyone, all funds will be used to send YAC members to similar events.

+ Read More
Be the first to leave a comment on this campaign.