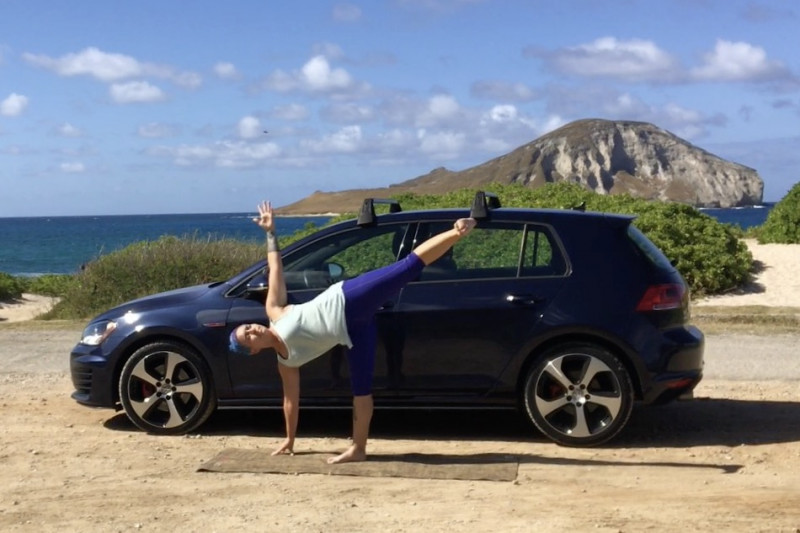 9
2
Gin's Yoga Teaching Road Trip
$1,070
of $5,000 goal
Raised by
9
people in 12 months
After 12 years of conservation science in Hawaii, I am headed out on a road trip across the United States to teach yoga in as many different cities as possible.
 "What a change," you might say. In fact though, I don't think it is much change at all. I got into science as a kid simply because I wanted to save the planet. I have realized, over time, that all the science in the world, while essential and important, is not going to save us. What's going to save us is people realizing their connection to themselves, their connection to those around them and their connection to the planet and the universe.
 With this in mind, I have changed careers from coral reef conservation to teaching yoga. While I have taught yoga here on the island of Oahu for the last 6 years, to launch my yoga teaching on a broader scale I am setting off on a road trip across the country. I will be stopping in at least 15 different cities along the West coast, through the Rockies, and up through the Midwest before arriving at my parents' farm in Virginia. If you want me to stop and see you, please let me know!
 I am confident in the in-person yoga workshops that I will teach along the way, but a large part of my teaching will be online, ensuring that I stay in touch with my current students, connect with students I have had already from afar and gain new students along the way. In addition, while I love the physical practice of yoga, the yoga I teach is largely philosophy-based and rooted in application to everyday life (if you do not know yoga beyond stretches and poses, please let me know and we'll have a wonderful chat!), and that means a lot of my work happens off the mat through sharing stories of everyday life  and insights from yoga philosophy to empower the lives of others.
 To ensure that I have the time to focus on growing and maintaining my online teaching and sharing, I am launching this GoFundMe campaign. I want to make sure that there are a few things, essential to the actual travel of the road trip that is taken care of. Here's what you would be helping with:
Car Expenses
- Shipping my car to the mainland and making sure it's paid for and insured.
~ $3000
Gas
- I want to make sure I can get where I need to go. 
~ $500
Carbon Offset Credits
- I love my car and I love the environment, so this is important to make the trip more eco-friendly. I'll plant trees for all the miles I drive.
 ~ $200
Phone and Data
 - I need to be able to connect easily with everyone to share my teaching online along the way.
~ $400
Web Presence 
- I need to have good web hosting and maintain my site so I can keep the connection to my students along the way.
~ $300
Emergency Lodging
- I'm staying with friends along the way, but there might be a few nights I am driving and need a hotel or AirBnB.
~ $600
If you donate, please be sure to follow me on all social media so that you can find my online teaching:
Facebook
Instagram
Twitter
Or my website:
www.yogawithgin.com
And newsletter: 
Yoga with Gin Newsletter
+ Read More
Update 1
12 months ago
Share
Wow. Thanks to Liz and Becs for starting off my campaign. I love you both immensely.

If anyone else wants to donate I would really appreciate it. Even if you can't donate, maybe just share my link? That would be helpful and awesome!
+ Read More