Wolf's *2nd* ACL Surgery
$300
of $3,000 goal
Raised by
11
people in 31 months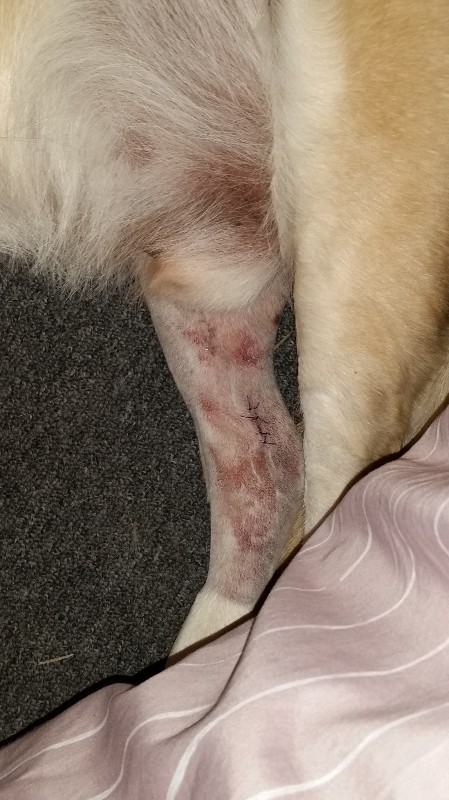 Hi everyone, my name is Stephanie, and I am the owner of a shepherd/lab mix named Wolf. On March 15th 2016, Wolf tore his ACL. We are fundraising to help pay for his surgery and vet bills. Wolf will be turning 8 years old in June. He's a fun loving smart boy. He loves to play with all the neighbourhood children in our big shared back yard. His favourite toy is his football. He brings it everywhere he goes.
My stepfather is currently recovering from a full knee replacement, and my mother had her ACL repaired just over a year ago, with a small surgery this past December to remove some hardware left over from the initial surgery. Wolf must just be taking after his parents with this injury. With the recent human surgeries the past little while, money has been limited. We are hoping to raise enough to help Wolf get his surgery so he can begin his journey to recovery.
The vet has quoted the surgery at $2400.00-$3400.00. And that's not including all the current examination bills, blood work, medication and transportation to and from clinics. The consultation for the surgery is scheduled for April 4th. But that's only a consultation, and may not be the actual surgery date.
It's so terrible to watch your pet suffer from pain. You feel so helpless. I want to thank each everyone of you for taking the time to read our story and thank you for all your generosity.
~~~~~*~~~~~*~~~~~*~~~~~
Surgery was a success. Wolf had his right acl surgery on April 19th. He had a few check ups after the surgery and his doctor said he was doing great. Wolf had his four week check up on May 16th 2016, and the vet said all is great and to start him on his 15-20 minute walks three times daily.
So on Tuesday May 17th, my mother Lisa, took Wolf on his first large walk. She had him short-leashed as to avoid any unauthorized running or tugging. Some how he managed to tug just the wrong way and a loud yelp proceeded. He was unable to walk. Luckily they were only half a block from home and our neighbours and some construction workers were near by to help carry Wolf home. After resting a few hours, Wolf attempted to get up and he wasn't favoring his right surgeried leg. He was favoring his left paw. On Wednesday May 18th 2016 Wolf went to the vet to have xrays done and our worst fears were confirmed. He had torn his left acl.
Our poor boy cannot walk. He can only lay helpless. 
Surgery on his left acl is scheduled for June 14th 2016.
As hard as it is for our dog to go through this pain again, it's just as hard to watch helplessly.
A huge thank you to Dr.Rushton and his team at Pet Focus in Larry Uteck. They've been so great to Wolf!
+ Read More