385
25
Sequoia and Lizzy's Recovery Fund
$29,770
of $50,000 goal
Raised by
340
people in 19 months
When we originally started this GoFundMe campaign (ORIGINAL STORY BELOW), it was focused on reuniting two surviving sisters (Sequoia-17 and Lizzy-14) with their daddy (Aleko) and older sister (Tessa), following a horrific car accident in Eureka CA, which resulted in the tragic loss of their mother (Beth) and sister (Savanna). We could have never imagined the condition that Sequoia and Lizzy would be in, following the initial battle with life threatening injuries when their vehicle rolled on to its roof, after hitting a redwood tree. Following the initial reunion of Aleko and Tessa with Sequoia and Lizzy at St. Joseph's Hospital in Eureka CA, it was only then that the details of their current condition could be digested by the family:
SEQUOIA'S INJURIES – Age 17
Pelvic Fracture
Lumbar Spine Fracture
Pneumothorax, Right
Cervical Spine Fracture
Bilateral Pulmonary Contusion
Closed Right Tarsal Navicular Fracture
Internal Carotid Artery Dissection
Elbow Fracture
C6 Nerve Root Injury
LIZZY'S INJURIES – Age 14
Urinary Retention
Pelvic Fracture
Pelvic Hematoma
Subarachnoid Hemorrhage
Compression Fracture
Pulmonary Contusion
Right Foot Fracture 
  You can see from the above list of injuries, that these girls have a very long road to recovery physically, as well as emotionally dealing with the loss of their mother and sister. Sequoia, Lizzy, Aleko and Tessa were transported to Children's Hospital of Philadelphia (CHOP) via Wings of Grace, on 20 July 2017. It is a sincere blessing that the girls are now back on the east coast where majority of their family can begin to provide support. The road to recovery is just beginning as is the financial burden. We cannot thank everyone enough for the support that has already been given at every level, and continue to thank everyone for continued donations as we strive to rebuild this great family. The overall end state is to assist with recovery and set these girls on a glide path that lets them strive instead of surviving as they push through the cards they were dealt.  It's amazing how these two warrior sisters have prevailed thus far, continuing to smile, love, and show amazing strength as they overcome adversity.  Their level of resilience is unparalleled.   
Original Story
A loving mother and three of her beautiful daughters were on an adventure of a lifetime, a family road trip from Pennsylvania to California. They were involved in a tragic car accident that took the lives of the mother (Beth) and one daughter (Savanna) leaving two other daughters hospitalized (Sequoia and Lizzy). The surviving daughters, ages 17 and 14, are currently in Eureka, CA devastated without any loved ones by their side, currently waiting for their father (Aleko) and oldest sister (Tessa) to arrive from Pennsylvania. 
  We are asking for help to reunite Aleko and Tessa with Sequoia and Lizzy in California while they recover from their injuries, and loss of their mother and sister. Once healed, we will need to bring everyone home to reunite the Weib tribe after such tragic losses and start to rebuild. Please help us reunite these little girls with their daddy and older sister.  The funds raised will go directly to Tessa (oldest sister) and Aleko (father) to cover all expenses occured throughout this process.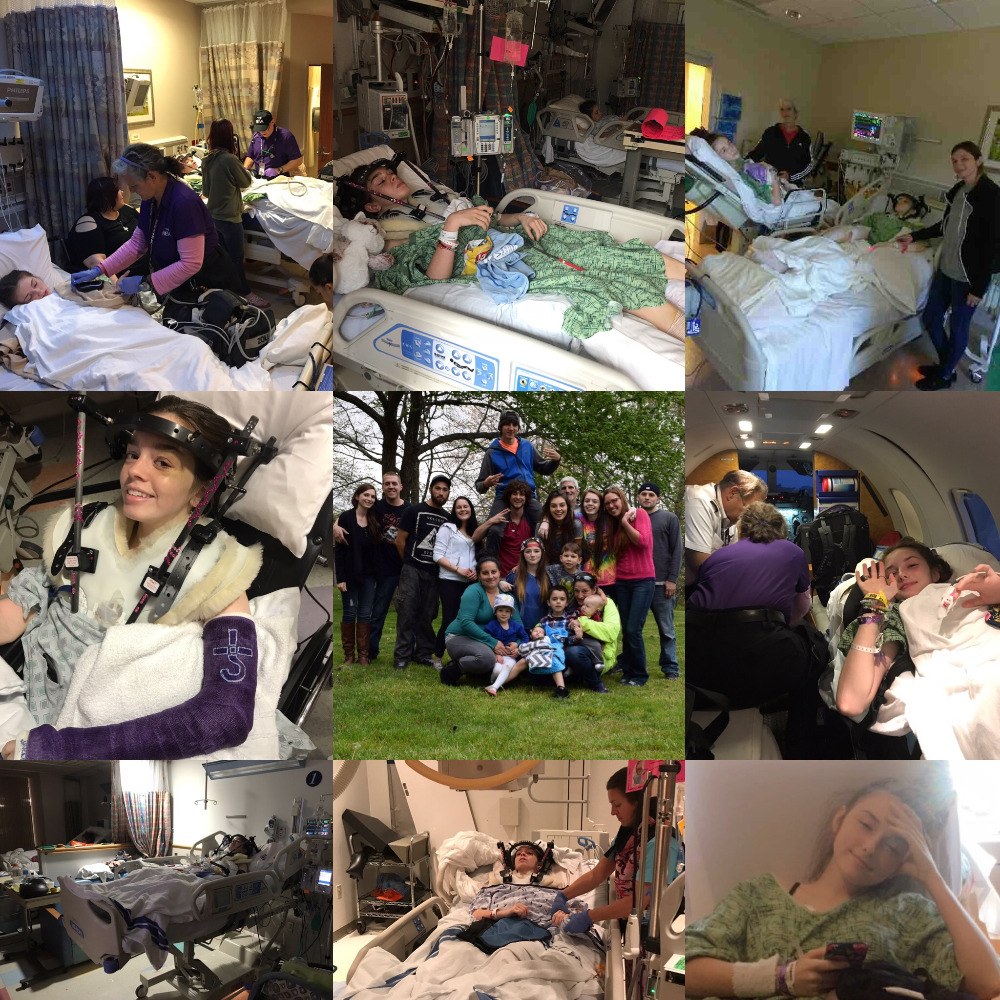 + Read More