Falknerei Eulenhof braucht Hilfe
€360
of €20,000 goal
Raised by
6
people in 2 months
Hi,
(Please see English text below!)
wir sind Tatjana und Stefan! Zusammen mit 38 Eulen und Greifvögeln bilden wir die Falknerei Eulenhof, eine kleine, unabhängige Falknerei im schönen Marsberg im Hochsauerlandkreis. Unser Hauptfokus liegt, wie der Name schon verrät, auf den Eulen. 
Unsere Geschichte
Wir sind seit 11 bzw. 8 Jahren selbstständig und hauptberuflich Falkner mit Herz und Seele. Dank diesem Abenteuer durften wir schon viel mit unseren Tieren erleben. Neben einem Fernsehauftritt im ZDF, begrüßen wir die meisten unserer Zuschauer auf Mittelaltermärkten, Veranstaltungen, Kindergärten, Behindertenheimen, Altenheimen, Schulen, Fotoshootings und auf Hochzeiten - denn unsere Vögel fliegen sogar Ringe ein!
Anders als in öffentlichen Falknereien schaut man bei uns nur nach Terminabsprache vorbei - und erhält einen einmaligen Einblick in das Leben der Eulen und Greifvögel. Unser Ziel ist es, unseren Besuchern die Federn hautnah spüren zu lassen. Dazu gehört natürlich das Trainieren und Fliegen der Tiere.
Unsere Mission
Hierbei steht das Wohlergehen unserer Tiere, sowie auch der Schutz von heimischen Wildtieren an erster Stelle. "Nur was man liebt, das kann man auch schützen." lautet unser Leitfaden.
Durch Aufklärung und Naturerlebnis vermitteln wir Werte bei großen und kleinen Zuschauern.
Neben dem Tagesbetrieb in der Falknerei besuchen wir Kindergärten und Schulen, in denen unsere gefiederten Kollegen für Staunen und Abwechslung sorgen.




Unser Ziel

Wir möchten unsere Falknerei erweitern und Volieren bauen, um den Tieren die Brut anzubieten. Diese sollen natürlich den Bedürfnissen der Tiere gerecht werden und unterliegen den Anforderungen zur Zucht von Greifvögeln. Unsere hierfür in Frage kommenden Vögel möchten wir euch gerne vorstellen:


-
Turmfalken
Tinkerbell und Peter Pan
-
Sibirische Uhus
Drago und Bella, Zuchtpärchen, welches von einem     verstorbenen Kollegen übernommen wurde
-
Bartkäuze
Merlin und Morgaine, der Bartkauz Bestand musste dieses Jahr leider herbe Rückschläge verbuchen, da viele Tiere an der West-Nil-Seuche verendet sind. Das Heinrich Löffler Institut warnt vor weiteren Rückgängen in der Population
-
Schakalbussard
Chucky, der einzige seiner Art in den deutschen Falknereien. Für ihn suchen wir noch einen Partner 
-
Weißer Habichtskau
z Alana, diese kleine Schönheit ist wegen ihrer Farbmutation (kein Albinismus) besonders selten und kommt nur alle 10 Jahre im Gelege vor. Sogar der Amtsveterinär hat die Zucht vorgeschlagen. Auch für Alana wird noch ein Partner gesucht.
Der Plan


Insgesamt sollen neun Volieren und ein Schulungsraum gebaut werden. Die Volieren werden zu einem drittel geschlossen sein, um den Tieren einen Rückzugsort und einen sicheren Schlaf- und Brutplatz zu bieten. Der Rest der Voliere ist offen und soll artgerecht eingerichtet werden, mit Platz zum Fliegen und Sitzen. Der Schulungsraum bietet auch bei schlechtem Wetter einen Ort zum Wissen vermitteln.
Die Kosten
Für das ganze Projekt haben wir eine Summe von insgesamt
50.000€
berechnet. Das ist erstmal ein ganz schöner Berg. Doch jede Reise beginnt mit dem ersten Schritt. Wir möchten daher erst einmal mit den Volieren für unsere vorhandenen, oben genannten Brutpaare anfangen. Die Kosten für diese betragen c.a.
20.000€
und setzten sich aus folgenden Punkten zusammen:
Fundament:      4450€
Gestell:               6.600€
Wände:               3.000€
Einrichtung:     2.550€
Seitenwände: 4.000€
Dach:                   3.400€
_____________________
insg.                   20.000€
Der Lösungsvorschlag
Wir finden Crowdfunding eine gute Sache. Gerne möchten wir den Spendern auch eine Gegenleistung erbringen - und haben uns dazu ein paar Sachen ausgedacht!
Da GoFoundme auf Grund der neuen Datenschutzbestimmungen Belohnungsstufen nicht mehr unterstützt, würden wir das ganze gerne auf anderem Wege lösen. Schickt uns einfach eine
E-Mail
  mit euren Kontaktdaten und dem gespendeten Betrag,  wir senden euch dann das entsprechende zu. (
falknerei-eulenhof@email.de
)
10€ - einen kleinen Falknerhandschuh als Schlüsselanhänger
30€ - eine Tasse mit Eule/Greifvogel
50€ - Deine eigene Eule - als Plüschtier!
70€ - ein gemaltes Bild von Niky, dem Falklandkarakara 13x18cm
100€ - einen Mini-Falknertag über 1h für 1 Person (Besucht uns auf dem Eulenhof!)
150€ - Gemaltes Bild von Niky, dem Falklandkarakara 24x30cm
200€ - Falknertag über 4,5h inkl. Frühstück für 1 Person
250€ - Gemaltes Bild von Niky, dem Falklandkarakara 40x50cm
300€ - Eulentag  über 4,5h inkl. Frühstück für 1 Person
700€ - Spezial Falknertag/2Personen - 1PrivaterFalkner 4,5 h inkl. Frühstück 
800€ - Wochenende mit 1 Übernachtung / 2x Frühstück für 1 person
1.000€ - Tierpatenschaft für eine Eule deiner Wahl
5.000€ - Persönliche Falknershow/Standshow in Deutschland (mit 4-5 Vögeln)
Wir Danken Ihnen ganz herzlich für Ihre Unterstützung, Ihr Eulenhof - Team.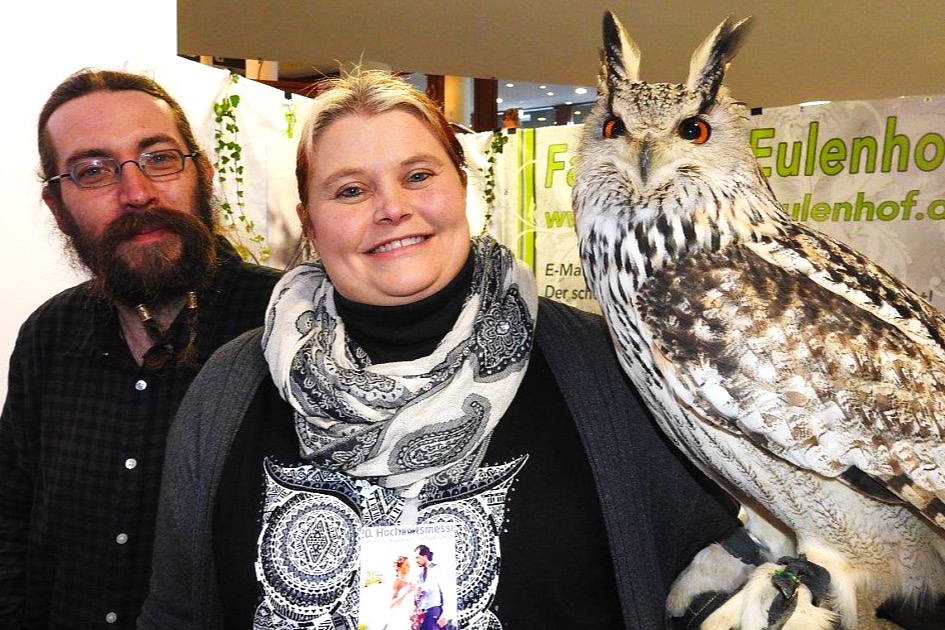 Stefan und Tatjana und Kari
http://www.falknerei-eulenhof.de
Instagram:
  vanyandtheraptors
English Text


Hi,

we are Tatjana and Stefan! Together with 38 owls and birds of prey, we form the falconry Eulenhof (German for Owl Farm), a small, independent falconry in the beautiful Marsberg in the middle of Germany. Our main focus is, as the name implies, on the owls.

Brief History

We have been self-employed and passionate full-time falconers for 11 and 8 years. Thanks to this adventure, we were already able to experience a lot with our animals. In addition to a TV appearance on ZDF, we welcome most of our viewers on medieval markets, events, kindergartens, homes for the disabled, retirement homes, schools, photo shoots and weddings - because our birds even bring the rings to the altar!

Our mission

Unlike most public falconry, we only have visitors by appointment - who get a unique and outstanding insight into the life of owls and birds of prey. We invite you to "feel the feathers" up close and give you the chance to train and fly a bird just like a falconer. 

The wellbeing of our feathered colleagues, as well as the protection of native wild animals, is our first priority. "Only what is loved, can be protected" is our device. With education and nature experience, we bring value to big and small visitors. In addition to the daily life in the falconry, we visit kindergartens and schools, retirement homes, homes for the disabled, in which our birds never fail to provide amazement and diversity. 

Our goal

We would like to grow and expand our falconry to build aviaries to allow our birds to breed. The aviaries must meet the needs of the birds and are subject to the requirements for the breeding of birds of prey. We would like to introduce to you the birds we want to home in the aviaries:

-

Kestrel Tinkerbell

and Peter Pan
-

Siberian Eagle Owls

Drago and Bella
-

Great Gray Owls

Merlin and Morgaine
-

Jackal Buzzard Chuckey

, very rare, who is currently the only one of his kind in German falconry. We are looking for a mate for him
-

White Ural Owl Alana

, who is also very rare due to her colour mutation, which appears every 10 years in a brood. 

The Plan

A total of 9 aviaries are being built. The aviaries will be one-third closed to provide the animals with a safe brooding spot and shelter. The rest of the aviary is open and should be arranged in an appropriate manner, with room for flying and perching.

The Costs

Base:                 4.450€

Frame:             6.600€

Equipment:   3.000€

Walls:              4.000€

Roof:                3.400€
_________________________

                       20.000€


The Solution

We think crowdfunding is a good thing. We would like to provide the donors with something in return - and have come up with a few things! Under the rubric "donate now" we have compiled a small list of small gifts and experiences for it.

We sincerely thank you for your support, your Eulenhof team Stefan and Tatjana.
+ Read More