Victoria's Medical Bills
$11,744
of $50,000 goal
Raised by
107
people in 37 months
Blessed are the happiness makers.
Blessed is Victoria who knows how to shine.

"There is a light on in my attic, that is a for sure
a simple light that has illuminated my path to ensure
that endless possibilities and dreams are there for me to grab. I hold on to hope and happy, and let go of the sad and the drab."

"I am Victoria and although today I can only whisper please hear my words, listen to my story, take from my experience and tragedy whatever you need because my destiny and goal in life is to only succeed."

I was asked not too long ago by a college adviser what I wanted to do with the rest of my life? I stopped and thought about the grandness and enormous consequence of that question, "Wow…the rest of my life?" The light in the attic turned on bright. I answered with confidence and no hesitation, "I want to help and bring out the good in others; lift them up when they are down, be able to carry them on my shoulders, and have the strength and courage to let adversity chisel out the best of me." I reiterated, "That is what I want to do…with the rest of my life." On May 22, 2016 I met up with adversity. At nineteen years old…the chiseling begins. I was involved in a tragic car accident. My head and brain took the brunt of the brutal crash. The rest of me did alright considering the severity of the accident. I have been operated on, prodded, poked, gagged, while every imaginable tube runs in and out of me relieving the pressure in my skull. My lungs started to act up, fluid they say, temperature and all the rest of the myriad of complications that occur with such a horrific brain trauma also have made this roller coaster recovery quite taxing.
But because this is my story, I want to share the ending; the chiseling of courage, tenacity
gumption and character.

This must be unimaginable for my parents, brother and sister and all my family and friends. I thank you now for your support, prayers, faith and love. Thank you from my toes to my heart. I am feisty and a fighter. I say it the way I see it. I will do everything it takes for me to get out of this and be back to studying for semester exams, transferring into an excellent university in the future, hanging out with friends, BBQ's with my grandparents, sunny days at the beach and wrinkled skin from too much time in the water and ultimately bear-hugging my mom and dad. I am silly, fun, sensitive and I do dance like no one is watching; that is my way of living. There is a caveat though - right now I need your help, those that read my words I truly hope my sentiment reaches your heart. Traumatic Brain Injury has a long and costly road to recovery. They say I will be needing lots of rehabilitation and 24-hour care. Somehow, I have managed to be independent by working several jobs and paying for my own expenses up to the accident on May 22, 2016. Neither of my parents have the money to cover my expenses. They are both good, hard-working people who struggle to make ends meet. I don't like asking for help, it makes me feel uncomfortable.

I need financial assistance to get me back on my feet and onto the path of being my best and giving to others. So, for the today and tomorrows… I humbly extend my hand in hopes of receiving gestures of love.
The light in the attic is bright. I can see more clearly now than before.

I want to be again those flapping wings
Soaring the world to do good things.
I know that this adversity will chisel at my fears
Sculpting out courage while replacing tears.
I am the miracle, the blessing, the one that pulled through
And I was able to do that because of you.

Anonymous

Thank you for Victoria's donations!  
Her sister (Allison Lear) & brother (Luis Valderrama) will be facilitating payments on her behalf.
+ Read More
Update 2
37 months ago
Share
Please have your dinner at WoodRanch to support Victoria! Please share with your community.

Peace, love & prayers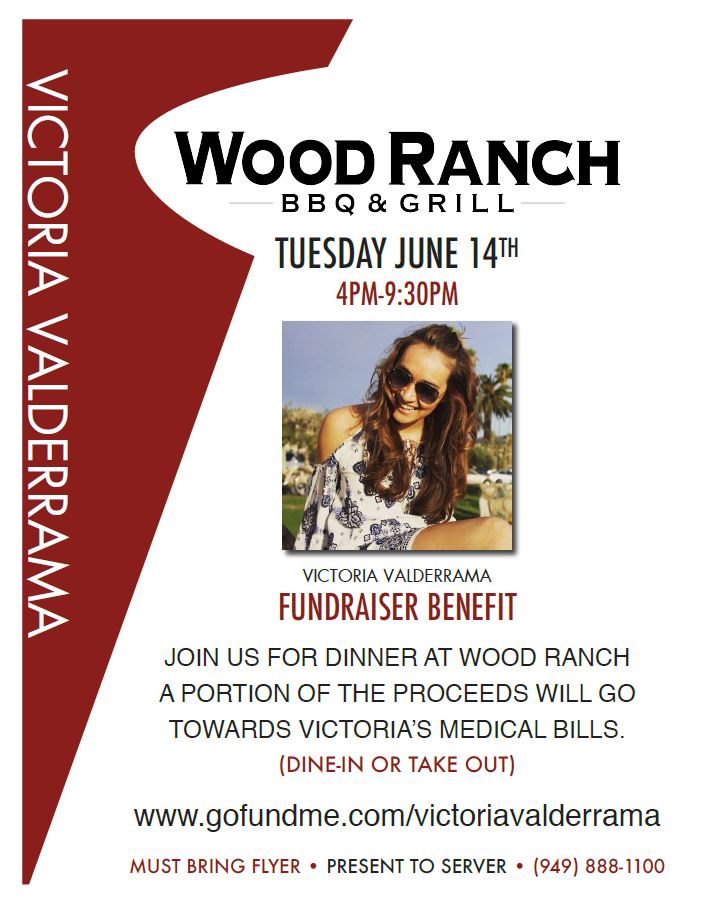 + Read More
Update 1
37 months ago
Share
Please join us at Victoria's Fundraiser Benefit on 6/14 at Wood Ranch BBQ & Grill in Rancho Santa Margarita, CA . With this flyer, a portion of the proceeds will go towards Victoria's medical bills. If you are not in the California area, we'd love any donation to Victoria on GoFundMe. Hope to see you there!
Peace, Love & Prayers!
+ Read More
Read a Previous Update

A
CaringBridge
campaign
Be the first to leave a comment on this campaign.