Vegan Roadie Season 3: Ciao Italia!
$6,975
of $6,000 goal
Raised by
81
people in 28 months
The Vegan Roadie Season 3: Ciao Italia! 


The Vegan Roadie is back and taking it abroad to bring you six BRAND NEW episodes covering various regions in Italy. Thought you had to take Italy off your bucket list because you no longer consume animal products? Think again, join your host Dustin Harder on a plant based journey across one of the most visited countries in the world! Discover where to dine on your trip to Italy and uncover some hidden gems.
Not only will you get an inside scoop on plant based eats, fashion and culture. Dustin will take you inside a families house in each region visited to get a one on one cooking lesson showcasing authentic italian meals that just so happen to be vegan, after Dustin will break the recipes down so you can recreate these dishes in your own kitchen! 
Money raised
with this campaign will go towards equipment, equipment upgrades, housing, travel and production expenses. Thanks to a sponsorship by Vegan Travel Club the amount needed to achieve these goals is reduced drastically. 
Rewards
are minimal to eliminate waste and the carbon footrprint on the enviroment. We are hopeful you will value the final result of our hard work as reward for your generous contribution.
We will film
in 6 different regions
(Rome, Amalfi Coast, Naples, Matera/Puglia, Sicily & Tuscany)
in a time span of only three weeks. That's A LOT of work in a very short time, combined with pre and post production this project will span work hours over 9 months time to deliver superior quality for your enjoyment. 
Consulted
by
Gretchen Sheridan
of Vegano Italiano Tours
/VeganTravel Club
every step of the way. Gretchen will be working closely with the Vegan Roadie team to bring the authentic vegan italian experince to life, traveling with us as we film to bring the facts and fun for each episode onto your laptop and into your home. 
This installment of the Vegan Roadie will offer a
comprehensive guide
beyond the pizza and pasta of it all, please join us for the ride! Your generous contribution not only helps create a resource for vegans and veg-curious, most importantly,
it continues to create content that aids in the efforts to mainstream veganism
. Meshing entertainment with education has consistently proven to have a lasting effect on creating change and progress. We hope you will see the importance of this vision and contribute anythingyou can from $1 and beyond, every donation helps us reach our goal. 
We are incredibly grateful for your support, there are literally no words big enough, lovely enough or thankful enough to tell you how much it means that you support this endeavor to create television quality programing to offer the masses. PLEASE share this campaign with everyone you can! 
PREVIOUS EPISODES
can be seen at the following links, this gives you an exact idea of what we will offer up Italian style:
Season One:
http://bit.ly/1HYnuaT
Season Two:
http://bit.ly/2bI9nOx
THE TEAM



Host/Creator - Dustin Harder
Dustin is a personal plant based chef and recipe developer in NYC. Graduating from the Natural Gourmet Institute in 2014 he quickly went on to work with celebrity chef Chloe Coscarelli developing the menu for her fast casual chain of restaurants, By Chloe. Most recently he has teamed up with innovation at Juice Press with over 60 locations in the New York area to create mouthwatering options for their expansive menu. When not on the road Dustin maintains a private client list, teaches cooking classes at the Natural Gourmet Instutute and delights NYC with pop up dinners.  
Director - Adam Peditto 
Adam Peditto is a Philadelphia based filmmaker and music video director. His short films have been seen in America and Europe. He currently is the Video Producer for The Humane League making short videos and documentaries with a powerful message of living a plant based life.
Prodcuction Manager/Writer - David Rossetti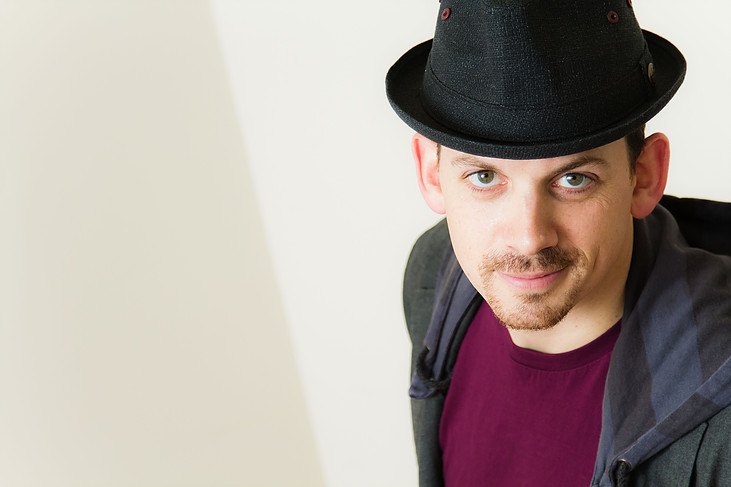 David Rossetti has served as the office manager on every single Vegan Roadie crowdfunding campaign, he is the reason rewards went out on time and goals were reached, among many other things. In 2015 he directed the St Louis and Denver episodes in season one of The Vegan Roadie. This season David is wearing many hats when the team lands in Italy from social media management, holding the boom mic and coordinating schedules... you name it, David is on it. An actor of the Broadway stage and regional director/choreographer, we are grateful Mr. Rossetti is taking a break from his busy schedule to keep us all on track abroad. We couldn't do it without him.

Executive Producer/Sponsor - Vegan Travel Club
VEGANTRAVELCLUB.COM 

Founded in 2009 by husband and wife team Pasquale Tierno and Gretchen Sheridan, Vegano Italiano Tours arranges boutique tours of Southern Italy with a discerning insider's curatorial touch. The Roccadaspide-based duo knows just where to go and what to see for the very best, most bespoke European experience: from inviting accommodations to exciting excursions, historical sightseeing to exquisite dining, wine tastings to live entertainment, leisure activities to athletic endeavors, shopping to boating and beyond. Specialty tours cater to hiking enthusiasts, traditional foodies and avid vegans, among myriad more dream themes. Bilingual guides with expert knowledge of the area — be it the Amalfi Coast, Sicily, Rome or anywhere else within the southern region — accompany every tour group.
+ Read More
Be the first to leave a comment on this campaign.