Jack's Gymnastics
$2,016
of $4,000 goal
Raised by
38
people in 44 months
My son Jack, is one of those children that catches everyone off guard. Very early in his childhood I knew Jack was extraordinarily smart, saying his first word at 3 months and walking by 7 months. Although he was ahead for his age, I always noticed certain tendencies in him that were not something you see in children. Jack always had to have something in his hand, if not in both hands. He was, and still is, obsessed with having things done a certain way. My family and I just assumed he had a strong character, but there was more to it than that.
 When Jack was 4, I enrolled him in a Day Care Center where I was first introduced to the world that I now live in now with Jack. His teacher told me that she was almost positive he had Attention Deficit Hyperactivity Disorder (ADHD). I brushed it off and decided I would deal with it further. I was in denial about it. When he started Kindergarten things got worse. I had to transition Jack from a public school to a charter school, which he currently attends.
At this point, we began psychiatric evaluations and testing to see what was officially going on. When the testing was completed, he was formally diagnosed with ADHD and put on Adderall. Apart from ADHD he was tested further on the autism spectrum and it revealed that Jack has an IQ of 152 and mild Asperger's. Those details further explained his low tolerance for noise and his lack of patience towards those around him. Jack then began therapy sessions to help him cope with the difficulties he was experiencing. If Albert Einstein could lead a successful life and leave a legacy while having Asperger's so could Jack.
 During one of his therapy sessions with his psychologist he stated he wanted to give Gymnastics a try. Not too sure where this came from as he had never been exposed to the sport. I had tried putting Jack in a sport before, but his lack of focus and interest always lead to poor results. Since this was what he wanted, I decided to give it a chance. In less than a year, Jack exceeded the expectations of his coaches. His discipline, focus, and drive have significantly improved and he applies those techniques in his everyday life.
 His coaches have told me that he is the role model for his class and that his dedication to the sport will get him very far. This past May, Jack was promoted to the competing team at Florida Gymnastics Training Center (FGTC). We are determined to get Jack to these competitions, but as a single mom that is a very difficult task for me to achieve alone.
I am currently enrolled at Florida International University where I am obtaining a Double Master's Degree. Due to that, I cannot hold more than one job and my income is just enough to support my son and keep a roof over our heads. Opening this GoFundMe account was something I had contemplated for a while, but was something very difficult for me to come to terms with. I had to come to terms with the idea and understand that this was something I had to do for my son. Gymnastics is the best thing that had ever happened to Jack and he cannot lose it because I didn't try.
 Every penny donated will go towards his monthly tuition, competition fees, and uniform expenses. Any little bit counts. Even if it's just a share, we'd greatly appreciate your support. 
Thank you,
Jack & Family
Jack's First Performance May 2015
+ Read More
Update 1
Posted by Mari Jenn
44 months ago
Share
Jack moved into the fifth grade yesterday!! He also graduated with an A and B average all year for which he got awarded a trophy! So proud of my sonshine! Thank you to everyone who has contributed and shared his page. We greatly appreciate it! Jack and Mariely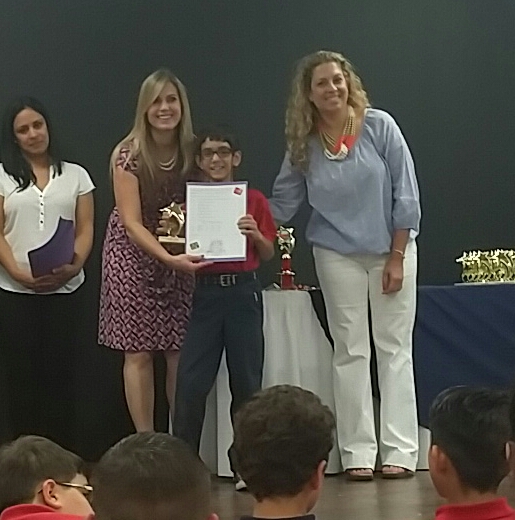 + Read More
Be the first to leave a comment on this campaign.