Curing Cancer 1 beer at a time!
$6,072
of $50,000 goal
Raised by
49
people in 59 months
*In 2015 I will be drinking a beer in all 50 states to raise money for cancer research! Check out the cool REWARDS I am offering!*
My Story:
I have always dreamt of raising money for cancer research.  In 2013 I came up with the idea to drink a beer in all 351 Massachusetts towns and raise money for cancer research. It took me 8 1/2 months to finish during which time  I raised about $40,000. The money was donated to Dana Farber Cancer Institute in Boston. What started off as a silly idea quickly became popular as my story was featured on Today, MSN, ABC, NBC, CBS, Fox and  other media outlets. This year I traveled to all 169 Connecticut towns to have a beer and I raised over $50,000. The money was donated to various cancer hospitals in Connecticut; the majority being donated  to Smilow Cancer Hospital @ Yale- New Haven.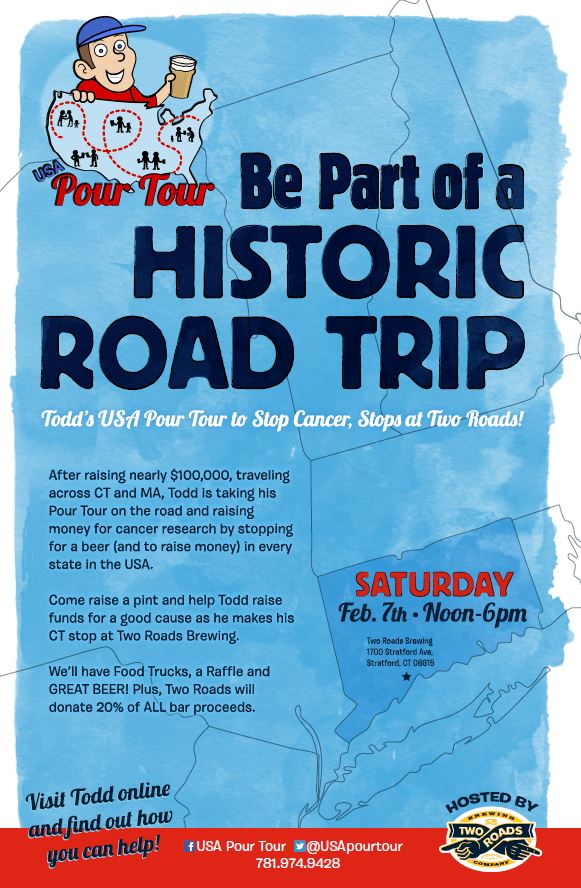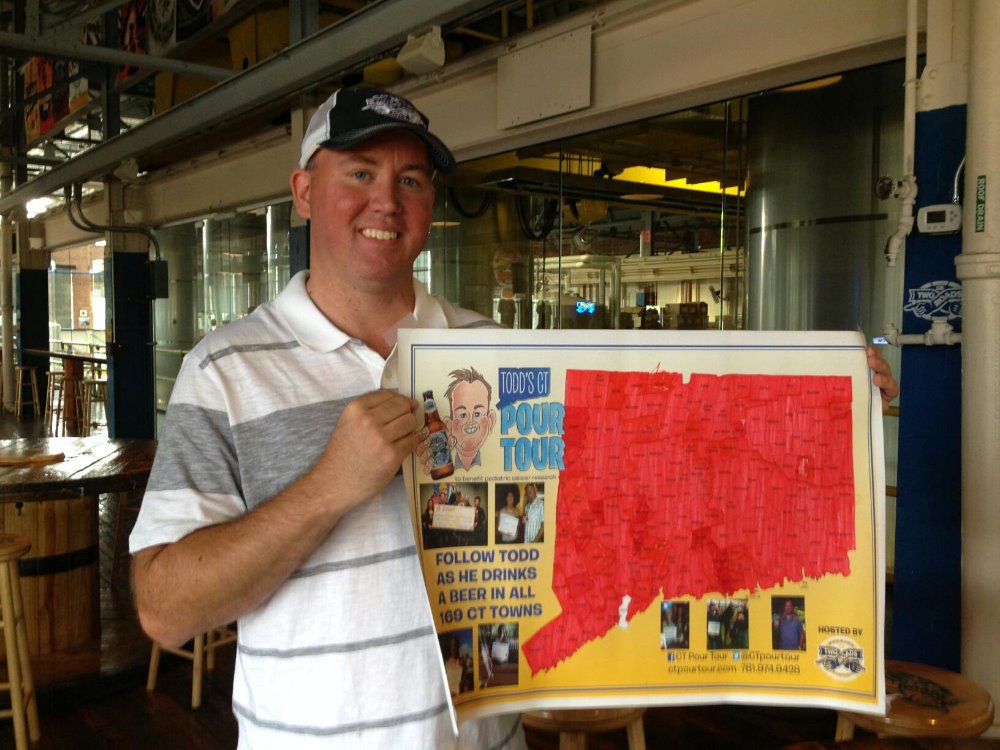 The response has been amazing. People have invited me to their homes, bars and restaurants. Many of the places held events when I visited and thought of creative ways to raise money.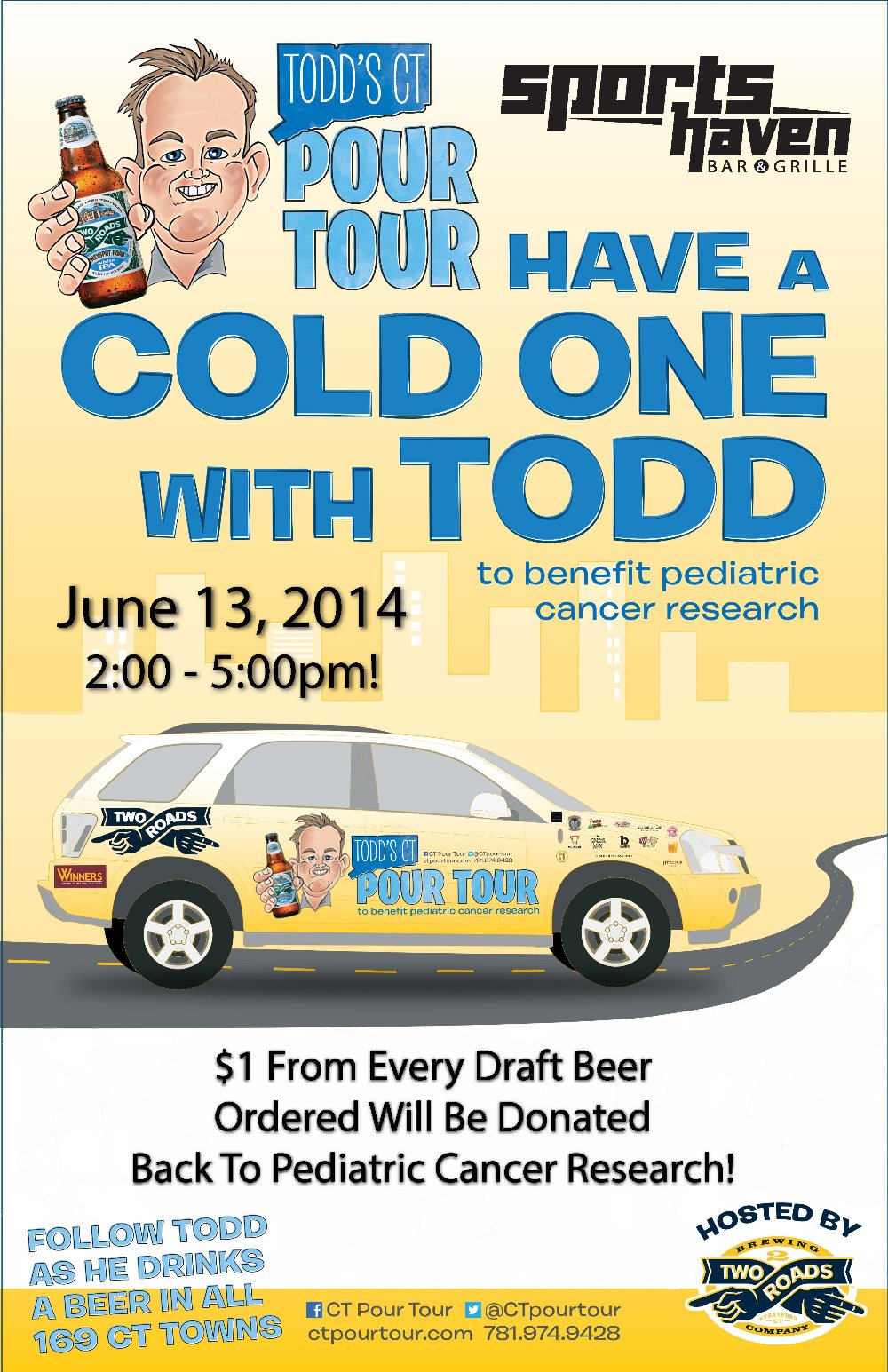 In 2015 I will be traveling throughout the USA and I will be having a beer in each of the 50 states. I would like to go to a town where I can raise the most money in each state! If I can raise over $90,000 in MA and CT, just think of how much together we can raise in all 50 states!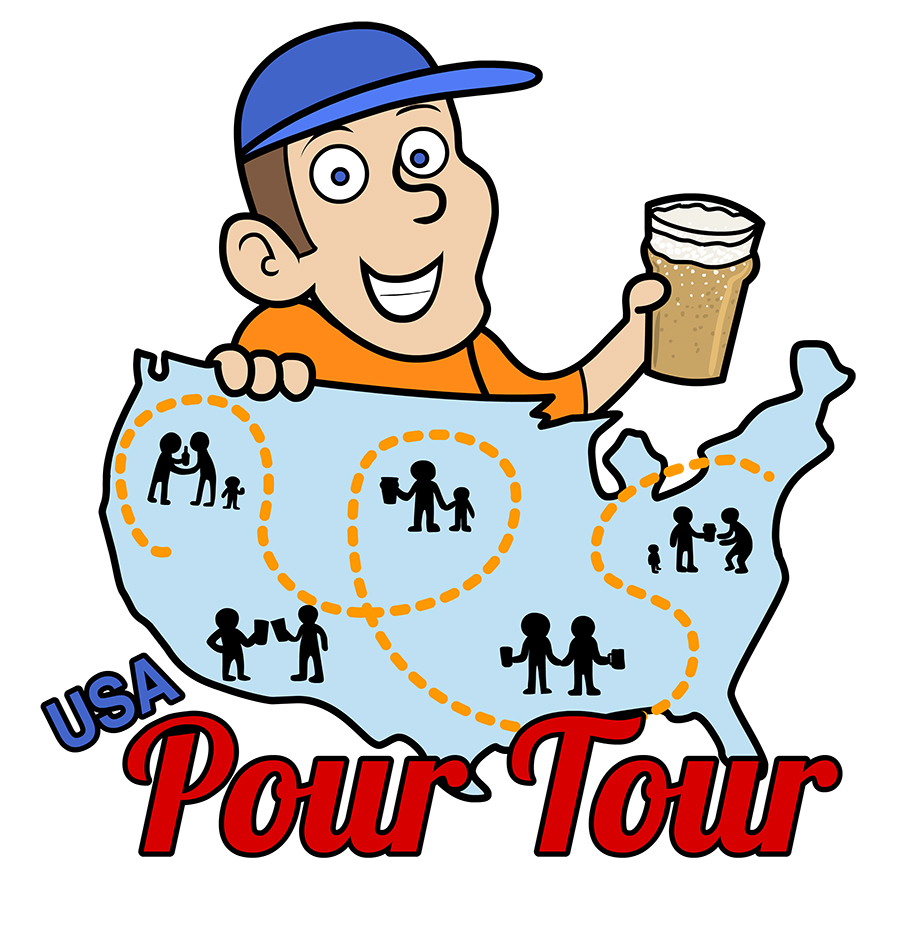 How I will use the funds
: Approximately 33% of the money will go to fullfilling  the rewards being offered to donators. The remainder of the funds will cover my expenses and tour costs, but most importantly it will  cover purchasing fun prizes for the fundraisers at each stop along the way. I am confident that whatever money is raised on this Go Fund Me campaign, that I can raise even more than that for cancer research. Over the past two years I have spent my own funds for fundraising or I have relied on donations or raffle prizes from each establishment. Your pledge will allow me to purchase fun prizes like vacations, iPads, computers, sporting event tickets, and other items that will help raise the most money for cancer research. My team of volunteers and I will strategically plan what prizes to raffle off at each stop. We will also work with bars and restaurants to donate a portion of sales when I have my official beer at their stop! 
Which hospitals will be the recipients from money raised on the USA Pour Tour?
  Over the last several months I have been sharing my story with cancer hospitals all over the country. As I raise money in each state, I will be meeting with representatives at each hospital and presenting them with a check and i will continue to  document  so I can share with you on my website and social media. All of the money I raise will stay local. For example when I raise money in Washington, that money will be presented to Seattle Cancer Care Alliance, and when I have my New York beer that money will be presented to Sloan Kettering; Both are  hospitals that are supporting me. I have over 25 hospitals on board thus far including institutes and foundations in AL, SD, SC, MA, WY, NM, CO, VT AZ, and OR . All of these places are excited and want to help spread the word about OUR fundraiser! If you pledge, you are a part of this!
How much can we raise for cancer research?
That number depends on how much this Go Fund Me campaign raises. The sky is the limit!  If i raise a lot more than what I am asking, I think we can raise millions. I am dedicating my life to this project.   If I could raise $12,000 in Ridgefield CT, $7,500 in Branford CT, and $7,000 in Lunenburg MA, just think of how much could be raised in NYC, Dallas, LA, Miami, and some of the other big cities.
What if I don't raise enough money to do the USA Pour Tour?
If I don't raise enough money to do this endeavor, I will use the funds I raise and go to as many of the biggest cities in the USA as I am able. 
Highlights over the last 2 years:
Over the past 2 years I have met so many amazing, and generous people including a lot of people that are fighting cancer or who have won their battle with cancer. I love meeting people and hearing their stories. My mind has been blown by several people including Emerson Dyer, who at 7 years old donated her lemonade stand money to me to donate to the hospital. She gave me this card: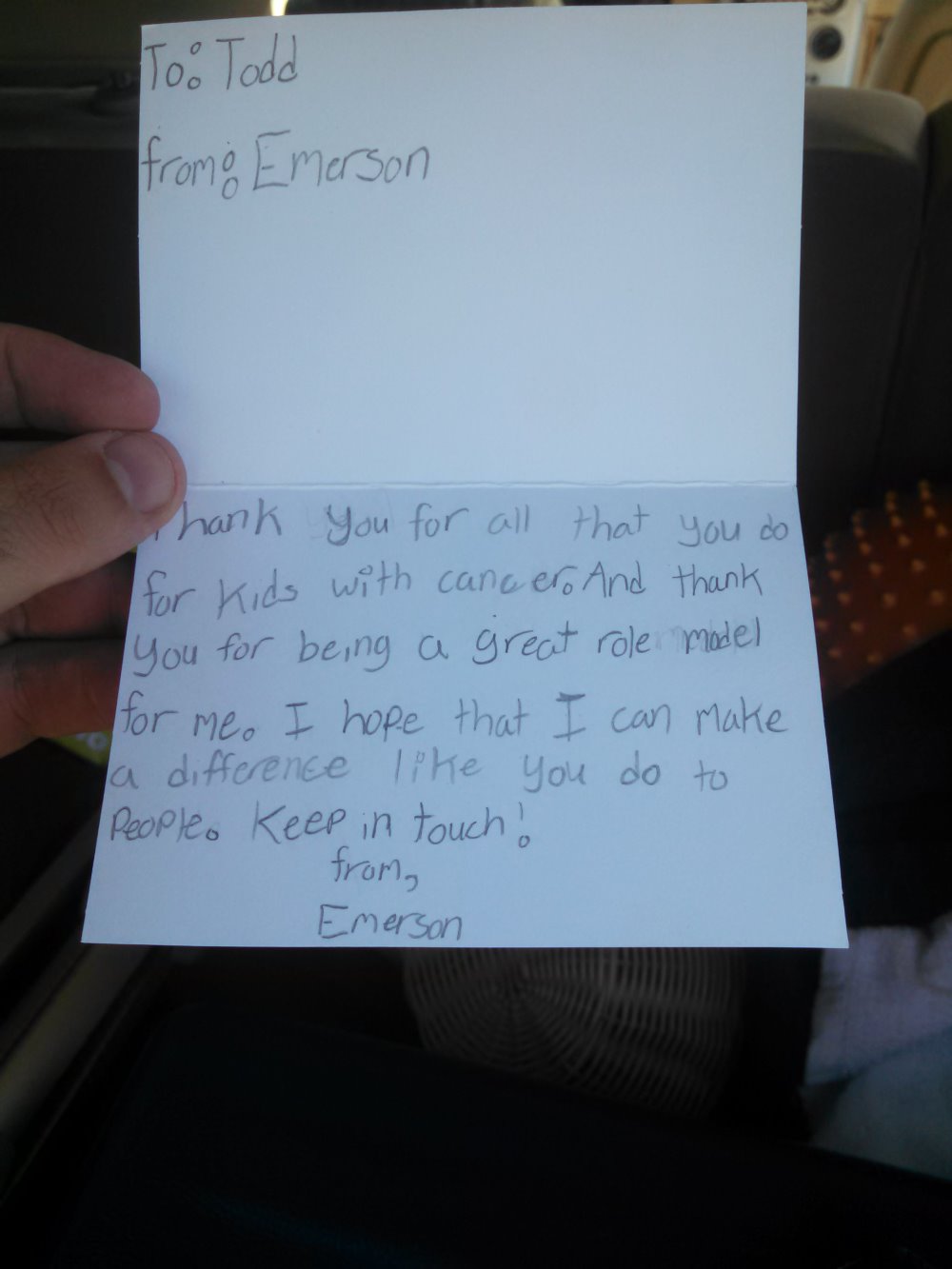 I also had a very generous man come to one of my beer stops where he presented me with a  $10,000 check to the cancer hospital. Other cool highlights were when Baba Booey from The Howard Stern Show came to have a beer with me when I was in Greenwich CT, and when Brian Cashman, GM of the Yankees brought autographed baseballs to my stop in New Canaan to raffle off and raise money. I have had all sorts of crazy requests. I had a beer with a llama and a donkey (they didn't drink actual beer), and I even had a beer at a nudist colony!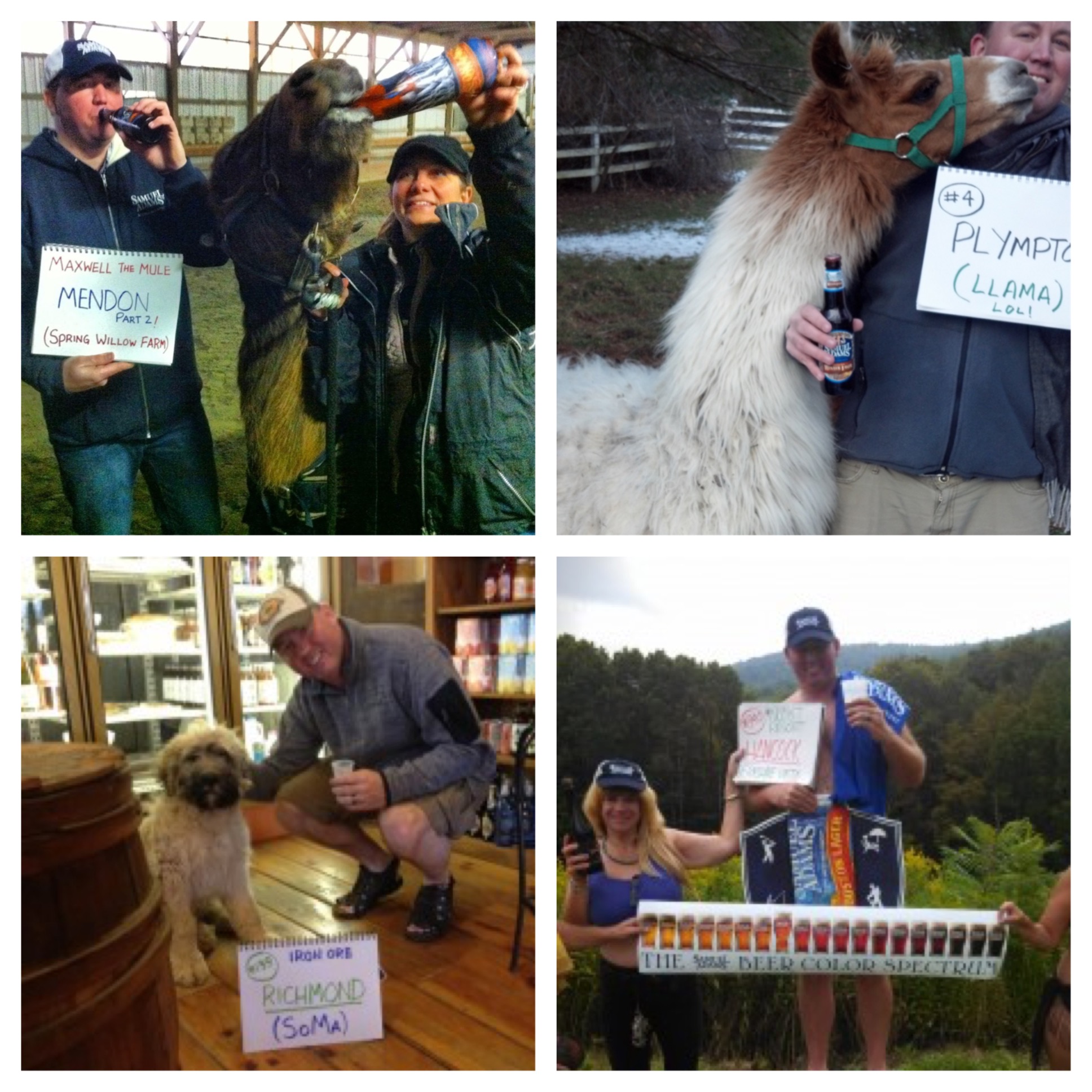 Sometimes I even have people post with my signs and color in my map!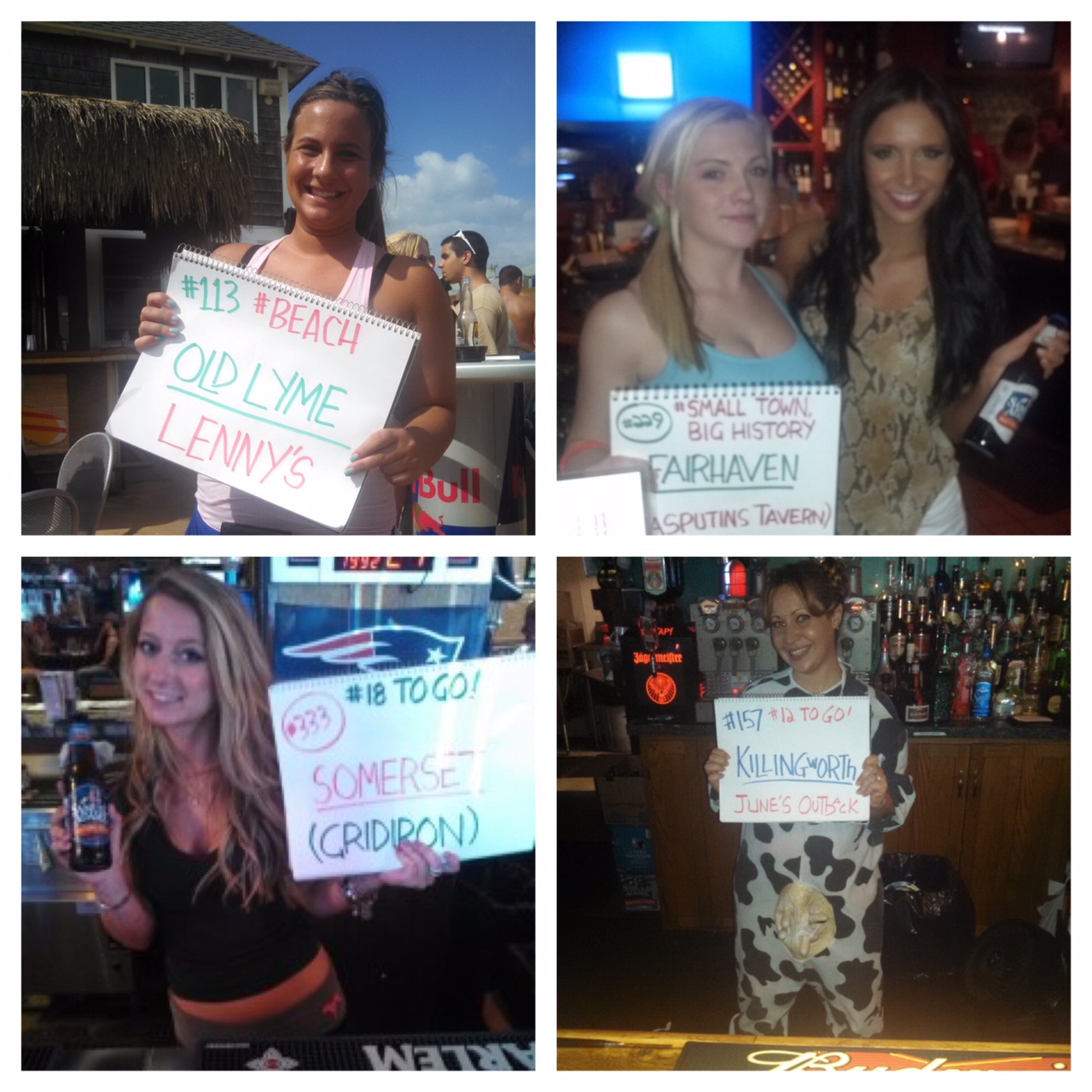 Thank you for your support. Let's make this one of the the biggest and coolest fundraisers ever! In 2015 I plan on having a bus or van with all my sponsors logos all over it! As with my previous 2 tours I will be drinking responsibly. I will always use designated drivers or public transportation at each stop.

Other ways you can help! I am always looking for ideas on places to go to in each state. If you have an idea of where I should have my beer in your state contact me through my website www.usapourtour.com

**Please contact me directly if you'd like to sponsor a major portion of my car, or if you'd like to make a private donation!

To see where I had my official beer in each of the 351 MA towns and 169 CT towns, visit my websites:

www.351samadams.com
www.ctpourtour.com

Cheers!

Todd

***All rewards will be sent by January 1st 2015, except Synek which won't be available until June of 2015***



+ Read More
Be the first to leave a comment on this campaign.