Underground Nomads Support Team
$755
of $4,444 goal
Raised by
17
people in 59 months
We are a few months into building an awesome weekly Multi-Genre World Music Dancefloor and Dance Performance night in SF that we broadcast via live stream to the world. We are reaching out to all of you near and far to help us build this night and keep this night going for years to come.
Underground Nomads is quickly becoming a local gathering place for SF's underground music scene and belly dance community, where we can showcase unique, far-from-mainstream performance art to appreciative audiences.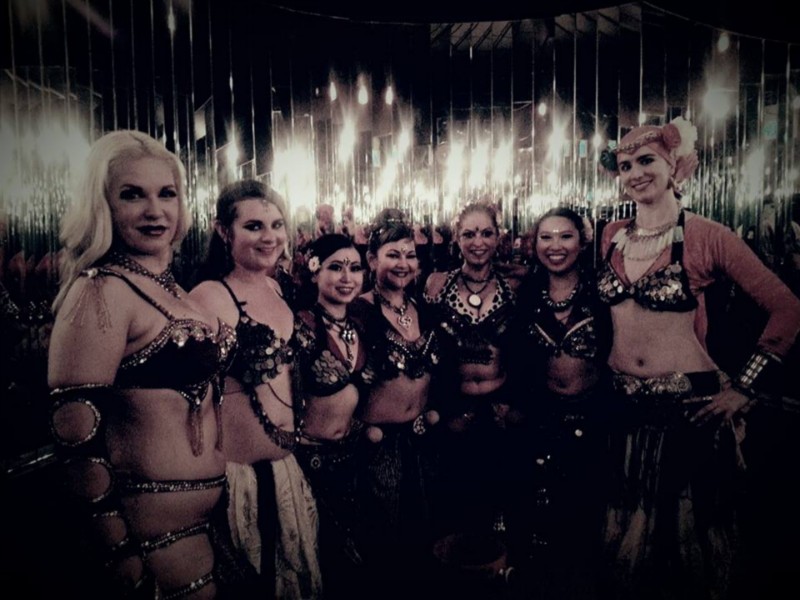 Surreya and Shanti Jourdan with FatChanceBellyDance

Locals can - of course - come support in person. Any additional support is welcome. For those unable to come to the show, you can see and hear the DJ sets on our live stream. We are looking to setup a new camera that will live stream the dance performances as well, and more reliably live stream the event. Currently, just the DJ booth is on camera. We hope to expand this to a 2 camera setup to stream the performances as well. This is just part of our goal. Your help will enable us to do this, and also much more.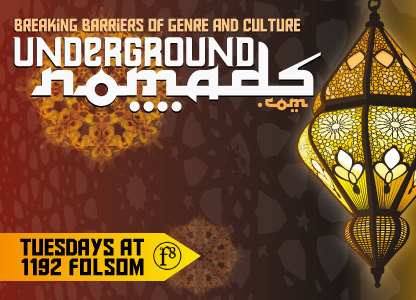 Whatever we raise here will go toward all aspects of keeping the nights going longterm and sharing the music and performance art with as many people as possible, near and far.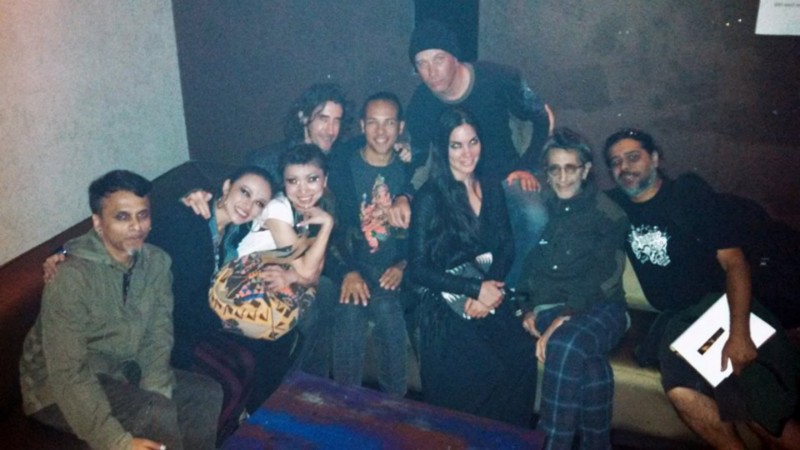 Cheb i Sabbah's visit to Underground Nomads on Sept. 24th with Jinniyah/ Makyo, Dulce vita and Dunkelbunt. (L-R: Janaka, E-Chan & Milla, Makyo, David Starfire, Jef Stott, Zoe Jakes, Cheb i Sabbah, Amar)

What we will be using raised funds for:

Promotion - getting the word out by printing nice color posters and flyers, distributing them around SF and the bay area. We are doing this already at a smaller scale, but we need to increase it to spread the word and get more people coming through the door. We also plan to kick up online promotion (This is where you can help also - by posting to your social networks and telling people about the event - word of mouth is an amazing help and worth more than some realize).

Production value - In addition to the cameras for live stream, we want to get some nice lighting for the dancers. Our dancers put a lot of time and effort into costuming and makeup, and - while we enjoy the small club atmosphere - we want to highlight them in the best way possible. We will also need a reliable live stream subscription. For now, we will use the computers we have to stream, and the club has a good sound card patched into the DJ mixer - so we're good on that hardware.

Supporting the artists - Right now, the dancers are performing for tips, and on some nights they do great. Our DJs are working together to build the night and we are sharing what comes through the door. Our goal is to build to a night where we can support expenses, our resident crew (dancers, musicians and DJs) and guest performers. At the moment, funds coming from the door go directly back into promotion, running expenses and covering our crew just a little bit when we can.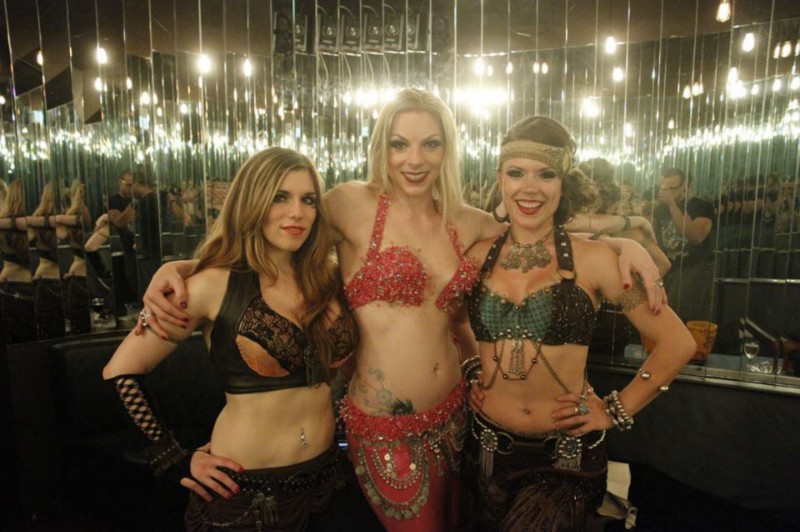 Residents Millie Maddox, Jennifer Faust and Laura June

If you watch us online, we encourage you to give a little when you can. We have a great opportunity to share our music with the world, to whoever wants to tune into the livestream and watch (We even have some saved live streams that you can watch whenever you want), but it does come at a cost.


Live Stream: Christmas Eve with DJ Amar & Maneesh the Twister (part 2 - late night portion with Amar closing out at 2:15am)

For those who come to the show, we keep our door prices low and bring in some amazing talent. We are fortunate to be part of a community of generous dancers, musicians and DJs who are so humble and come to perform with us at our little show. Seriously, people are able to come see some amazing artists who are used to performing in front of audiences of thousands right here in this intimate space and casual atmosphere an arms-reach in front of you.

We are fortunate to have the support of an awesome club with a kick ass sound system, nice dancefloor and great bar with a homey friendly vibe, and want to do our best to get people out.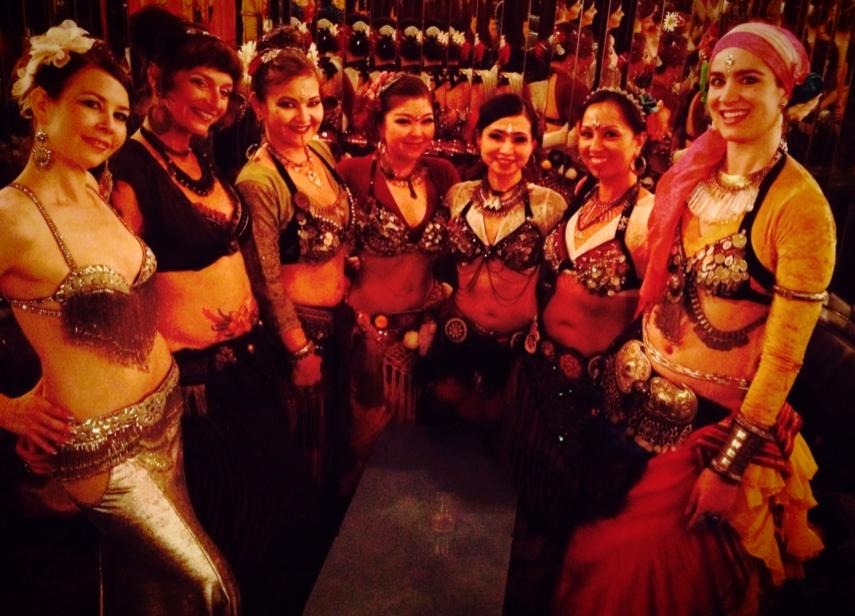 Residents FatChanceBellyDance & Wendy Martlatt, Ayre Briar
Underground Nomads came into existence as a collaborative effort to revive SF's World Music culture, bringing together the vibe from Cheb i Sabbah's legendary Tuesdays at Nickie's, The Tribal Belly Dance Thursdays and middle eastern nights (which featured Ultra Gypsy, DJ Sep, Soulsalaam, Jef Stott and more) and Jose Ruis' World Music Fridays at El Rio, Belly Dance evenings at Amira and many more amazing regular nights that existed back in the day in SF.

We started the nights both as a way to keep Cheb i Sabbah out and playing for as long as he could during his final stages in his fight with cancer (as DJing was one of the things keeping him going and enthusiastic about life) and to keep the vibe alive. We made a promise to keep the music and vibe out on the dancefloor in his honor.


Live Stream: Cheb i Sabbah Birthday Party with Dulce Vita and Chebiji

Underground Nomads Founding Members:
Cheb i Sabbah, DJ Amar, DJ Sep, Dulce Vita, Gina Grandi.

Current Residents, Regular Guests and core Support Team:
DJ Amar, Dulce Vita, DJ Sep, Gina Grandi, Calamity Sam, Eloise Yvette, Jef Stott, Maneesh the Twister, Jimmy Love, Janaka Selekta, Zoe Jakes, Millie Maddox, Surreyya Hada, Carolena Nerriccio and Members of FatChanceBellyDance, Wendy Martlatt, Kelly Ryan, Jennifer Faust, Tatyana, Rafael Fiero and the F8 crew, Demitria Ruis (our resident bartender), Marco (our awesome security man), Marco Senghor (Helped us kick off at Bissap Baobab), Shanti Jourdan, Ladies of Unmata, Verbatim and Hot Pot, Kami Liddle, Amina Zareh, Laura Elizabeth, Erica Lingrell, Amberetta, DJ Mundi, Sadira, Shondell, Bob Duskis, Bramani Spiteri, Kamille Hitz, Jill Parker, Danielle Lotridge, Stephanie Ann, Masha Loukeino, Phillip Ranelli, Dan Cantrell, Elizabeth Strong, The Lady Fred, Mo Corleone, Jade Etiene, Rasa Vitalia, Kytami, Makyo, Chandala Shiva, Kae Montgomery, Djeynee, Mat Jacob and the French Tribal Embassy, Marci Ann, Jodi Waseca, Jeanette Walton, Members of Azure, Analisa Nelson, Sean Tergis & MWE, Laura June, Kimberly Mackoy, Superkate, Carla Kerstens, Rose Harden, DJ Dragonfly, DJ Santero, DJ Feral, Dancin Angie and many more who have helped us get this far along with building our dream night - some who I may have overlooked, some who I don't know, some who will be a part of this team.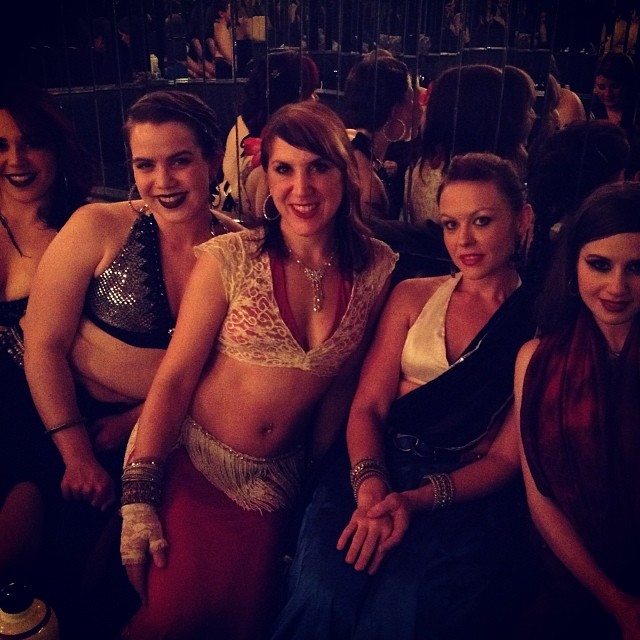 Resident Dancers (L-R: Amina Zareh, Laura Elizabeth, Erica Lingrell, Jenna Anjali, Tatyana)

Info and weekly lineups + live stream link at http://undergroundnomads.com/

Help us spread the word by sharing on facebook, twitter, Google+ or wherever you like to share things you like to support.

Much Love and Thanks!
+ Read More