Trish's shot at a cure.
$9,765
of $15,000 goal
Raised by
137
people in 39 months
Hi beautiful people! I'm Trish, a 47 year old mother of 5, grandmother of 3, friend, lover, business creator, fitness fanatic and seeker of life's deeper meaning.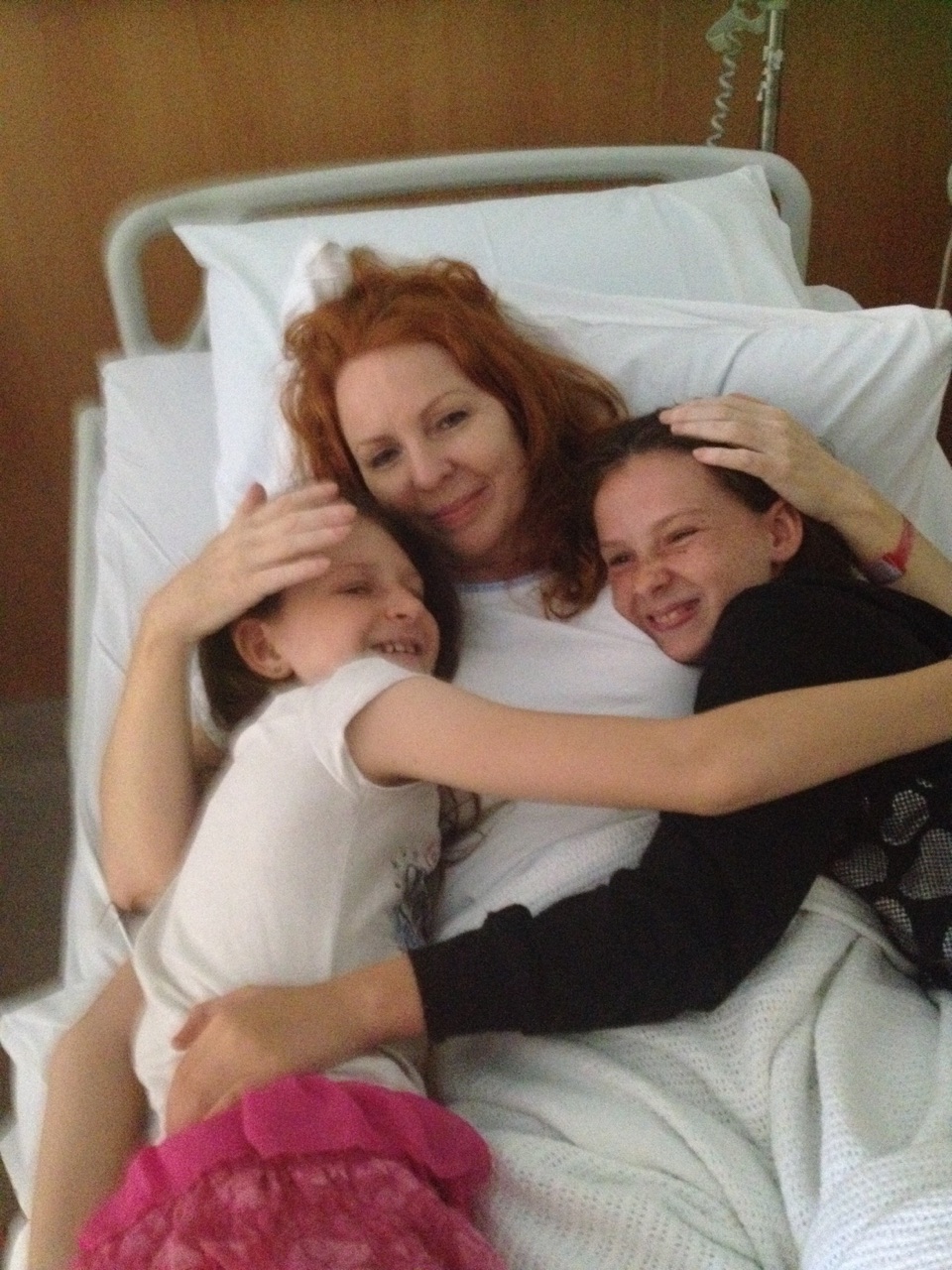 I'm going to strip myself bare and be incredibly vulnerable as I share with you a no holds barred account of my newly acquired 'INCURABLE' autoimmune disease. In doing so I hope to help raise some awareness for this debilitating disease and some funds for my best and last shot chance at a CURE. Bottom line is I can't do this on my own, my family and friends as loving as they are cannot save me, so I turn to you, strangers, friends I have not yet met and ask if you, can help me become the woman I once was; Healthy, happy and healed.
 I have always had an active healthy life, full of love and purpose. Caring for my beautiful children, raising my consciousness and helping others. I thought I had it all! Perfect life, perfect health, perfect family, perfect career and a long healthy life ahead of me…how wrong was I!
HOW THE DISEASE MANIFESTED:
On March 30th 2015 my life changed dramatically! I went from climbing the mountain every day before breakfast followed by a gym session after school drop off, and running my own business- to suddenly passing blood several times a day. This caused me to become bedridden as the pain and blood loss were incredibly energy sapping and required a close relationship with the prone position and my toilet. I now struggled to walk the length of my house when in uncontrolled flare, let alone run up a mountain. 
When I finally ended up in accident and emergency, after spending 3 months virtually in bed, they told me I was a borderline case for urgent surgery to remove my entire 6 ft of colon then and there and if I left the hospital I could possibly die of organ rupture or bleed to death in my local shopping center. Yes they were the actual words the specialist used. My whole world had fallen apart. 
WHAT THE DISEASE IS:
This is not a pretty disease by any means! It robs me of every shred of dignity, every ounce of fragile vanity and any semblance of sexuality and privacy I once had - ego stripping and soul crushing - it goes by the name ULCERATIVE COLITIS. 
Few of you would have heard of it because for the suffers, the disease carries so much stigma and shame.
It is an autoimmune disease of the colon, the large intestine, in which your own immune system attacks itself and anything you ingest, to the point where acidic ulcers/holes are burnt in your colon causing bleeding and potential perforation and organ rupture. Both of which are life threatening.
The disease is marked by periods of Flares and remission, much like cancer and some of the same horrendous drugs are used for treatment to control severe flares. When in severe flare, there is no quality of life. I was trapped within feet of a toilet unable to leave the house or my bed and I was in great deal of pain. The severe blood loss can sometimes result in the need for blood transfusions.
WHAT I WANT TO AVOID:
The result of a severe flare can be a ruptured colon, which will require urgent life saving surgery and removal of my entire 6 ft. of large intestine. This means I would wake up with an ostomy bag. In fact about 4 out of every 10 people with this illness require a total colectomy: removal of their entire colon.
When this happens there is a period of a year or so when a bag will be used for removal of the body's waste and after that healing period, j pouch surgery may be performed to create internal plumbing by stretching your small intestine down.
THE TRAGIC NEWS IS:
Even this extreme surgery does not stop this unrelenting disease, because the disease actually resides in the anal stump. So unless you have your rectum removed and your anus sewn shut and are prepared to live with, and empty a bag for the rest of your life, you will STILL suffer all the debilitating symptoms of Ulcerative Colitis any time you slip out of remission.
I can tell you from my personal experience when I was in extreme flare for 94 days and experiencing 10 times a day blood loss and urgency increasing to 20 to 30 times a day before hospital admission, there were times when I truly wished the disease was terminal! Because a life lived like that is no life at all.
At the moment high dose steroids are controlling my symptoms. As soon as I stop, all the bleeding, frequency, urgency, pain and exhaustion both mental and physical return. I am once again virtually house bound and the heavy depression sets in. My daughters see me as sick in this time. I am a shadow of my former self. As much as I want to, I can't be the active, fun, happy, singing, dancing mum that is really me!
The steroids are not a long-term solution as after just 7 months I am already suffering bone density loss of 15% and hair thinning as well as the other horrible side effects. Every time I taper off the prednisone I flare again. No one can be steroid dependent as the long term side effects of cataracts, bone loss, muscle wastage, weakening of the immune system, and many others are just too dangerous.   
WHAT PRECIPITATED THE DISEASE:
I believe stress was the mitigating factor for the disease onset. Although my husband Vic and I had been separated amicably since August 2014 we still continue to share the family home and co parent our girls. On 12th February 2015 my world as I knew it imploded. Vic had a serious suicide attempt. This saw him in the psychiatric ward of Nambour hospital for several weeks. His treatment has included several trips via ambulance back and forth since then. I have become his carer. He is not capable of supporting me emotionally, mentally or financially right now and may never be. 
Apart from the huge emotional fall out of his breakdown, it meant a sudden loss of the family income. To make matters drastically worse, unscrupulous people took advantage of his mental illness to rip us off financially in relation to the sale and loss of his business he could no longer run.
The money that was expected to come in from that was to continue to see us through the period of no assistance from the government and to get me a 2nd hand car as mine has done over 400,000 kms and keeps overheating leaving me on the side of the road and to cover the huge weekly bills of the basics.  But now there is no money for these things. 
The strain of trying to fight for justice around this as well as coping with my husband's mental illness is what I believed caused my body to crash. It was all too much.
Our girls have suffered seeing their dad mentally ill and their mum physically ill. We are doing the best we can but at times it has been like playing musical ambulances. I have to get well enough so that I can support my family, be the fit active, involved mum I was and have my quality of life back.
MY CHANCE TO HAVE MY LIFE BACK:
The standard medical treatment cannot cure me. All they can do is offer me harder and harder drugs to try to control the symptoms all the while causing systemic damage to other parts of my body. The next level drug they have wanted me to start since September is an old chemo drug, Imuran.
Alternative therapies offer relief and remission without harming the body. But due to our circumstances we are barely keeping the roof over our heads and food on the table, there is no money spare for supportive therapies. 
One of the treatments I have been considering is Fecal Microbiota Transplantation, Professor Borody of Sydney has been preforming this for the last 25 years in his private clinic, CURING many people of Ulcerative Colitis. However the cost is around $10, 000. Not mention the cost of daily alternative healing medicine to get well enough to be considered for the treatment. You have to be off steroids and stable enough to even begin.
There are several different avenues, which offer great promise on the alternative therapy route. I have done a lot of research and found the ones most likely to bring about remission. Many people have taken this journey along with their maintenance meds and have remained disease free for years and in fact consider themselves cured.
I would love this opportunity but I don't have the financial means to be able to implement this and zero borrowing capacity. That's where you come in- my community…  
HOW YOU COULD HELP:
It is incredibly humbling to ask for help particularly financially, but I feel I have no choice. I live in hope that if people could share my page around and perhaps 300 amazing souls could find it in their hearts to donate $50 each, that would cover costs of the FMT treatment and alternative treatments to get me well enough to be eligible to proceed. This may save my colon and in fact my life and give me back the Me my friends and family have come to know and love.
MY PHILOSOPHY:
Why me? F#*k no!!! I would never ask that!!! Like my mum used to say in response to that question as she lay dying of cancer: "Why not me? Why should it be someone else?"
 I really believe it is a part of my soul journey, part of my growth, my intended path, to experience this incredibly challenging physical disease with huge emotional fall out, to experience this dark night of the soul as it were.
 For in this darkness I have witnessed the most beautiful light and in that light I have found the true measure of myself and of others who have reached out to me with love and kindness. What an amazing gift!!!
 I have done everything I can in the way of healing holistically with diet, prayer, meditation, energy work and even conventional medication to save my colon and my life. There is so much I want to give back to this world in the way of healing, but I have to heal myself first.
 Perhaps the onset of this disease was all designed to make me reach deeper inside myself than I ever have before, physically, emotionally, and spiritually! And maybe, just maybe a part of the self healing is about being brave enough to strip myself bare and ask for help??!!!
  Trust me it takes a lot of bravery to be so openly vulnerable in sharing the details of a disease I find so self rejecting. But I have nowhere else to turn. 
Maybe the lesson for me is about NOT BEING AFRAID TO BE SO HUMAN…after all ~ we all have times of utter despair that cause our knees to hit the floor….we all cry….we all bleed and we all need help sometimes <3
 I thank you in advance for any assistance you can offer me. Big love, Bless you. 
Trish x
+ Read More