Tonia Moore fights Crohn's
$3,160
of $10,000 goal
Raised by
51
people in 45 months
Hi my name is Tonia Moore an IFBB Professional Bodybuilder fighting the battle of Crohn's Disease.
I was first diagnosed June 2009 and ending up in the Emergency July 2009 nearly dead from what the doctors told me.....if I would have waited one more day to get to ER I would have been a gonner. They scheduled me for emergency surgery because my organs was shutting down due to my large intestine being perforated and waste leaking out causing my body to become septic. They removed about a 1/3 of my large intestines that was completely ulcerated along with 600cc's of pus in my abdominal cavity in which had to be irrigated out. I ended up with a partial colectomy where they attache the large intestines to the small intestines.  I was in the hospital for 2 1/2 weeks. I created a timeline video with my story of living with crohn's disease (before, during, and on my road to recovery 2008-2010)you can check it out on my youtube page
Bodybuilder Living with Crohn's Disease
If you watch the video you will see what the debilitating disease did to me causing me to lose over 50lbs of my muscle mass from 150lbs down to 95lbs skin and bones. After I got out of the hospital end of July 2009 I didn't get into remission until around the end of April 2010 and it was then I started my journey back to health and fitness and rebuilding my body back from scratch....in which I did a great job of doing.  See below......
Timeline photo collage 2008 before Crohn's, 2009 in the hospital & days out of hospital, 2011-2012 rebuilding my body and 2013 first time back to the bodybuilding stage since 2008 before getting struck with crohn's taking 3rd place out of 29 other top female bodybuilders.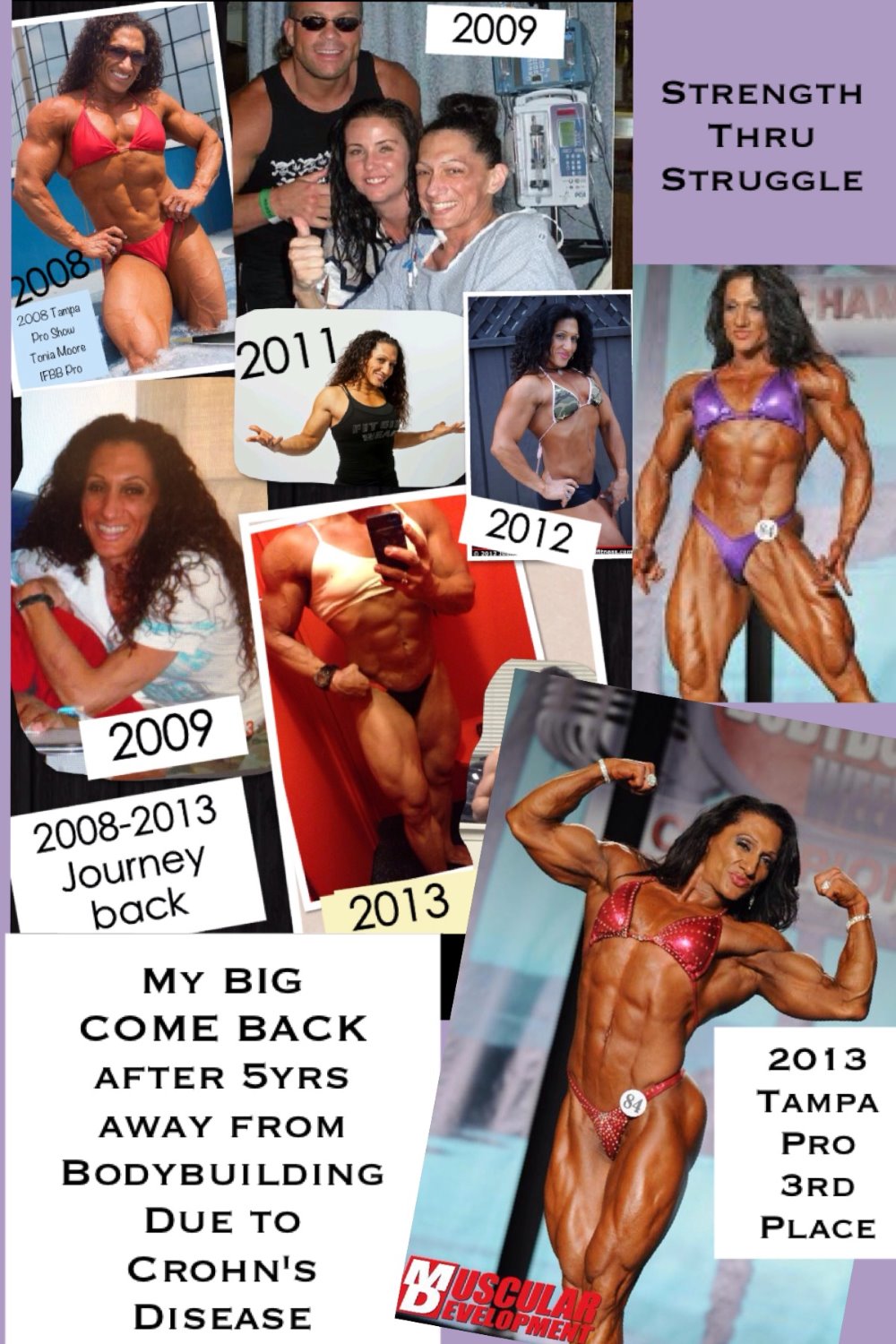 Now lets fast forward.......I had been in remission since 2010 up until December 2014 when my crohn's flared back up again.....I didn't think it would last as long as it has. I initially thought it was a flare up of the hemorrhoids (a result of the crohn's) but it turned out to obviously be more than that I kept getting worse, losing weight, having pain, not being able to eat and in the bathroom like 20x a day.  Dec. 29th i checked into the hospital for a day because I needed IV fluids and some taking care of because I barely could function. My doctor also ordered a dose of my Remicade treatment that I am now back on (I came off of it for a year) I checked out of the hospital the evening of Dec. 30th because I could not afford to stay longer and I spent my New Years Eve laid up in bed.  Between Jan and Feb 2015 i was losing like a pound a day. I went from 155lbs down to 118lbs as of now I've only gained back about 9-10lbs my appetite is still poor.  Now that I'm back on my Remicade infusion treatments, which is a $12-13,000 drug and even with insurance the co-pay is a lot, I was hoping to be in remission by now. Its been 5 months now that I've been battling with my crohn's and the bills are piling up and it's effected my work and the ability to work like I need to in order to make money like I need to I am barley able to cover just my living expenses. I'm a personal fitness trainer I get up and train the clients that I do have but I'm not cofident in being able to take on new clients due to my illness and my symptoms and not to mention my battle with fatigue
This here isn't something easy for me to do asking for this kind of help because I usually try to handle things on my own but it is starting to become stressful on me and now here I am asking for help.
I appreciate any help that is given and just know that I do online coaching and if you needed a nutrition plan in return to help you I am more than happy to do that.
Thank you for reading my story I remain positive, humble and grateful even through the times of struggle because I know I will get through this.
THANK YOU!!!
Best Wishes, & God Bless,
Tonia Moore
www.facebook.com/toniamoore
www.instagram.com/toniamoore
www.twitter.com/toniamoore
www.youtube.com/toniamoore1
+ Read More
Be the first to leave a comment on this campaign.