Tommy's Brave Journey
$19,234
of $65,000 goal
Raised by
190
people in 27 months
Tommy Haack is an Alice Birney 7th grader suffering from Complex Regional Pain Syndrome (CRPS) – a rare, debilitating nerve disease that affects 1 in 4,000 people every year. The pain from CRPS is ranked as the most excruciating form of chronic pain that exists today. While Tommy has the unyielding support of his mother, Susie, brother David, and his friends and school community, he needs your help to raise money for the medical treatment he urgently needs.
For nearly two years, Tommy has not been able to walk because of unremitting, tortuous pain. His leg feels like it's on fire and being stabbed constantly. Movement only intensifies the condition, so Tommy cannot tolerate a simple car ride without shrieking in agony – which isolates him from his school and his friends.
A progressive disease of the sympathetic nervous system (one of the two divisions of the autonomic nervous system), CRPS is little understood and appropriate treatment is hard to obtain. Tommy has seen countless specialists, with little relief from his physical and mental anguish. But there is new hope.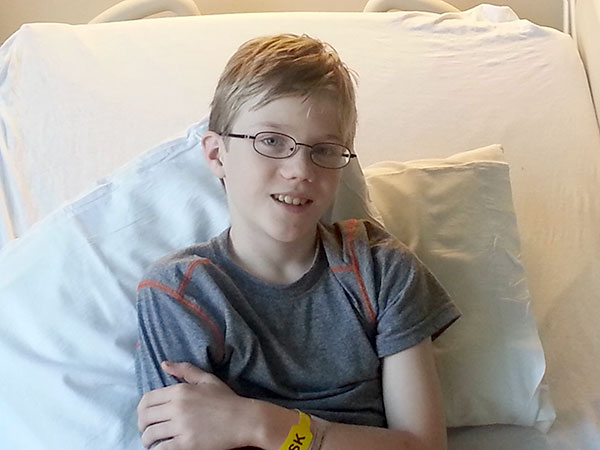 Tommy has recently been admitted to a program for CRPS treatment with an experienced pediatric specialist at the Florida Spine Institute. The program includes IV Therapy, Trans-cranial Magnetic Therapy (TMS) and Hyperbaric Oxygen Chamber Treatments – all therapies that have shown success with other CRPS sufferers. Unfortunately, these therapies are not covered by any insurance. Tommy's family does not have the financial resources to fund this urgent and essential opportunity for a cure.
Even a small contribution to Tommy's family would help get him the medical treatment he critically needs. It's his only hope to end the isolation that comes with debilitating around the clock pain and to recover his childhood. With your help, Tommy can get back to the things he loves – playing with his classmates and his brother, creating art and music and exploring the outdoors. Please contribute what you can. Thank you.
+ Read More