269
19
Save Tomas's Eye - Cancer Treatment for Tomas
$15,615
of $55,000 goal
Raised by
264
people in 5 months
Update 3/23/19: If you want proof that miracles happen, look at Tomas - the same little boy who was on the verge of losing his eye in December is back home in Chile today, without a tumor and cancer-free. Thank you all for your prayers, your messages, your concern and your monetary support - YOU made this miracle possible. We are so thankful for every dollar that was contributed towards Tomas's expensive and life-saving cancer treatment at Wills Eye Hospital in Philadelphia. We couldn't have done it without each and every one of you. While we still have to check in with the oncologist in June, we are celebrating this victory today. With grateful hearts, The Railef Family


Update 2/9/19: We are so excited to share that the doctor at Wills Eye did not find a single seed from the tumor that was in Tomas's eye - it's an unexpected miracle. We still have to follow-up with more appointments, which your donations will help pay for... we have to be extremely vigilant with this type of cancer. We are so grateful for your prayers, your donations and your love and concern for our son. We are feeing victorious because of YOU. Update 1/20/19: We got the most unexpected news - the radioactive chip destroyed the tumor completely! The first chemo injection was given on January 16 with three more scheduled. We need to raise the money to pay for the injections that will be given at Wills Eye Hospital. Please help us fight for Tomas. Thank you!


Update 1/2/18: Tomas needs four chemotherapy injections, the first one on January 16. All the funds raised will pay for the injections at Wills Eye Hospital in Philadelphia.

Update 12/27/18: Tomas received treatment this morning and we were able to pay $54,719 in full to Wills Eye Hospital by taking out several loans, maxing out our credit cards, using all of our savings and a dear friend who was generous enough to lend us half of the necessary money. To everyone who has donated to this fund - thank you for making the continuation of Tomas's treatment possible. We have not been able to withdraw funds from this account because we do not have social security numbers (we are Chilean citizens with a medical visa) but we are working on getting someone to withdraw the funds on our behalf. He has four injections and one control scheduled in the next months, and the GoFundMe account will pay for these treatments as we do not have any more resources. Every injection will cost $11,000 plus the cost of the drug and the control will cost a minimum of $11,000. That is why the goal is $55,000 today (that's the cost of administering the injection and does not include the price of the drug). We are indebted to you and thank you for supporting our son.  - Rodrigo and María José Railef

Actualización 12/27/18: Tomas recibió tratamiento esta mañana y pudimos pagar $ 54,719 en su totalidad al Wills Eye Hospital sacando varios préstamos, maximizando nuestras tarjetas de crédito, usando todos nuestros ahorros y un amigo querido que fue lo suficientemente generoso Para prestarnos la mitad del dinero necesario. A todos los que han donado a este fondo: gracias por hacer posible la continuación del tratamiento de Tomas. No hemos retirado fondos de está cuenta ya que no somos residentes americanos con números de seguro social pero estamos trabajando para solucionar esto. Él tiene cuatro inyecciones y un control programado en los próximos meses, y la cuenta de GoFundMe pagará estos tratamientos ya que no tenemos más recursos. Cada inyección costará $ 11,000 más el costo del medicamento y el control costará un mínimo de $ 11,000. Es por eso que el objetivo es $ 55,000 hoy (ese es el costo de administrar la inyección y no incluye el precio del medicamento). Estamos en deuda con usted y gracias por apoyar a nuestro hijo.

Story: Our four year old son, Tomas, was born with bilateral retinoblastoma, a condition for which he is receiving treatment at Wills Eye. To save Tomas's eye, we need to raise $54,719 for radioactive cancer treatment that begins on December 27 and continues for four months. 
Diagnosed with bilateral retinoblastoma at two months old, Tomas has already lost one eye to the disease. We are desperately trying to save his remaining eye... that's why we traveled from Chile to Philadelphia to see Carol Shields at Wills Eye Hospital. The funds raised on GoFundMe will be used to pay Wills Eye Hospital in Philadelphia. If you could help by sharing or giving, we would be eternally grateful. Our family thanks you. - Parents Rodrigo and María José Railef and big sister Josefa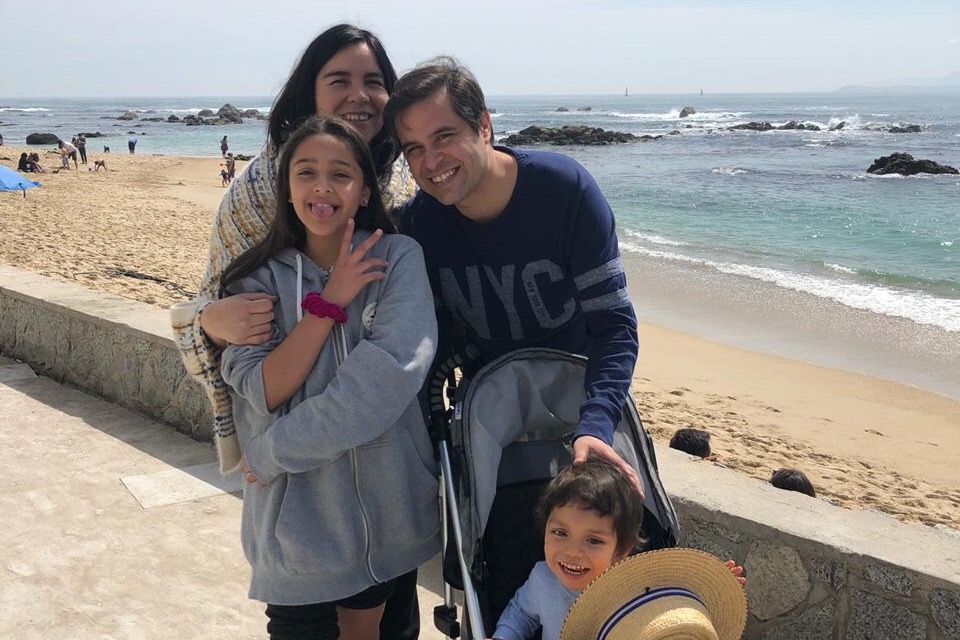 Para salvarle el ojo a Tomas, necesitamos recoger $54,719 para un tratamiento radiactivo para combatir el cancer este 27 de diciembre. Diagnosticado con retinoblastoma bilateral a los dos meses de vida, Tomas ya perdió un ojito por la enfermedad. Estamos desesperados para tratar de salvarle el ojito que le queda.... por eso viajamos de Chile a Philadelphia para ver a la doctora Carol Shields en Wills Eye Hospital. Si nos pudiera ayudar al compartir o donar, estaríamos eternamente agradecidos. Nuestro familia le agradece a usted.
+ Read More