Empower Girls and Women to Sparkle
$403
of $50,000 goal
Raised by
8
people in 27 days
Tiddlywinks
  believes every girl should be able to express her inner sparkle, and we want to give more entrepreneurial women the opportunity to shine. What started as a mobile boutique selling dresses and accessories, and creating magical events, has grown into a thriving brick-and-mortar location—and proven that we have the recipe for success.  But we need your help to grow. 
Expanding Our Footprint and Our Impact

Tiddlywinks founder, Jessica Bredbenner, is on a mission to grow the business—she wants to see more smiles, create more memories and spread more magic. But she can't do it alone. Jessica has a vision with mobile boutiques and stores in new cities, supporting more female entrepreneurs and bringing her signature parties and events to new places. Tiddlywinks is also building a new website to reach girls everywhere. This means more girls finding clothing, accessories and experiences that fuel their imagination, inspire their individuality, and encourage their confidence. It also means more opportunities for passionate female entrepreneurs to join us.
By making a donation, you can help make our dreams—and the dreams of countless girls and women—a reality.
Give a Little Magic, Receive a Little Sparkle
Our goal is to raise $50,000, and any donation helps, so please feel free to contribute any amount!
But if you give at the levels below, we'll send you a special gift as our way of saying thanks for enabling us to continue spreading the magic.
With a $75 Donation, you will receive:

·      Sparkle Club membership
·      Mommy & Me t-shirts (We will contact you for size information)
·      Coupon for 50% off one item (Good online at our new website launching in July)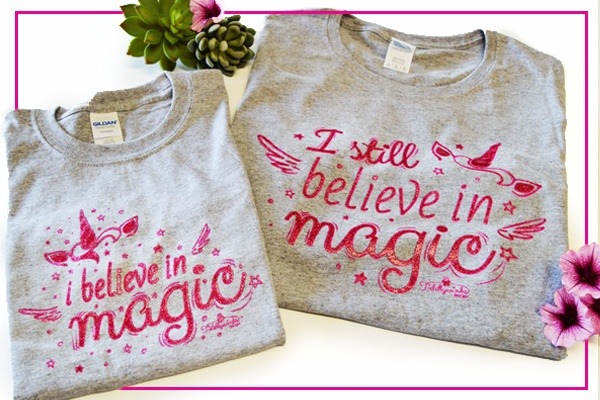 With $25 Donation, you will receive:
·      Sparkle Club membership
·      Unicorn Headband
·      Coupon for 50% off one item (Good online at our new website launching in July)

Sparkle Club Membership
As a member of the Tiddlywinks Sparkle Club, you have insider access to exclusive discounts and merchandise. You'll be a Tiddlywinks VIP, getting the scoop on new arrivals, enjoying special birthday offers, and receiving FREE shipping on ALL your purchases.
The Tiddlywinks Story

After giving birth to her daughter three years ago, Jessica immediately wanted to find ways to spend more time with her baby. So she quit her job and pursued her dream of becoming an entrepreneur in the fashion industry.
It began to take shape when she and her grandpa found a 1976 Dutch Craft Camper. To most this would seem like an unlikely home for all things sparkly, but Jessica knew that, together, she and her grandpa could create a magical space for little girls and their moms. The name has deep family ties as well, chosen because Jessica has fond memories of playing the simple game with her grandma as a child.
The success of the mobile boutique allowed Jessica to expand to a brick and mortar location near Scranton, PA. She also expanded her offerings in both the mobile boutique and new store to include private parties, events, and even more products and accessories. She even created an adorable tearoom where you can find little girls giggling on a regular basis. It truly is a place that surrounds girls with love and support, and gives them the confidence to explore ideas and share creativity.
 What was once a dream has been transformed into an opportunity to go even further. Jessica is ready to write the next chapter of her story, turning her attention toward inspiring girls and women to pursue their dreams—to write their own magical story.
Tiddlywinks believes that it takes a village to raise the next generation of smart and strong women. Will you become a part of our village?
+ Read More