Our Trip Around Canada
$1,500
of $5,000 goal
Raised by
25
people in 27 months
Hello everyone, we are a couple based out of the Greater Toronto Area and like many others, we are very tired of living the typical 9-5 lifestyle that we have all grown so accustomed to. 


(Skip to paragraph 4 if you don't want to know more about us and are just interested in the trip!)


We (Kendrah & Austin) reunited in 2014 after briefly going to high school together in 2008. Although we weren't friends in school, it didn't take long for us to find a ton of things we have in common once we ran into each other two years ago. Austin was working construction and was often working 12 hour days to save money for his future. Kendrah was working a desk job with a consulting firm, also trying to save money to move out and have her own place. 


We took up photography together and learned so much from one another. We often times went downtown Toronto to take pictures, sometimes not getting home until 2am after working all day, and having to get up at 6 or 7am for work the next day. We learned a lot about each other and even about ourselves. The most important lesson we learned is that it was hard to live our lives the way we wanted to while working such demanding jobs. Kendrah always had dreams to go out west, and Austin had hopeful plans to someday retire on the east coast.


Kendrah was laid off from her job in November of 2015, just one week before the two and a half week vacation we booked a month earlier.  We booked a vacation to California, where we planned to drive across the entire state.  We only stayed in one hotel the whole time, slept in our rental car in random parking lots and on random roads, ate peanut butter sandwiches for most meals, showered a total of three times and were the happiest we had ever been in our lives. Upon getting home and back to the stress of constant repetition in our daily lives, we decided together that we wanted something different. We no longer wanted to live for the weekends and miss out on what we could be doing. 


It took a few months and lots of different ideas and plans, but we finally agreed we wanted to travel across our own beautiful, underrated country; Canada. We thought long and spent many hours deciding how we would do this. Of course, we decided on living the van life. 


Our trip starts from home, just north of the GTA. We will head east, with our first stop being Montreal where we plan to work and save enough money to get us to Nova Scotia. Of course stopping everywhere else on the way! We plan to be in Newfoundland for the worst months of the winter as we have lots of family and friends who are willing to help us along the way. Once the winter settles, we will head north to Labrador, and then east through the most northern part of Quebec as we can. Northern Ontario through Manitoba, Nunavut, the North West Territories, Yukon, and then down to Alberta and BC where we plan to live for a while. Once we're ready to move on, we will take the most southern routes home, through Saskatchewan, Manitoba, and back into Ontario.
The best part about this trip is that we have no schedule, no timeline, and there is no rush. We will work as we need to along the way, always taking the scenic routes and enjoying every bit of the journey as well as the destination. 

As photographers we plan on documenting the entire trip through our images, videos, and vlogs.  
This summer we ran into a handful of financial setbacks, the biggest one being the loss of Kendrah's camera and brand new lens. During a job we did at a campground, Kendrah was accidentally thrusted off a pontoon boat with her camera in her hand. She went over the front and then underneath, about a foot away from the propeller, and was stuck behind the boat trying to save her camera. This was mid-July, and was a $4000 accident. With no insurance to help with the hit, we both had to use our trip savings to replace the equipment. 
This was extremely devastating to both of us, and it was at this time we decided we needed help. This is where you come in! :)
(Full story here: 
https://youtu.be/IJ8b0n3ijgA
)


We are asking for donations to help us with travel costs, including things like gas, food, entry into parks, repairs on the van, etc.  Our Youtube channel and Instagram account is open for everyone to follow along our journey. We can't thank you all enough fo taking the time to read this and help us out.
Click here
 for our Youtube channel to see more of our videos!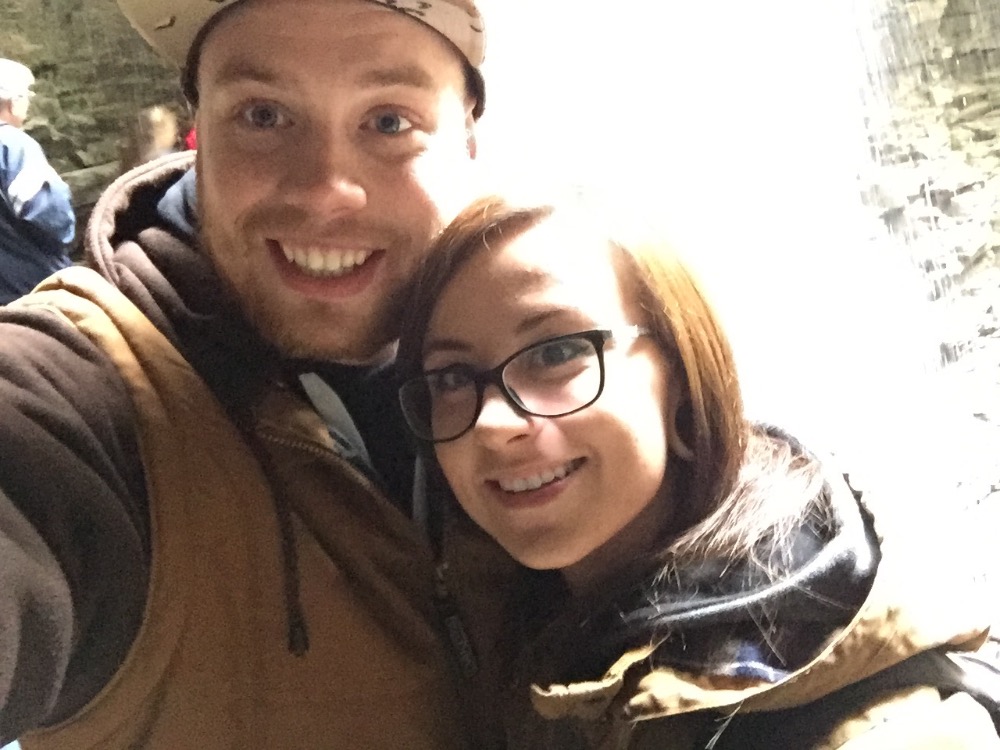 + Read More
Update 2
19 months ago
Share
It's been a few months since our last update on GoFundMe so we would like to take the time to thank all of you again.

We arrived in Quebec City on Friday, and you all helped make this possible. We love it so much in this gorgeous little city, it feels like we're not even in Canada anymore!

We are still vlogging as well, so be sure to check those out if you'd like to see what we did in Ottawa and Montreal!

Thanks everyone
+ Read More
Update 1
23 months ago
Share
Hello everyone,

Good news, we've finally left our home towns and will soon be arriving in Canada's Capitol, Ottawa.

We want to thank you all for your donations and let you know that the money you've generously contributed is now being used for gas and some much needed additions to the van. Thanks to you we can carry fire wood, a gas can and other tools on our trailer hitch and in our cargo box.

We are working on our vlog and will be posting it this week, so stay tuned!

Feel free to email us if you'd like any additional updates or have any questions :)
the.scenicroute@outlook.com

Thank you again!
Kendrah & Austin
+ Read More
Read a Previous Update
Be the first to leave a comment on this campaign.