99
6
The Magnificent 7
$5,000
of $5,000 goal
Raised by
102
people in 14 months
Bella, with your support, helps many animals every week. Dogs and cats, big and small. Sometimes they are sick, sometimes healthy, but either way we go all in to help. These past couple weeks however, we have had a rash of special cases, super young dogs that have so much life to give if they can just get a little help now. But often times "a little help" is expensive. And together... we want to say we yes. Will you join us to help them? 
Please meet the Magnificent 7
Ava- 10 weeks old. Surrendered to die with Parvo at the Shelter. Catahoula Australian Shepherd Mix. 
]
Camilla - 4 month old Terrier mix. Parvo. Left to die at the shelter. Our adoption coordinator rushed to the Shelter just before closing on a Saturday to save her. 
Jade - Found abandoned in rural area, only 10 weeks old. Severe sarcoptic mange. Highly contagious, but very treatable. We are thankful for a vet tech foster who is offering to take her home each night for treatment 
Hershey - is a sweet one year old shepherd mix, adopted from Bella as a puppy. But now, he has hip dysplasia and the family has had some changes and can no longer care for him. He is still so young, and we refuse to give up on our own.  Surgery can help him have a very productive and happy life. 
Hank Jr - We received a desperate call from the Oklahoma county Sheriffs department, about a dog abandoned in a field in the  middle of the country, totally immobile and terrified. One of our board members and her husband rushed out to find him, having been hit by a car and had multiple fractures. He was angry scared, but they took time to love him and help gain his trust. He is only 1 year old, and without surgery to repair his broken pelvis and other injuries, he will have a short and pain riddled future. 
Red Diamond - Surrendered to the shelter. Suffering with Parvo. We have a vet willing to treat and a foster willing to give overnight care. Lets help this diamond in the rough.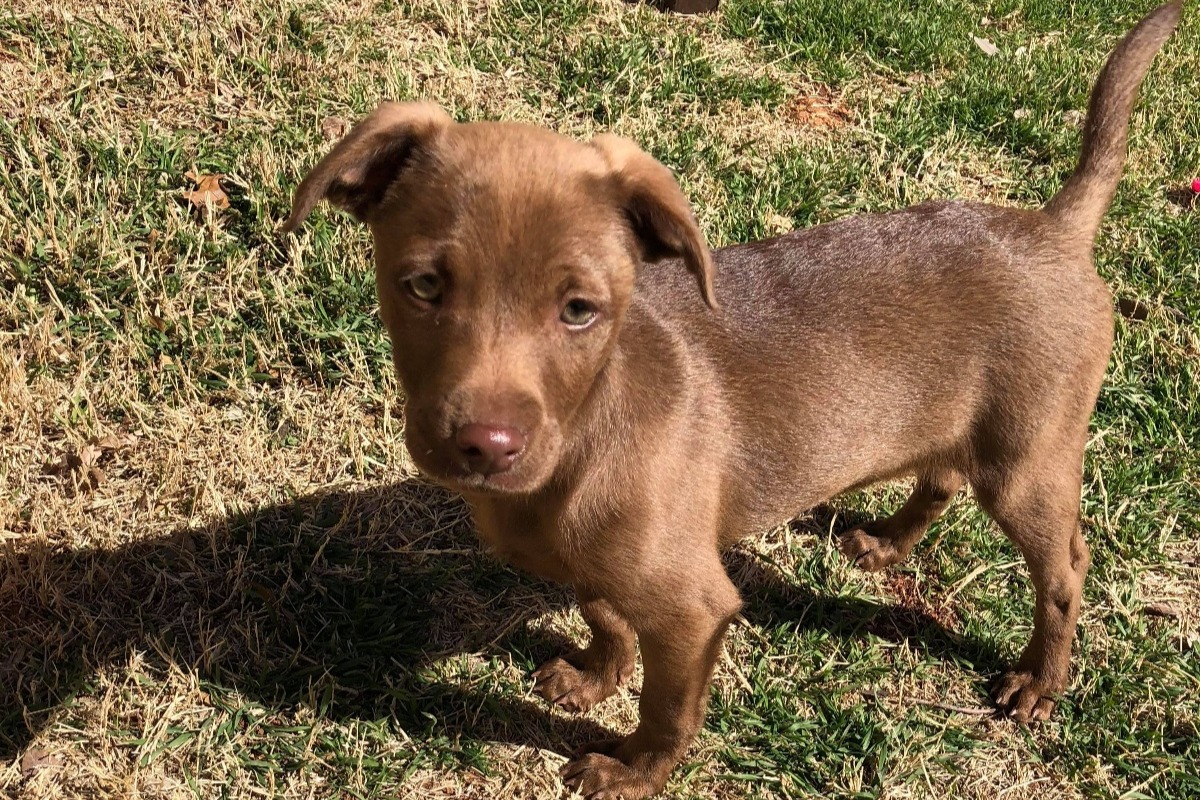 Michonne - She is a beautiful 8 week old Husky mix, and she was almost out of time at the shelter due to extreme medical need. She was totally healthy, except, she was not able to poop. Her body was becoming toxic.  They found a way to temporarily relieve her, but she needed a long term solution or she would have to be euthanized, as her condition would be extremely painful. At just 8 weeks old and full of so much joy, we are choosing to step in with this girl and give her a shot at life. It is hard to describe in words just how sweet this girl is. 
We have never done a fundraiser for 7 dogs at once before, and some are saying that we won't be able to adequately tell that many stories...as they are each so amazing and deserving of a chance. But we just couldn't refuse to try. Each of these faces is a life, a young life, with so much time to give if we can just give them a boost right now. 
Will you help? If all of us join in, even with just a little, together we can save them.  And then in the years to come, we can say that we helped save the MAGNIFICENT 7.  It will be a thing of legend...as they are saved now and then they go on to save 7 people, bringing joy to numerous people. The echoes of love will reverberate for years to come. 
So, lets do this! Scroll through the faces, give, and then share with a friend. Time is of the essence and together we are strong and can save them. We believe in you and are so grateful for your courage to help.
+ Read More
Update 2
14 months ago
Share
We are getting BIGGER and STRONGER and LOUDER. You guys....this is Michonne! She was one of the most difficult cases of the 7 that you pledged to help, and she is slowly on the mend. The first few days post surgery were tense, but she is gradually starting to poop on her own and is gaining energy. Without this surgery she would have quickly become toxic with no chance for survival. So thankful for your gifts to make the surgery possible and for her foster giving above and beyond care. We are a team together.
Currently we are at 75% of our goal for this crew, and would love if you would share the 7 with your friends/family and social networks. It really does help. Thanks everyone. Truly grateful
+ Read More
Update 1
14 months ago
Share
Yesterday we asked for help and introduced you to all of The Magnificent 7
https://www.gofundme.com/the-magnificent-7
Today, we want to start introducing you to the individual animals and the people working together with you to save them. This is from one of our incredible fosters, Cynthia //
"We have an opportunity to start helping babies that have parvo. So from now on I will be taking puppies that have been diagnosed with parvo, received vet care and are recovering. So this pretty 4 month old girl will be joining my foster hall of fame. Bella saved her from the pound and with you is getting her the vet care she needs to live. Now she is with me to finish her road to recovery and to eventually be available for a forever home" #WhyIBella #FosteringsavesLives #SpayandNeuter #BellaFosterTales
Thank you Cynthia!
+ Read More
Read a Previous Update