Let's Keep Helping Molly Holzschlag
$71,930
of $200,000 goal
Raised by
1,106
people in 54 months
"If Tim-Berners-Lee is the Father of the Web, Molly Holzschlag is its fairy godmother." --Anonymous 
For the past two years, Molly Holzschlag has been fighting for her very life.  After falling ill while at a web conference in 2013, Molly endured two rounds of grueling chemotherapy and is now on a long-term treatment plan that involves blood and platelet tranfusions and the use of colony stimulating factors and related stem cell stimulants - very expensive medications even with insurance - and will be indefinitely.
How You Can Help

Last year, it was your support that got Molly through initial treatments - thank you! But she is still unable to work and she still needs a great deal of financial support to manage her health andliving expenses in 2015 – she needs you, she needs all of us!  We have suggested a few ways to help, we started this second campaign to rally support for her and ask you to consider taking these steps:
1.  Give generously
.
It is very easy to donate, and secure. A gift of $25 would be like purchasing one of Molly's books; $100 would be like buying a training video; $250 would be the registration fee for a conference.
2.  Give often
.
Consider setting up monthly or quarterly donations.  A monthly donation of $20 is like paying for lunch for you and Molly!  Sustainability is so important now. For Molly, it helps to pay for her monthly treatments.
3. Spread the word
.
Blog, tweet, pin, share on social media -- the more attention you can help draw to Molly's cause, the better.  Use the hashtag
#TeamMolly
to show your support.
4. Identify other donors
.
Ask your company, a philanthropic institution, or a generous individual to match your donation.
5. Hold a fundraiser.
Use events as fundraisers-- such as a workshop or hackathon -- or ask event organizers to take up a collection and contribute the proceeds to the campaign.
6. Seek corporate sponsors
.
Molly worked at various times for major corporations, helping them to understand the Web and make the most of the new media.  Ifyou work for a company that Molly served, talk up this campaign in your workplace.
7. Shoot a Video.
Shoot a video about what Molly's work has meant to you, your life, your own career.  Post a video, write a blog post, identify them with the
#TeamMolly
hashtag.
Molly Has Given Us So Much.  Now She Needs Us
She is a great teacher and role model. Molly often tells people:
"My career has given me a great gift, I have been fortunate to meet people from all corners of the globe. Thanks to all of you, I consider myself a citizen of the world, a member of a global family."
For those of you just learning about Molly, remember that whenever you create a web site or open a web browser, you benefit fromthe decades that she devoted to building a free, open, and accessible World Wide Web. Some of her numerous accomplishments include:- Authoring more than 35 books on web design, CSS, accessibility, and more;
- Speaking at more than 60 different industry events for web professionals in over 15 countries; Molly is a GREAT teacher!
- Leading the Web Standards Project (WaSP), which pioneered awareness of the W3C standards and brought browser makers into alignment on following those standards;
- Actively participating in the W3C HTML and CSS Working Groups as an invited expert, and chairing its Accessibility Community Group.
- Forging the way for today's bloggers at molly.com;
- Being voted one of the Top 25 Most Influential Women on the Web by the San Francisco Women of the Web;
- Embracing the opportunity to be a leader, role model, and teacher to other female technology professionals;
- Passionately advocating for a free, inclusive, and accessible Web.
How Molly Sees the Future
Those of you who have been fortunate enough to read Molly's books, to attend her classes or keynotes, or to work directly with her know that Molly has a fascinating and all-encompassing vision of the Web and its great potential. Although Molly's body is sick, her mind is still hard at work.
Recently, while discussing the future of the Web with some colleagues, she disagreed with one who claimed that "The Web is the great equalizer."
She passionately exclaimed, "The Web is so much more! The Web gives people power - the power to learn, the power to partner with likeminded people to effect change - even the power to overthrow despotic governments."
She further explained, "None of us should be satisfied until the Web is accessible and available to everyone on the planet. The Web can be a sustainable unifying construct. We all must continue to innovate and collaborate to keep the Web unfettered by any internal or external constraints."
Molly's health has not diminished her belief in the power of the Web.
By contributing to the Molly Fund, you demonstrate that you support both Molly in her recovery and her vision for the Web. Please help now!
 Thank you for helping us to help Molly!
Health Update

Molly is one of the most determined and vibrant people on this shrinking planet. She has always dedicated herself to supporting and empowering others. She has brilliant ideas about what comes next - but she has to get healthy to realize that vision. People are asking about the details of the health crisis she is facing, so we have included more detail below.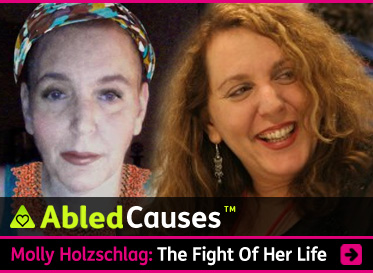 After the first round of fundraising, Molly had hoped to be back on her feet by this time. Unfortunately, this is not the case. After two rounds of chemotherapy treatments the chemicals that were meant to save her life, caused an even greater health threat. Her blood system has been horribly compromised and she now has a life-threatening condition:
Pancytopenia
. In other words, her body is not producing enough red blood cells, white blood cells or platelets.  
With specialty medications, Molly can lead a semi-normal life with a reasonable expectation regarding lifespan.
Since she is not employed by an insurance providing organization her only options are medicaid or private insurance. She needs our help to continue paying for the insurance that will allow her to receive the treatments she so desperately needs.
Additionally, even with a good insurance policy, many of her medications come with thousands of dollars in co-payments and some specialized medications are not covered at all. She is still bedridden and unable to work even a part time job, therefore, she also needs our help to cover her modest daily living expenses. Your help will allow her to concentrate on her medical issues without worrying about her financial situation.
We have all benefited from Molly's generosity and now we have the opportunity to give back to her. If you are able, please consider donating to the Molly fund, so she can continue to help change our world for the better. Show your support on Twitter by using this hashtag: #TeamMolly
+ Read More
Update 2
45 months ago
Share
Hi all! Molly here with some news. At this point, my health is stable enough for me to consider part-time work beginning January 1, 2016. I will cease all medical fundraising at that time, and if I find I am unable to work, bite the bullet and take SSI disability which will leave me at poverty level but not homeless. I've been there before and it was The Internet and ultimately The Web that empowered me to have any career at all, and to travel the world despite the mystery illness that finally showed its face on a very sad and scary day in July of 2013.

I nearly passed at least twice during the worst of treatments, as the condition pancytopenia (often referred to as Aplastic Anemia although the two are clinically somewhat different with essentially the same treatment) worsened to the point where I was completely bone marrow suppressed, making very few blood cells. Scary stuff! Spontaneous bleeds from every orifice - well let's just say woohoo, it wasn't fun.

I'm past all that and have no intention of ever returning to that form of hell. I can now, with abundant caution and the excellent Doctors with whom I am currently able to work, begin to push harder toward physical strength, improved immunity, and greater well-being overall.

Yay! Oh, and I got this little award recently, too. I'm proud because it's entirely peer based. I gave pause for a second and quipped with deathbed humor "Sure, get it in before I die" which still makes me giggle even though I realize that wasn't the motivation behind the award!

With all my love, endless gratitude and to a better world and life for us all!

Molly


+ Read More
Update 1
50 months ago
Share
The generous folk at Environments for Humans have just added this incentive to our community to keep on supporting Molly as she recovers from her terrible illness. Knowbility provided a great set of accessibility training sessions at AccessU last week and E4H did webcasts of some of the best.
Donate $75 to gain access to the
http://environmentsforhumans.com/2015/accessu-summit/
2015 recordings ...and if you are feeling even more generous, donate $125 or more and get both the 2015 and 2014 recordings. Learn more about the open, accessible web and at the same time, help Molly Holzschlag - a person who did so much to create it!
Thanks to Christopher and Ari at E4H for their support ...and thanks to you for your generosity!
+ Read More
Read a Previous Update