Tony's fight against cancer
$4,375
of $50,000 goal
Raised by
57
people in 28 months
Tony the fighter
Starting Round 2 of Tony's fight against testicular cancer. We appreciate all your love and support as we encourage him to fight strong! Let's go TEAM TONY! ❤️ #tonythefighter
Tony was diagnosed with testicular cancer back in August of 2015. He was treated at the Cancer Treatment Center of America in Chicago, IL. Tony's cancer was successfully removed by operation on Sept 11th, 2015. Since then, Tony has traveled back and forth to the Cancer Center every three months to get a check up. On June of this year, they found an area of concern in Tony's lymphode. The lymphode size was only .5 centimeters. This was something they wanted to keep an eye on. Three months later, Tony went back for his follow up. The size of the lymphode has grown rapidly from a .5 to 7 centimeters. This result was completely shocking to the doctors and Tony that his testicular cancer came back so aggressive. The doctors wanted to start Tony on chemo treatments the very next day. The good news is, it's treatable with chemo. The bad news is that the treatment has a high risk of making Tony become completely deaf and effect his lungs. This is a special case because Tony was born prematurely and has 75% hearing loss in both ears.
Tony will be having 9 weeks of chemo therapy.  All your love and prayers are so appreciated. I can't express how much it means to Tony to have a team of family and friends who are ready to fight with him:) That makes him feel so strong and empowered! 
ABOUT TONY:
Tony is 39 years old and has the BIGGEST heart of gold. He is so proud and loving of his family, friends and God. He's a stranger to no one! :) For those of you who know Tony, I'm sure he's shown his love through his warm presence and thoughtfulness. He is so genuine, funny and positive. He's always putting everyone in front of himself.... That's just how Tony is. Everyone who meets Tony, loves him!! He's a awesome son, brother, cousin, nephew, uncle, and friend.
GO FUND ME:
The Tony the Fighter campaign is going to help out so much with medical bills, travel, hotel rooms, special treatments and food. His chemo treatment will be 9 weeks long. We're also going to do anything we can to help prevent Tony from losing his hearing. Thank you all so much for being so loving and supportive. Xo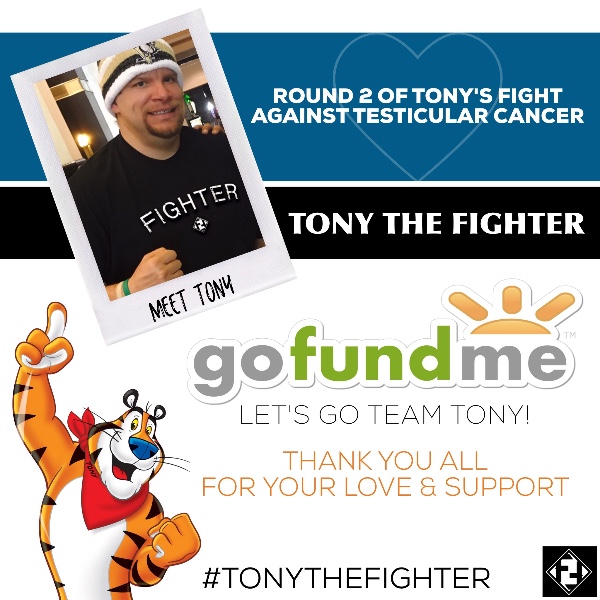 + Read More
Been through cancer with my husband twice. It is not what anyone would expect but keep your faith in God and He will see you through it. He still has to see the cancer doctor but so far he is doing well considering. Stay strong.
+ Read More
Prayers Tony. You are a strong fighter. With God by your side you can do all thing. Miss seeing you around.
+ Read More