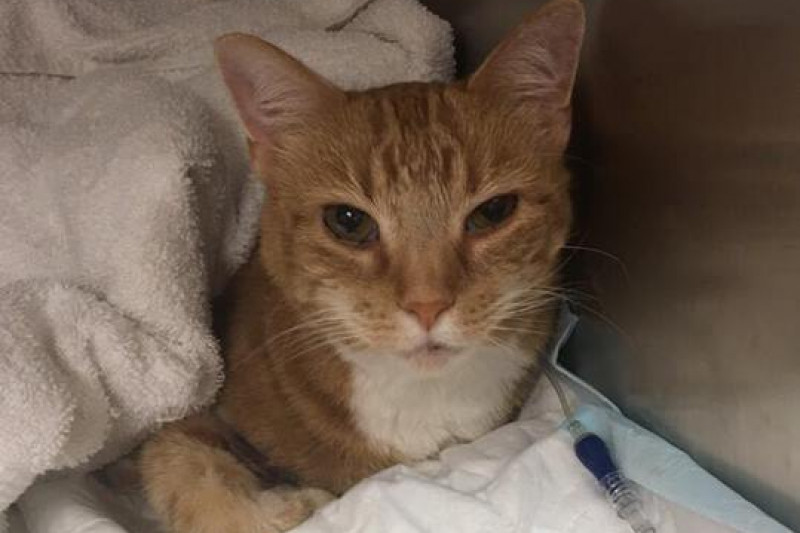 41
2
Tabitha's Surgery Cost
$800
of $2,500 goal
Raised by
40
people in 10 months
Tabitha went missing while outdoors on Friday, 11/3.  While she does like to give a little scare, she usually comes home within a couple hours of being let out. This was not the case. 
Tabitha managed to hobble to our door late in the evening, about 8 hours after being let out. She appeared to have a broken leg/paw, with her front right paw dangling. There was some blood on her fur, but it didn't appear to be a grave wound. Assuming she was in a trap or fell, we rushed her to Grady Veterinarian Hospital on Winton.
After some time and some x-rays, we were informed to our somber surprise that Tabitha was not in an accident; Tabitha was shot. Some heartless soul decided she needed a pellet, and shot for her chest. With the way she was curled up, her humerus took the shot. Her bone is completly shattered from the wound.
After the x-rays and consultation, the doctor and surgeon agreed that a plate would be sufficient to heal the broken bone, and allow Tabby to live a normal life. The only other options were amputation, or for us to put our little tabby cat down.
This year is already hard, having lost our mother; we do not want to lose our furry friend as well. The operation is estimated to be between 2300-2500 dollars, with a likely chance it will cost well above the estimate, upwards of 3500. We are humbly asking for your donations to help make sure Tabitha recieves the surgery, and proper post-operation care she needs. 
+ Read More
Update 2
7 months ago
Share
Hey All! Just wanted to let everyone know that Tabby has made a full recovery from her surgery. She's pampered indoors now with kitty trees and other toys to acclimate to her new full-time indoor life (with supervised outdoor time!)

Thank you all so much for helping out when we really needed it. We couldn't have done it without you. The grand bill ended up being over $4,000, but we know that good care costs money, and we didn't want to lose our little one.

Much love, Clay, Maria, Tabitha.
+ Read More
Update 1
10 months ago
Share
Tabby's surgery was a success. The plate and rods went in after a difficult surgery, they couldn't totally remove all the shards from the pellet.

Unfortunately, the surgery was about 1500 dollars more than the estimate. We are in a difficult spot financially for our poor kitty. We are asking you to please share our campaign as much as possible. Thank you so much, we and the kitty love all of you so much for the shares, donations, prayers, absolutely everything.
+ Read More
Read a Previous Update