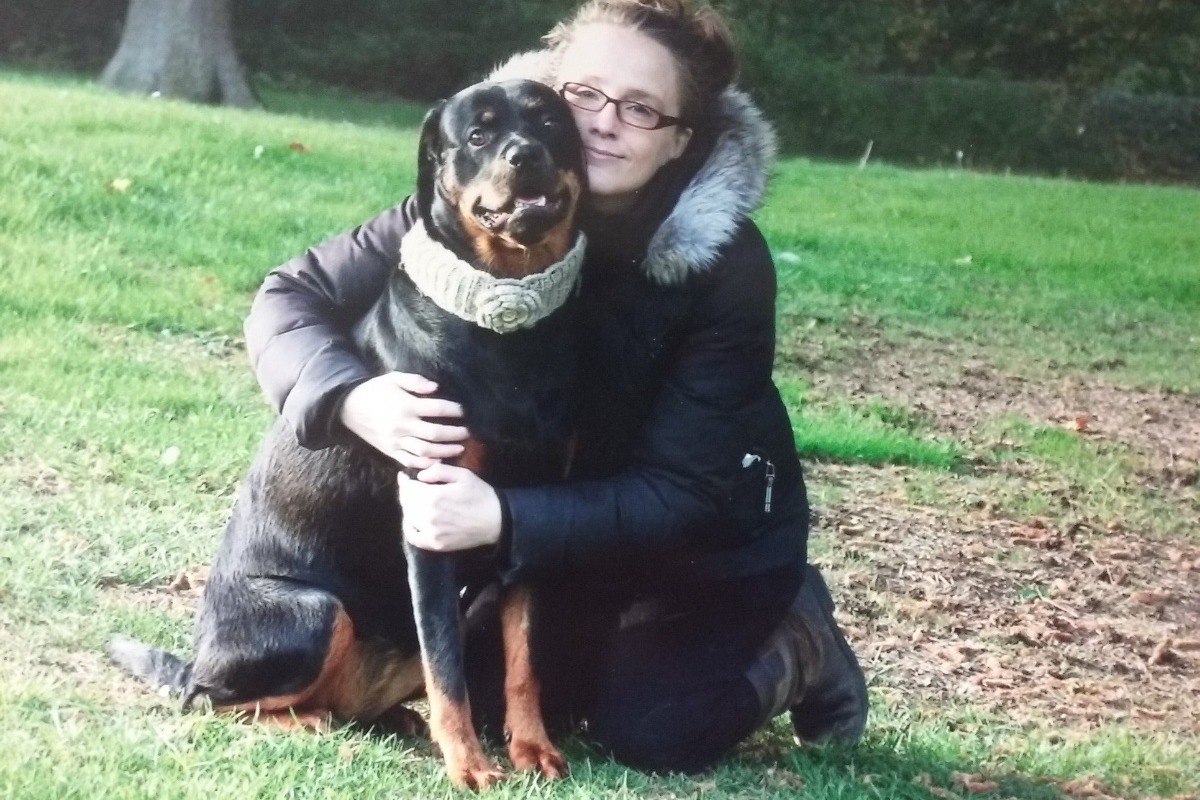 18
6
Susie Hope Saviour - Hope for Hips
£440
of £11,000 goal
Raised by
20
people in 6 months
Susie Hope Saviour - Hope for Hips
My name is Tracey and I am trying to raise approximately £11,000 for Susie Hope Saviour, my therapy dog and best friend who is  a 2 year old Rottweiler - £5,000 for each hip replacement operation and £1,000 for investigation and treatment of a heart murmur.
As a pup I noticed Susie Hope was walking unusually and while she was being spayed at 9 months old she had x-rays which indicated hip dysplasia.  I had hoped that pain relief, short limited lead walks and hydrotherapy might keep the problem under control.  Sadly this was not to be and she is now in so much discomfort and pain she has taken to gnawing/chewing on her own legs. 
Susie Hope came to me when I was at my lowest and I want to do all I can for my little bear.  I lost my Mother and best friend having nursed her through her cancer nightmare.  My Mum was all I had left having lost both my Father, sister and much loved family labrador in a short period before that.  When I was at my blackest I took on Susie Hope (named after my beautiful Mum) who has given me a reason to get up in the morning to look after her and now she is my therapy dog and constant companion – she comforts me in my grief and through the panic and PTSD attacks I suffer.
Susie underwent CT and MRI scans which confirmed she had severe hip dysplasia, would be in a lot of pain and was advised double hip replacement was necessary.  Unfortunately in my grief the insurance policy I took out was not a lifetime one and after initially paying out for the expensive investigations, hydrotherapy and pain relief we have now reached the limit and anything relating to her hips is no longer covered. 
Another development is that Susie Hope was also diagnosed with a heart murmur when she was a pup which seems to have worsened slightly as she has got older, again needing investigation but again no longer covered by the insurance. 
We recently entered Dog's Monthly Magazine "The HiLife 2017 Best Friends Trophy" competition and were so proud to win after votes were cast for all 12 finalists in April 2018.  Her trophy has pride of place in our home and is dedicated to the memory of my wonderful Mum -  
https://dogsmonthly.co.uk/2018/05/16/hilife-trophy-2017-winner-tracey-rowland-and-susie-hope/
As Susie Hope's exercise is limited I try to do all I can to keep her mentally and physically fit and through the kindness of our local Dog's Trust School and a local hydrotherapy centre, we attend different scent work classes and undergo hydrotherapy in an underwater treadmill every week. 
Susie was the subject of an article written by her Dog's Trust School teacher – Karen Brady
https://www.dogstrustdogschool.org.uk/dog-school/east-midlands/our-blog/ds-east-midlands-14th-november-case-study-susie-hope-1/
  She likes meeting new friends and also poses with a few of her many certificates 
Everyone who meets Susie Hope fall in love with her and want to do what they can to help.  All I want is to repay the love and support that my best friend has given to me and for her to be pain free and happy.  Sadly because of my problems I am unable to work and the amount of money needed to make Susie Hope comfortable is insurmountable. 
I am therefore so very grateful to you for reading our story and will keep everything crossed that we are able to raise enough money to help Susie Hope Saviour.  Thank you.
Tracey and Susie Hope Saviour xxx
+ Read More
Update 2
2 months ago
Share
All Susie-Hope wants for Christmas is 2 new hips!
Susie Hope and I wanted to say a big thank you at Christmas time for the money raised so far. From the generous donations made to Susie Hope's fundraising, we have been able to obtain the opinion of a heart specialist with regard to the heart murmur that Susie Hope has. This was worrying me enormously – what if it meant Susie Hope wouldn't be able to undergo surgery or if she needed heart medication for the rest of her life. However I am delighted and relieved to report that the heart specialist thinks that the heart murmur won't get any worse, that medication is not needed and that Susie Hope would be fit to have surgery when the funds have been raised. The build up to this put an enormous strain on me but as usual it was Susie Hope who looked out for me and kept me positive.
While trying to raise awareness I have contacted both the local paper, the Melton Times, who did a nice piece in the paper and also on their website -
https://www.meltontimes.co.uk/news/gaddesby-woman-and-her-dog-given-award-to-celebrate-their-special-bond-1-8726066.
The Dogs Monthly magazine also published a piece -
https://dogsmonthly.co.uk/2018/12/04/rottweiler-fundraising-hip-surgery/
and with the help of a local printing company, Susie Hope has a lovely new jacket to raise awareness of the Susie Hope appeal.
I so want 2019 to be the year of hips and because of the continued hope that Susie Hope brings to me - all I want is the same for my very best friend, my world, my everything, my little bear and my therapist in fur to get the gift of surgery so she can enjoy chasing balls and running pain free instead of having to just sit and watch all the other doggies on the sideline. We are keeping fingers, toes and paws crossed that our Christmas wishes come true.
Again thank you so much for donating and for your messages of support for Susie Hope.
With love Tracey and Susie Hope
+ Read More
Update 1
4 months ago
Share
Susie-Hope and I wanted to say an enormous thank you from the bottom of our hearts for all the donations that have been given so far. We are truly touched by your genorosity and kindness and are starting to see a light at the end of the tunnel.

Unfortunately due to various reasons I have not been able to use the internet and had not realised that action was needed on the gofundme account. I understand some people have tried, but have not been able to donate to Hope for Hips. I have hopefully rectified this now and hope and prey that you are still able to donate.

Susie-Hope loves this time of year as she is the world's biggest Strictly Come Dancing fan and is so excited that the dancing has now started. We can't wait for her new hips so that we can dance along (just like Craig did!)

Again, thank you so much for your donations.

Love Tracey and Susie-Hope
+ Read More
Read a Previous Update