Medical- Newborn Heart Surgery
$1,655
of $50,000 goal
Raised by
32
people in 43 months
(Picture: Our baby Alina, seen at her 20 week Ultra Sound)
Thank you for looking at our page. I am currently halfway through my first pregnancy, and it recently came to light that
our baby girl is going to be born with a rare and complex heart defect called Hypoplastic left heart syndrome.
 In hypoplastic left heart syndrome, the left side of the heart is critically underdeveloped. The left side of the heart can't effectively pump blood to the body, so the right side of the heart must pump blood both to the lungs and to the rest of the body, mixing the oxygenated and deoxygenated blood. 
This extremely life-threatening defect requires at least three surgeries and possibly a transplant. 
Our baby girl, who we've already named Alina, is going to need what is called the Norwood Procedure. It consists of three complex surgeries, the first one being performed a few days after birth.
As a family, we are trying our best to get multiple jobs, research as much as possible, and prepare for what we are about to face.
Because my fiance and I are still going through college, we are unable to get full time careers that would aid in paying for the surgeries. When I found out we were expecting, which was an unexpected pregnancy, we made the choice to take responsibility and raise our daughter. We know that we are very capable people, and that we have the ability to raise her.
Despite this, we do need help raising money for her surgery. Surgeries like this are expensive and detremental to families monetary savings even if they come from a wealthier background. 
My fiance is going to get his degree in early December and by that time he will be able to get a higher paying job. I've been trying to best to get jobs as well, and I have managed to get a couple here and there; however, many places will not hire me, and it's sad to say that I am almost positive it is because my pregnant belly is incredibly noticeable at this point. We do have some family helping us, but as you can imagine, a series of multiple open heart surgeries is incredibly expensive.
We are asking anyone who has money they can spare, to graciously donate to our fundrasier. Any small amount can help and it would mean the world to us if you contributed what you could.
We already love Alina so much, and know that she is going to be a strong and beautiful girl. She needs the opportunity to live and strive. We wish to be the best parents we can be, and concentrating just a bit less about medical bills, and more about how to care for our daughter would mean everything to us. 
Even if you can't donate, sharing this page and saying a prayer (if that's your thing) would be wonderful. Thank you for the time spent reading this lengthy explanation. 

Video Explaining HLHS:
https://www.youtube.com/watch?v=NuVmKQ-Rvrc
Here is a picture briefly explaining HLHS.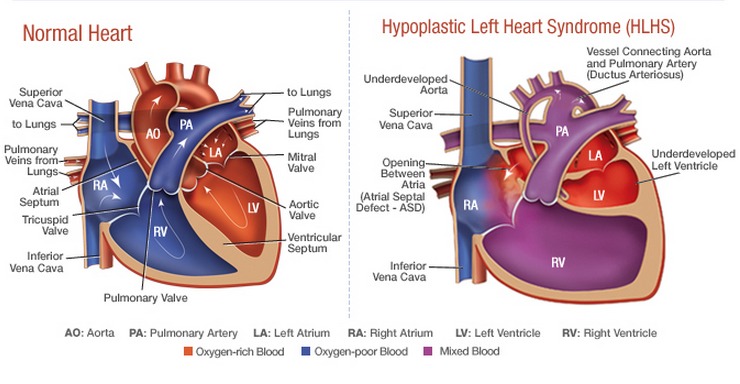 You can see in this picture how the blood is mixing and some of the underdeveloped parts. I should mention that Alina's case is slightly more involved and complex, there are some vein location abmornalities, and her valves are more severely underdeveloped.
Her first surgery is going to be done when she is just a few days old. The second is supposed to take place somewhere between 3 - 6 months. The third surgery will happen when she is 2 - 3 years old.
If you are interested in researching HLHS, you can visit
http://www.cdc.gov/ncbddd/heartdefects/hlhs.html
  or a variety of other websites to learn more. 
The outcomes of this surgery have vastly improved. Please watch this video if you're interested in the outcomes of the surgery.
https://www.youtube.com/watch?v=s_lC-Ow7d2Q
+ Read More
Update 1
43 months ago
Share
Thank you so much to the people who have already donated, and to the many people sharing our page. Everything helps and is extremely appreciated.
+ Read More
Be the first to leave a comment on this campaign.