Help a Sick Boy's Supportive Family
$2,220
of $3,000 goal
Raised by
54
people in 3 months
Carrie Elizabeth
on behalf of Gloria Mesquias
BUCKEYE, AZ
Friends and Family,
I'm a reading specialist at Rainbow Valley Elementary School, west of Phoenix, Arizona. I set up this gofundme for the family of one of my students.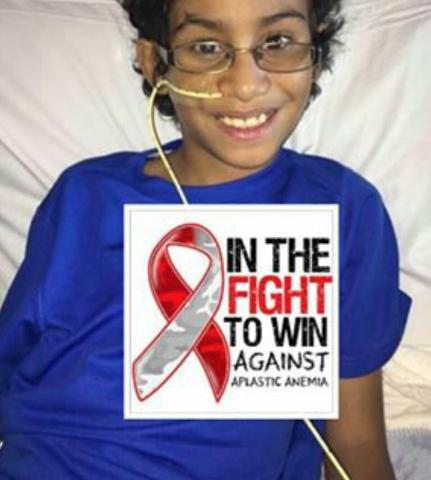 Shaun Hamilton is an 11-year-old fifth-grader I've been lucky enough to know for the past five years. He's a sweet and curious little boy. He loves the Arizona Cardinals, is obsessed with Lego and is adored by everyone he's met
He is currently in a fight for his life with severe
aplastic anemia
– a condition which occurs when your body stops producing enough new blood cells.
The main treatment for this is a bone marrow transplant. Shaun just underwent his second, with his 14-year-old hero brother, Malik, serving as his donor both times.
The first transplant didn't take. Shaun is currently sedated and intubated in the ICU at
Phoenix Children's Hospital
following a second bone marrow transplant, which occurred last week.
Here's why I'm asking for your help.
Shaun and Malik's mother, Gloria Mesquias, is a resillient champion for her little warrior. She's a single mom, who has been by her son's side every step of the way. What she is going through is simply unfathomable to those of us blessed with healthy families.
Gloria can't work full time while attending to Shaun's many special needs. Unfortunately, everyday responsibilities don't stop because you are having a tough time. My goal here is to ease Gloria's financial burden. 
Any monetary gifts received will go directly to Gloria and the kids – Shaun, Malik, and their five-year-old sister Nadia. This isn't for Disneyland or new bikes. This is for life. This is so that Gloria isn't worried about keeping the lights on or putting gas in her car while shuttling the 35 miles between her home in Buckeye and the hospital in Phoenix.
Shaun's most-recent hospitalization has been two and a half months, but he's been in and out of the hospital for the past several years. Please put yourself in this family's shoes. The "little things" add up quickly. Any small token you can spare for this remarkable, beautiful and amazing boy and his family is greatly appreciated.
It's hard to ask for help. This was not Gloria's idea. I wanted to do this for her and hope it has moved you. Thank you so much if you've made it this far and are still reading. Even if you can't help, please keep Shaun and his family in your prayers and feel free to forward it as you see fit.
Thanks again.
Carrie Brown
Rainbow Valley Elementary School
+ Read More
Be the first to leave a comment on this campaign.