Indie Spotlight Comic Book Heroes!
$22,686
of $22,000 goal
Raised by
134
people in 73 months


Update: 7/17/14
Gofundme rewards have been mailed out to donators. If you did not get a notification although all backers were emailed please email sales@gbjrtoys.com And again everyone who backed this campaign to save indie spotlight you did just that and for that we can't thank you enough. We will be adding stretch goals here for the Series3 and Series 1 and 2 two packs to keep this great line moving forward.



And see you all at SDCC 2014
Thank you all,
GBJR Toys Staff

Remember the fun of picking up a comic book and liking it so much you had to have the action figure? So do we! That's where GBJR Toys steps in! We are proud to present: Indie Spotlight - action figures from the comic book pages of old to new!




This project originated from the love of comic book characters and indy comics and their creators. Geoff Beckett Jr. of GBJR Toys was fortunate enough to obtain the rights, domains and ever popular toyline Indie Spotlight from another company who grew the line and with that deal has created an action figure body system that will improve and make action figure production faster and full of more choices per series. The Indie Spotlight line, when launched in 2006, was bold and well received as indicated by reviews online including their shining achievement: the Maxx action figure complete with Isz minis. The figures were also praised by collectors to be the first to feature re-sealable collector packaging. Over the course of several months, planning went into improving the existing action figure system that was created for the toyline Indie Spotlight. We wanted a system design that we could call our own and one that would rival even some of the best companies out there. Once that was completed, we took the line up for a full 3-series design and are now ready to put them into action figure form sure to please collectors and comic fans alike!




We have reached our original goal and will be using the $20,000 to produce a new run of the Series2 Indie Spotlight action figure line. We are now trying to reach our stretch goal of $25,000 to do an exclusive online campaign Maxx version for contributors who choose it as a reward as well as get us to San Diego Comic Con so we can offer limited exclusives before Series2 arrives. All of the Series2 and beyond figures that are sent as incentives will be marked as campaign exclusives as a special thank you to our generous contributors. We have already begun production.

The peviously released Series1 action figures consisted of characters (The Maxx, Kabuki, Katchoo, Shadowhawk and Scud) which can be found online in many reviews and available in limited numbers on Amazon.com, Hastings and Toys R Us.
*REACHED* Main Goal $20,000 New Production run of Indie Spotlight Series 2 consists of five figures including:



· Dick Tracy with Tick tie
· Cassie with Tick purse
· King Zombie with Tick spoon
· King Zombie *bloody* variant with bloody tie
· *NEW* The Tick with viewmaster, stop sign and angry head




Stretch Goal $15,000 *Unlocked*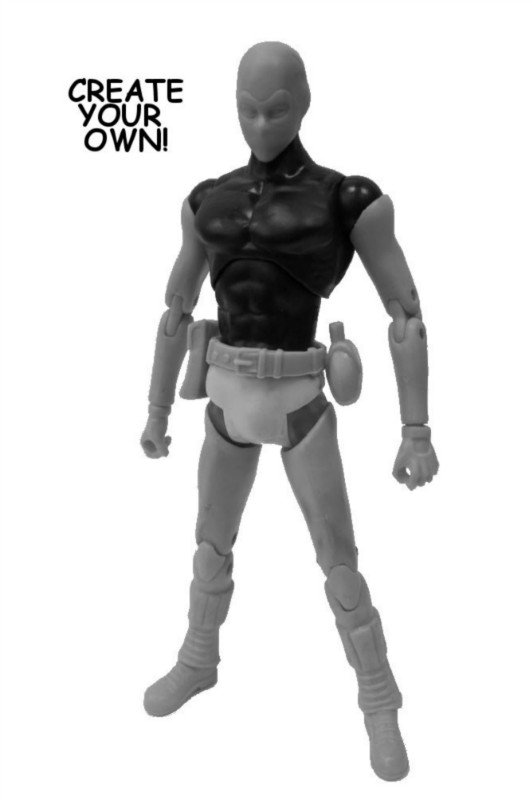 Create your own action figure with this blank paintable 6" scale superhero action figure.

Strect Goal $17,000 *Unlocked* *Sold Out*


Mr. Gone action figure the fearded enemy of The Maxx in 6" scale with a real cloth cloak.


Stretch Goal $25,000 *Locked*


The Maxx limited edition figure will be limited to 200pcs and will sport a damaged look as well as an overcoat and hat. We have also unlocked a bonus reward The Isz packs to go with your Maxx display. We also have the battle Damaged Maxx and the re-release. *Update Maxx is in pre-production tooling repair*

Stretch Goal $50,000 *Locked* Tooling and Production of Indie Spotlight Series 3 consists of five figures including:


· Grendel Prime
· Nira-X
· The Phantom
· The Phantom Variant
· Fist of Justice
The*These lines will feature variants as well*
· When unlocked we will offer these figures for perks!

The Golden Age Series1 is now it's own campaign details on our facebook and website!


· Centaur Publications The Arrow
· Fox's comics The Blue Beetle
· Lev Gleasons The Daredevil
· Nedor comics The Black Terror
· Hillman Periodicals The Heap
· When unlocked we will offer these goals as perks!

As you can see from these lineups, it has been a well-thought out effort to bring these figures to life and now we would like to invite you to be part of this first continued production run of Series2! The tooling for Series2 is finished and shipping in 3-4 weeks. We are ready to move forward with overseas tooling and production on Series3 and Golden Age Series1 if we reach our stretch goals. With the help of contributors like you, we look forward to making this first continued series of comic characters into fully articulated action figures a reality.

Any funds above and beyond the goal we have submitted will be dedicated to getting the Indie Spotlight Series3 along with a few more exclusive figures from Series1 and 2 including in between series 2 packs featuring add ons to each series of new and unique characters. Once each stretch goal is achieved we will unlock and add an option to obtain a limited campaign version of each figure from each new series funded. When we reach our stretch goals we will make the Maxx, IS3 available as rewards so you can alter your donation later.



You may make multiple donations and get multiple rewards. 
REWARDS ARE AS FOLLOWS:

A Tshirt to show your love of Indy action figures!

Gift Certificates redeemable on the GBJR Toys store www.gbjrtoys.com/store.php for action figure items.

Get your own Mallow action figure made in 600pcs

Get your own 6" action figure made in 600pcs

You can also help out this campaign and the Golden Age campaign by liking us on Facebook, Tweeting and sharing this campaign on your social media, telling your friends, posting on your Facebook, website or blog. Check out our facebook page at http://www.facebook.com/gbjrtoys

If you have any questions please contact us through this page or at sales@gbjrtoys.com or 201.913.7027

*Disclaimer* (This campaign, Geoff Beckett Jr. and GBJR Toys are not affiliated with Shocker Toys LLP)
+ Read More