30
2
Save KC "Kasey" Crane-Daniels Home
$1,440
of $4,500 goal
Raised by
33
people in 3 months
Hello Everyone!
My name is KC Crane-Daniels, and I have severe scoliosis, aka curvature of the spine. Due to a sudden and unexpected advancement in the curves of my spine in only one year, on already major curves of roughly 60 degrees each; there was an urgency in the need for the corrective surgery, also known as rods-and-fusion scoliosis surgery. It became a rather pressing issue, pun-intended, as my ribs were rapidly changing shape, and the whole structure of spine and ribs would soon cause chronic pneumonia that could kill me, and of course the pressure on my heart which could result in serious cardiac issues and events. Basically I needed to save my own life. The fact I was simultaneously facing a personal financial crisis at the time didn't matter, the surgeries couldn't wait.
At the end of Oct/beg. of Nov. I had these two much-needed, complicated and intense, surgeries. Basically my whole spine was rearranged; I'm fused from pelvis to T2 which, if you're not familiar with spinal terms, is just below my neck. I remained in the hospital for nine days, learning how to navigate my new, less limber, 4" taller, body. I even relearned how to walk!
With a year of recovery to face, my partner of six years left me after finally finding work. With three children to clothe, home and feed, myself disabled; already four months behind on the mortgage of the home he's lived in for free for many years, he disappeared with "his money" rather than pay the mortgage. He didn't break up with me, he didn't even say goodbye to us, or tell us his plans. Despite the innumerable kindnesses and support myself and my family gave to him over the years, he simply left without a word.
I'm not heartbroken, but I am severely disappointed. I'm also scared. Losing our home would be a nightmare for my children and I.
I do have numerous prospects for the immediate future, like help with my SSI claim, a book cover to design, plans to have my property work for me, someone who wants to rent a room for a bit, and some tools, an engagement ring, etc., to pawn and sell! But I must catch up on my mortgage this week, or I will lose my home.
And I want to work for any help given!
So ANY donation under $50 will be mailed a small watercolor painting.
$50-100 a medium oil painting on canvas or medium-large watercolor painting on paper.
$100-300 a large oil painting on canvas.
$300 and up, an extra large oil painting of at least 2 feet long on two sides!
(I only request shipping costs for international shipping on medium and larger paintings, and shipping for large and x large oil paintings domestic. The cost is roughly $30 domestically.)
ALL PAINTINGS are unique, one of a kind, signed by me, and personalized on request! I absolutely will take requests! Please give me some time to fulfill all. You can see some of my work at The Art of the Blue Crane at Facebook, Instagram, and Etsy.
Thank you so much for assisting us in saving our home! My children and I thank you from the bottom of our hearts! KC, Shane, Pippi, Dash, and Eden — who is off at University!
If you or someone you know has scoliosis and would like help and support? Join us at
www.Facebook.com/groups/RelentlesslyCrooked
PS. Yes my name is written as "Kasey" at Facebook, but only due to their name/privacy rules. I'm sorry for any confusion!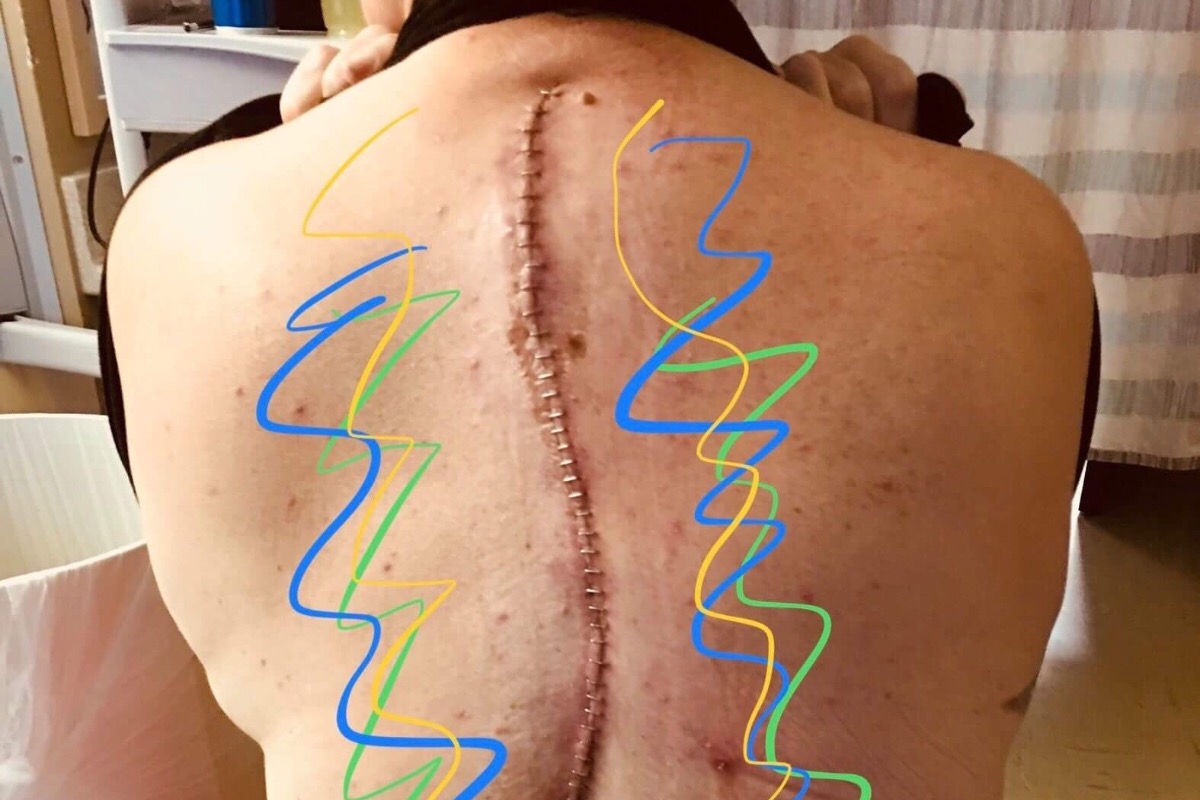 + Read More
Update 1
1 month ago
Share
Hey everyone, sorry for being silent. I had a little accident last weekend, when I fell down, I broke three ribs and punctured my lung. So I was in the hospital for a few days while they decided whether or not to insert a chest tube. I'm glad they didn't. I'm still recovering and painting as of the last two days! I'll begin emailing folks soon as I prepare to create for all you lovely people!
+ Read More