Help Rebuild Big Oak Wolf Sanctuary
$5,290
of $2.0M goal
Raised by
38
people in 23 months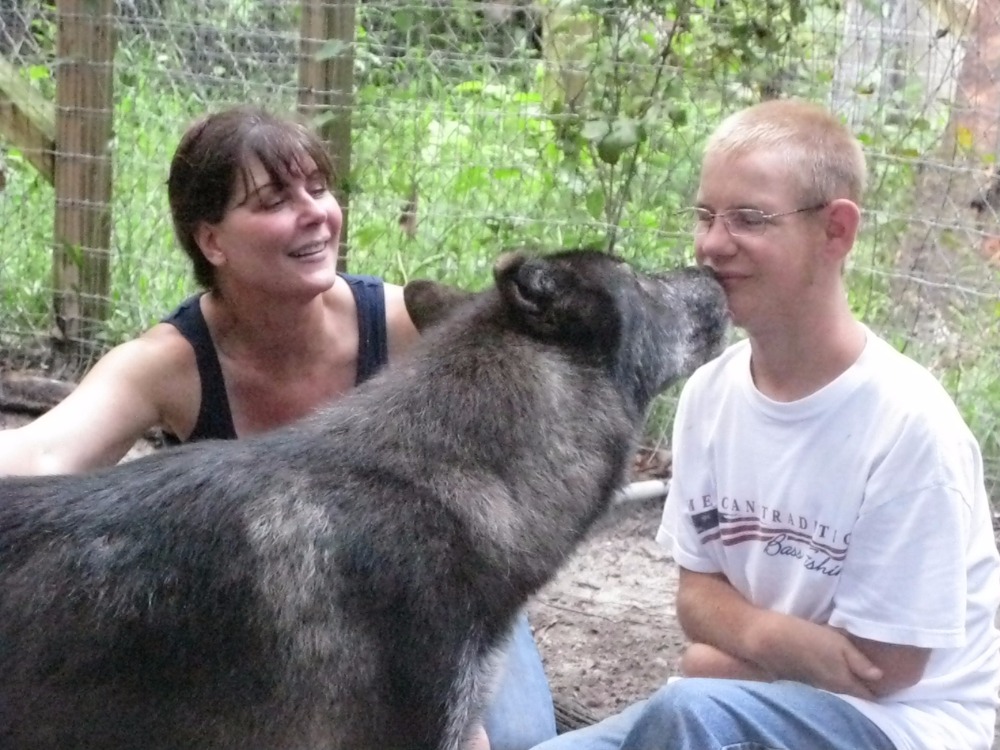 Big Oak Wolf Sanctuary is a Faith Based Wolf Rescue and Sanctuary for captive born and owned wolves and wolf dogs that were either neglected/abused by their owners, or given up by people who were no longer able to care for them.
The Mission of Big Oak Wolf Sanctuary is to provide permanent sanctuary for neglected abused and unlawfully obtained wolves, and then, to involve the developmentally disabled in a manner that enhances their enthusiasm for life.
Big Oak Wolf Sanctuary has been in existence for approximately 10 years and is a true "sanctuary" in that we do not exhibit the wolves via public tours for a fee or exploit them in any way for money.
Averaging 60 resident wolves and wolf dogs at all times, Big Oak Wolf Sanctuary is not only one of (if not the) largest in the country, but since we DO NOT exhibit them for money, we are also the most underfunded, taking in only 1000.00 to 1200.00 monthly to care for all 5 dozen animals. Unfortunately, people do not want to donate if they can't come out to see and take pictures of and with the animals, which unfortunately is something that causes significant anxiety in most wolves and creates a life of chronic fear and despair for them in captivity. That IS NOT a sanctuary in our opinion; it's making money at the expense of the animals. Specifically, exploitation of animals that are already wounded and afraid from their previous abusive lives.
So for the past decade, we've held true to our commitment protect the animals from the health destroying life of public exhibition and just trusted God to meet our needs in caring for them. We've rescued over 100 wolves and wolf dogs over this ten year period and given them optimal care here.
But after ten years with no employees and only a hand full of experienced volunteers who come only once a week, we realize that we can't continue much longer at this pace, nor will we be able to bring the full mission to life, without the financial resources necessary to "properly" support the day to day operation. At 57 and 55 years old respectively and having not had a day off (or a pay check) in a decade, my wife and I have exhausted ourselves physically, mentally, emotionally and financially and simply do not have the strength to continue much longer without some support. We desperately need to secure the financial resources necessary to support an operation of this size and scope. For this reason, we are seeking a significant amount in donations.  
As an organization founded on Biblical principles, our hope is to be able to "consistently" publish Christian "Messages of Hope" like the video above entitled "A Message of Hope," in addition to implementing the second phase of our mission, to involve a category of the developmentally disabled.
So while our primary focus is on the rescued wolves and secondary focus on the involvement of the
developmentally disabled in a manner that enhances their enthusiasm for life
 (click link to view example video), the actual "fruit" of the mission, if you will, will be the regular "Messages of Hope" involving videos of the wolves and our interactions with them, with music and voice over like the video above.
Our "primary" message is about Grace. Through Jesus Christ, Grace is a powerful, life changing force when we adequately comprehend it, to the degree to which we understand it deep in our souls.
When we really understand that "There's no condemnation to those in Christ Jesus" (Romans 8:1), we start to feel more loved by God and ourselves, we gradually stop "self-condemning," we begin to feel more free in who we are as individuals (as the person God made us to be) and our behavior changes dramatically. Self-destructive behaviors begin to fall away and a new, happy and more productive life begins to take over. This is actually the core message of the Christian Faith!
But unfortunately, this life changing message of the Christian Faith has not only been lost, it has been replaced with the "repent or you're going to burn in hell" message, i.e., The Ten Commandments (The Law).  This mind-set leaves one feeling angry, lost and condemned, even after the abuse. Sadly, these people often continue the abuse in their minds, i.e., self condemn.
Christ came down to earth to pay the penalty for our sin and destroy "the power of" the law, so we could live our lives free from fear and condemnation, with the assurance that when we fall short (commit a sin), we know that our sin was already punished in Jesus' body on the cross.
For many people, due to their past "religious" abuse, this aspect of Grace is extremely hard to grasp at the level necessary for it to change their lives and behavior.
But when these people see how the previously abused, afraid and often angry (condemned) rescued wolves respond to the grace we extend to them to be exactly who and what they are here, without any negative consequences when they "act out," and, how their demeanors soften once they really realize that no matter what they do, or how many times they hurt us (out of fear), we always respond with love and gentleness, and that they will never be punished for being who and what they are (as a result of their past abuse), these people see an example of God's Grace and its power.
Then, when you ask these same people who have and love their animals to examine their love for their animals, and consider how nothing it does would cause them to feel differently about it or hurt it, they begin to understand God's Grace toward people and better comprehend His love for them. Through this simple comparison, these "previously abused" people finally begin to realize that God IS NOT mad at them and they can begin a relationship with Him, just as the wolves begin a relationship with us once they realize that our demeanor toward them is consistantly one of love and nurture and that we're not planning to hurt them.
So just as the wolves respond to our love toward them and the Grace we extent to them by desiring our presence and pursuing intimacy with us, we respond to God's love and the Grace He extends to us through Jesus Christ (when we really understand it) by desiring His presence and developing trust and intimacy with Him.
Just as we know that the abused animals have issues because of their previous abusive pasts and that their fearful, mistrusting and sometimes dangerous (harmful) behavior, which can and often does hurt us, is not their fault, God knows that the "sin nature" was in us from birth (due to Adam's sin) and that it's not "all" our fault and that we sometimes fall short and do things we know are wrong. 
So here at the sanctuary, we extend the Grace to the rescued wolves to be exactly who and what they are here and no matter how many times they revert back (out of fear) and hurt us, we never respond to them with anger, rather we just keep loving them through it, never changing the "loving" way we handle them. Sometimes we even love them harder, if you will, just as God does with us.
Again, over time, the wolves hearts soften, they begin to develop a desire for our presence and they enjoy a more intimate relationship with us, thus improving their quality of life here. Similarly, just as we develop a desire for God's presence and intimacy with Him, once we grasp His love for us, our quality of life improves as well. Their lives change with Grace and our lives change with Grace.
Ironically, their behavior sometimes "wounds" us, just as our behavior (sin) wounded Christ. And as our bodies here at the sanctuary bear the scars of their behavior (as a result of the abuse they've suffered), Jesus' body bears the scars of "our sins" being punished in His body, specifically so God could extend Grace to us (through Jesus Christ).
We accept the consequences of their behavior so they can have life more abundantly here, just as Jesus took the punishment for our sin so we could have life and life more abundantly, without fear of punishment. This comparison of our love and sacrifice for the abused animals and that of Jesus' love and sacrifice for us is the aspect of our message that helps people who think God wants to punish them see more clearly how He really feels about us and who He really is to us.
We believe this message of Grace and our example with the rescued wolves has the power to change many, many lives (particularly those who have experienced religious abuse), as there are far more people out there than we realize that have given up hope because they've been taught that they have to become a "good person" before God will love them, hear their prayers and help them.
But as an animal lover, would you judge an abused, angry and starving animal who out of fear and mistrust was trying to bite you as your were trying to help it? And if it did bite you, would you be angry at it and try to hurt it? Of course you wouldn't because you'd understand why it was behaving in that manner and it would break your heart. So why do you feel God wants to hurt you for not being perfect? Seems so much more simple when we're able to see it in this way.
We believe this is a Divinely inspired message that can help people who have experienced "religous" abuse overcome their incorrect thoughts about God and how He feels about them, thus creating a foundation for a more productive and fullfilling life.
Our intention for this funding effort is to acquire enough in donations to rebuild everything here (all 25 large wolf enclosures and all operational areas) to a more maintenance free facility, and do so on a new, larger and more suitable (secluded) parcel of land that will accommodate the full mission of Big Oak Wolf Sanctuary (rescuing wolves, involving the developmentally disabled and messages of hope ministry like our 13:47 video above).
Currently, we spend an hour or two in the morning and evening interacting with each of the wolves and wolf dogs here (on their level and terms) to meet their daily emotional needs. The remainder of the daylight hours (all day, every day) are spent making repairs, which at this point are piling up, considering that there's only one person (me) here during the week to do them. At this point, 90% of our time and roughly 60% of the money we take in is spent making repairs just to keep the facility together.
Going forward, in addition to rebuilding the facility, we need at least four full time employees and several part time employees to run the day to day operation of the fully implemented philanthropic mission (wolves, developmentally disabled and ministry) and, the ability to guarantee the full time employees at least two years of employment, which will give us the time (and qualified personnel) to develop an adequate number of consistent monthly, quarterly and yearly donors to support the entire mission.  
Our specific needs are:
1)  Property (40 acres minimum)
2)  Vehicle (Ford 250 Truck)
3)  All construction materials to rebuild the facility)
4)  The financial resources to hire 4 full-time employees and 4-6 part-time employees (for at least two years)
5)  And the financial resources to cover food and veterinary care for a two year period.
We believe that our full mission has the power to not only benefit the wolves and developmentally disabled, but to have a profoundly positive effect on the lives of everyone who comes in contact with it, whether directly at the sanctuary, or indirectly through the weekly messages of hope.
If you feel our commitment over the past decade warrants your support, and that our multifaceted philanthropic mission going forward has value, please help us reach our goal to bring it to life.
To read more about who we are and see the facility we've built for these most awesome of God's creatures, as the most underfunded wolf sanctuary in the U.S., please visit our website,
www.bigoakwolfsanctuary.org
 .
Also, to see more current pictures and videos of our interactions with the rescued wolves and wolf dogs here and to read reviews of the sanctuary, written by people who have been here, please visit our Face Book page,
Big-Oak-Wolf-Sanctuary
.
Big Oak Wolf Sanctuary is a non-profit 501-c3 corporation.
Thank you for taking the time to review our plea for assistance and for considering helping us bring this unique mission to life, by donating and passing along our plea to others you feel may want to help. 
God Bless!
Sincerely,
John and Debra Knight
+ Read More
Update 2
Posted by John Knight
9 months ago
Share
Hello everyone,
We are withdrawing this "14 month old" campaign and have started a new one for non-profit orgs. such as ours, for a lesser amout than were seeking here.
The following link will take you to our new campaign page,
https://igg.me/at/8kWZ3uHAE-A
We'd like to thank everyone who donated for your generous support and the confidence in us it reflects. We sincerely appreciate it.
Please remember that you can continue to follow us and the progress of the rescued wolves and wolf dogs on the Big Oak Wolf Sanctuary Face Book page.
https://www.facebook.com/Big-Oak-Wolf-Sanctuary-235806799832956/
Thanks again very much and God Bless!
Sincerely,
John and Debra Knight
+ Read More
Update 1
Posted by John Knight
9 months ago
Share
Hello everyone,

We'd like to thank everyone who donated for your support and confidence in us. We sincerely appreciate it. Please remember that you can continue to follow us and the progress of the rescued animals here on the Big Oak Wolf Sanctuary Face Book page.

Thanks again very much and God Bless!

John and Debra Knight
+ Read More
Read a Previous Update
Be the first to leave a comment on this campaign.