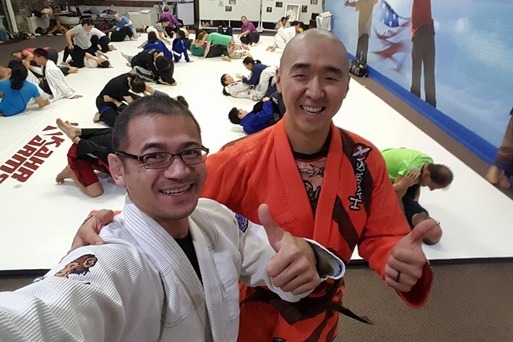 73
2
Fundraiser for Pastor Moon's Dojo
$25,451
of $40,000 goal
Raised by
78
people in 6 months
2018 Summer Fundraising Campaign for New Dojo!  / Ending on True Father's Cosmic Ascension (August 27th)
2018年 サマー・ファンドレイジング・キャンペーン 〜真のお父様天宙聖和6周年(陽暦8月27日)終了〜
2018년 여름 펀드레이징 캠페인 / 참아버님 천주성화 기념일 (8월 27일) 까지
We are a small church located in Northeastern PA focused on empowering people to love God and love their neighbors as themselves. In addition to reading the Word, our pastor, Pastor Sean Moon, encourages us to apply the Word and truly live out Christ-centered lives. This involves teaching our congregation to learn the ways of self-defense and defending those around us. In John 15:13, Christ says "Greater love has no one than this, than to lay down one's life for his friends." Our pastor has invested a lot of time to train our young people in brazilian jiu-jitsu, martial arts, and self-defense.
Although we have a small local congregation, we have many satellite churches throughout the world.
Which brings us to the purpose of our fundraiser: we would like to build a new dojo
to accommodate our growing congregation and our international brothers and sisters when they come to visit! We have been using our pastor's basement as a dojo for over a year now and are often over-capacity, stepping on each other's toes and rolling into each other when sparring. Our pastor would like to build an new dojo on a new property in Greeley, PA. 
Based on our current estimation, the building would cost $40,000 at minimum. We want to raise this money so we can offer it to our pastor so he can begin the building project on the Greeley property. This will be a new training ground to inspire many people to follow and live in the ways of Christ himself.
Thank you for your sincere contribution at this time!
Please visit our website for more information.
--------------------------------------------------------------------------------------------------------------------------------------------

All international currency donations must be contributed through our PayPal account. Include in the comment area: "Summer fundraising campaign"

米ドル以外の通貨による献金は、可能な限りPayPal(ペイパル)をご利用のうえ、コメント欄に「Summer Fundraising Campaign」と明記してください。

미국 달러가 아닌 통화를 이용한 헌금송금은 가능한 한 PayPal을 이용하시고 메모란에 영문으로 "Summer Fundraising Campaign"이라고 명기하시기 바랍니다.


+ Read More