Please read updates-Boma wheelchair
£6,627
of £13,000 goal
Raised by
135
people in 50 months
Thanks to the amazing efforts of so many of you plus Michael getting a significant grant from Access to Work  as the new Boma will allow him to get to mountain bike events and go testing it's been possible to purchase the Boma sooner than anticipated.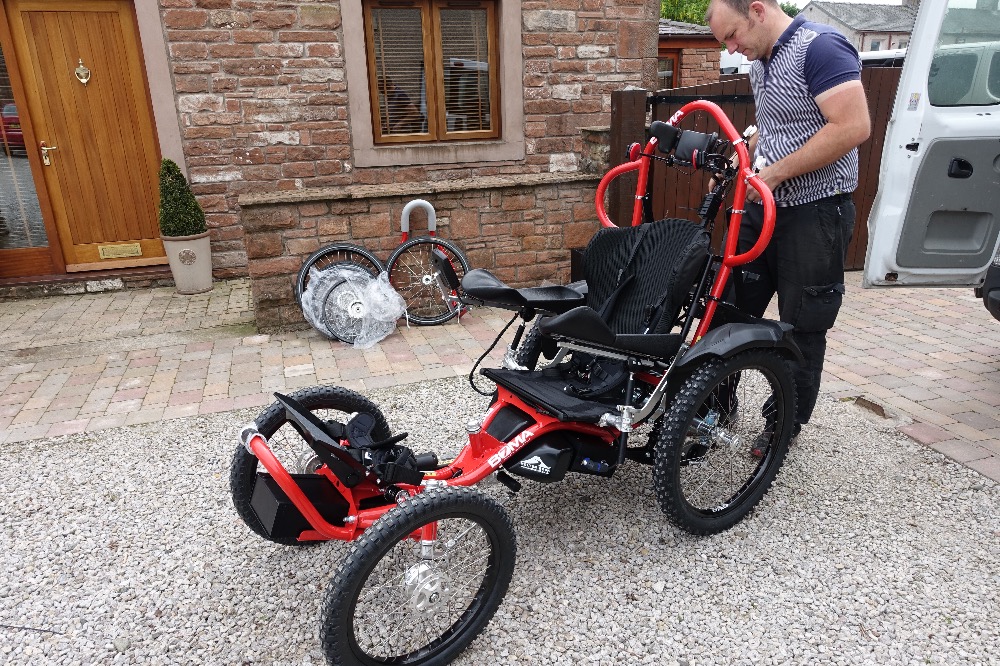 We've now got a small surplus which will be used to get better batteries and purchase a ceiling hoist for the garage to allow easier transfers from normal wheelchair to the Boma. If the amount raised exceeds this the fund trustees will then use the excess to start saving for an FES bike for Michael, it was hoped that the NHS would provide this but they don't have funding available. The FES bike would provide much needed physiotherapy for Michael and providing it will be the next goal of the trust, we hope that you will continue to assist us. 
On March 3rd 2013, while taking part in his local Eden Valley sportive, Michael Bonney fell off his bike, just like we all do. Only this time, instead of jumping up and laughing it off, Michael suffered a life changing injury. Attended to by doctors at the scene of the accident, he was then flown by air ambulance to a specialist unit where he was diagnosed with a complete injury to the spinal cord at the C3 vertebrae. The result is that Michael is now tetraplegic - paralysed from the neck down, requiring a ventilator to breathe.
Those of you who know Michael will be aware that he is a key figure in the UK bicycle industry. He has steered the ship at Orange Mountain Bikes on a day-to-day basis for more than a decade and has championed many causes, people and ideas; both inside and outside of the cycle business. To all who know him personally or professionally, even to those who just know him by reputation, the news of his accident was devastating.
There is however, a glimmer of good news! Michael is a man with more determination and 'gusto' than most. In the weeks following his accident he has progressed considerably faster than any of the medical staff would have predicted. Each goal he achieves is the starting point to his next target. From the bleakest of possible outcomes on day one, Michael has achieved his goal of sitting upright and operating his motorized wheelchair months ahead of predictions.
Michael gave a great interview to Carlton Reid of the UK's Bike Biz magazine. Far from dwelling on his situation and highlighting the risks of cycling, this is what he said:
"I don't want anybody to stop riding bikes because they think they might injure themselves. I want people to get out there and ride bikes. I've spent all of my working life getting people excited about bikes and even though spinal injuries happen to cyclists, and especially to mountain bikers, it's very rare. I was unlucky, shit happens. Get out there and ride, for me."
Michael's next step is the purchase of a
Boma 7 off road wheelchair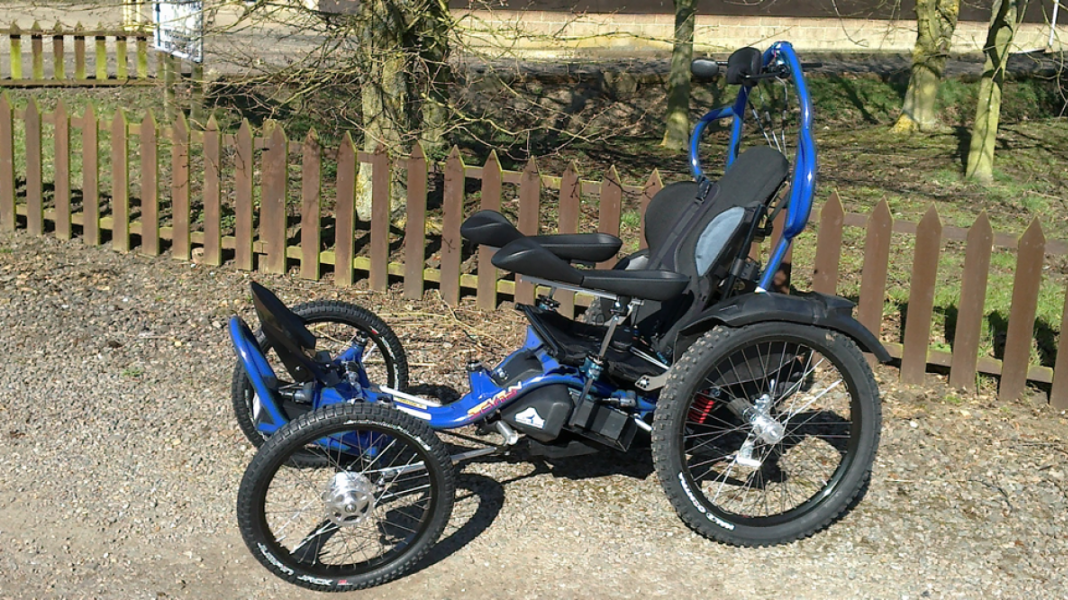 so he can get back out on the Lake District fells he loved so much, a return to mountain biking albeit on 4 wheels and with electric power and this is where we need your help. The wheelchair needs to be specially built for Michael with specialist controls as he can only move his head and neck, it is not cheap and will need a lot of fund raising to purchase it but the trustees of the Ride for Michael fund have set that as their goal for 2015.
The wheelchair won't just be for recreation, Michael has started his own business and an off road wheelchair will allow him to work with mountain bikes again. His current wheelchair is not suitable for attending muddy mountain bike events. The Boma 7 would do this and let him test with riders or journalists. 
You can help that fund raising by donating on this page or by sponsoring Michael's friends who are doing events to raise money. 
Janet Crame who is an old friend of Michael's and worked with him at Orange Mountain Bikes is doing a channel swim in aid of this appeal, you can read about it here 
http://www.gofundme.com/jmnhjw
The money raised from these events cannot be added to the total on this page but we will post updates on their progress here.
+ Read More
Be the first to leave a comment on this campaign.