Restoring the Sacred Murals
$520
of $34,000 goal
Raised by
8
people in 18 months

{Update: we were able to have the murals painted. See the main photo above. We still need to be able to complete full payment on them though.} 


History
In his autobiography, Fr. John Hogan reminisces that his arrival in Chillicothe, MO in 1857  was somewhat of a spectacle. When people in town heard a priest had arrived many came to gawk since they had never seen one before. In the months that followed he established a Catholic community  and built a church which he named after St. Columban, an ancient, Irish missionary monk who re-evangelized and cultured Europe in the wake of the Dark Ages. Fr. Hogan used Chillicothe as his base from which he continued to minister to his beloved flock and spread the Catholic faith through the wilds of north and north central Missouri. In time he became the first bishop of the diocese of St. Joseph and later the first bishop of the diocese of Kansas City. 
By 1879 the original clapboard-style church was no longer sufficient to hold the size of the growing congregation. A new St. Columban's would need to be built. Rallying around the direction of a Franciscan friar architect named Br. Adrian Wewer the parishioners put forth all their ability and skill and raised with their own hands a brick church built in the neo-gothic manner, the current St. Columban church. Their goal was two-fold: 1)Build a church capable of fullfilling the needs of the congregation. 2)Honor their God through means of their skill by erecting a temple worthy of His majesty--a little bit of heaven on earth. By 1910 the church was just that.
                 St. Columban Catholic Church in 1910
Mission
Today, we their descendants still worship in the same church our ancestors built with their own hands 138 years ago. As part of our efforts of being good stewards of maintaining the building and mission which was passed on to us, the parish is in the process of totally restoring the interior of our beloved church.  When completed St. Columban's will look similiar to the past decorative scheme it was built to have. 
Appeal
As part of these efforts two murals, one of Jesus ascending to heaven and one of Mary being assumed into heaven, will be repainted on either side of the high altar(see the historic photo for reference). The inclusion of these murals takes us beyond the funding goal set to pay for the wider restoration work in the church. Funds raised via this page will go to helping us to pay for the additional costs these works of sacred art incur. Your donation will directly fund beautiful art that gives glory to God and also helps those who view it to more perfectly raise their hearts and minds in worship of Him.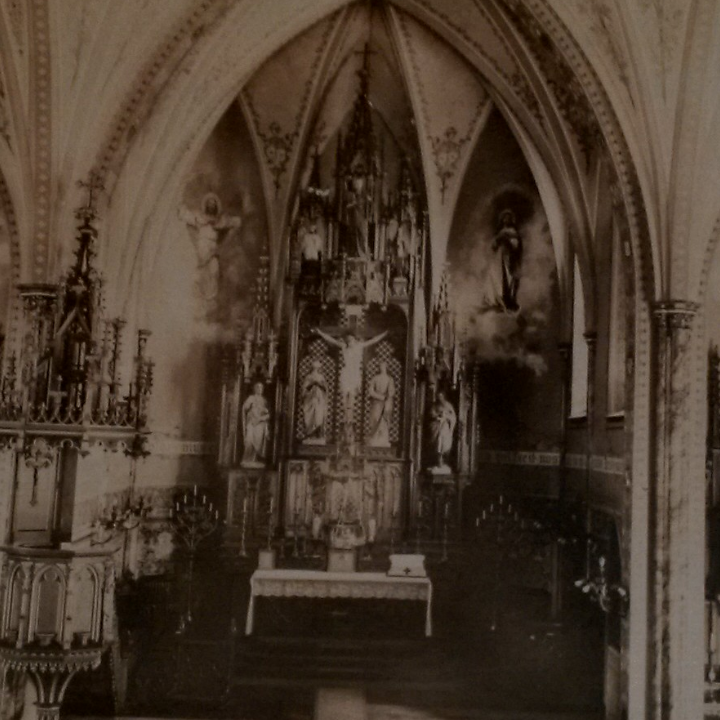 Historic photo of murals
                                   Digital rendering of new murals
Follow the progress of our project on our
Facebook page
or on our
parish website
.  Thank you.
"I saw the holy city, a new Jerusalem, coming down out of heaven from God, prepared as a bride adorned for her husband. I heard a loud voice from the throne saying, 'Behold, God's dwelling is with the human race. He will dwell with them and they will be his people and God himself will always be with them as their God'...[The city] gleamed with the splendor of God. Its radiance was like that of a precious stone, like jasper, clear as crystal." -Rev. 21:2-3,11
+ Read More
Update 1
11 months ago
Share
FYI, I have made attempts to update the page with photos of the now painted murals but the website keeps having an error.
+ Read More
Be the first to leave a comment on this campaign.