115
22
Rescue Rizzo!
$9,351
of $19,463 goal
Raised by
117
people in 12 days
Rizzo's Situation

Rizzo is our bright, beautiful, vibrant little girl, and we just found out she is very, very sick.

We first noticed her normally healthy mane of fluffy blonde fur getting dull and coming out in chunks. After a few days of low energy, heavy panting and loss of appetite we took her to the emergency room. She has a severe chest infection (pyothorax) - probably from inhaling a foxtail - and some drastic measures are needed to save her life. 

She's just returned home (Thur, Jan 3) after almost 2 days of hospitalization. Fluid was initially drained from her chest cavity on Tuesday night (Jan 1, 2019),  but by Wednesday morning more fluid returned, along with her fever, and partial lung collapse. They did another chest tap yesterday to remove more fluid and as of today (Thursday, Jan 3) we're told her fever is gone, her breathing appears better, and she ate some food. That said they fully expect the symptoms to recur within days, despite intravenous antibiotics and anti-inflammatories. Although the antibiotics do seem to be taking some effect (Yay! probably not cancer!), they're still concerned about the fluid in her chest cavity constricting her lungs - which they were unable to fully remove with the chest taps - and/or possible abscesses, tumors or debris still lodged in the cavity.

Time is not on our side. This is an emergency situation. We have to get very, very close to our total goal as soon as possible to to follow through with Rizzo's life saving treatment plan. Maybe days, maybe hours. We really don't know.  

We're trying to get her in for a CT scan on Monday, Jan 7.  They didn't technically have an opening until Friday but they're trying to squeeze us in much sooner.  She also may not be able to hold out until her Friday appointment without medical attention. If we can't get the appointment sooner, and her condition worsens, she'll be admitted again on an emergency basis. 

***************************************************
UPDATE (Thur, Jan 10): PLEASE CLICK ON "UPDATES" (above) for all Rizzo's up to date care and current status.

(Sat, Jan 5 at 5:00pm): After additional emergency, overnight, hospitalization, followed by CT scan, Rizzo's team decided that the surgical plan (option 2) was the best course of action. This is the more costly of the two so we are adjusting our goal accordingly.

UPDATE (Fri, Jan 4 at 9:00pm): Rizzo's back in the hospital. Labored breathing and the fluid they removed is back. Requires additional drainage, sedation, oxygen and overnight observation. CT scan in the morning and we'll move forward with whatever procedure is warranted.

UPDATE (Fri, Jan 4 at 11am): If you read this earlier, Rizzo's treatment plan has changed. We will now be doing either one or the other of the below procedures, definitely not both, based on the CT Scans. Apologies for any misinformation. We're learning as we go along and reworking Rizzo's plan as we get a better understanding of her situation (see below).

***************************************************
What Comes Next

The next step is a CT scan to look for any obvious abscesses, tumors, or debris lodged in the cavity. We will hopefully also have her lab results back to shed more light on the situation and help fine-tune her medications. Again, cancer is not off the table but they seem to be strongly leaning towards a treatable infection. 

- If only fluid shows up in the CT scan, we move forward with Option 1.
- If any of the above nastiness shows up, we go with Option 2.
(If cancer becomes apparent, we may reconsider moving forward with either plan, but this appears unlikely. Knock on wood.)

***************************************************
Medical Treatment Plan (Option 1)

Barring said results, and only fluid shows up, the next step is to surgically insert tubes into her chest to ensure total removal of all fluid and a saline flush, along with up to 4 more days of hospitalization and exams. 

***************************************************
Surgical Treatment Plan (Option 2)

Rizzo's current treatment plan is for the above "medical" option only. If it's decided that this step will not be effective long term, we have to consider a pretty massive "surgical" option. This involves opening up her chest cavity to physically remove any infected areas,  tumors, or debris still lodged in her cavity, followed by several more days of hospitalization, and a challenging recovery. And of course, an even more obscene amount of money.  We're crossing our finger that this option will not be necessary - and are currently asking for Option 1 funds only - until if and when it becomes necessary to move forward with Option 2.

#rescue_rizzo 


(Rizzo when we picked her up today [Thur, Jan 3]. She was scared but alert, and very happy to see her family.)


(Safe and sound at home, where we're monitoring her very closely for signs of respiratory struggle. We're not out of the woods yet.)

____________________________________________________

Rizzo the Cuddler, the Athlete, the Big Sister, the Protector

Rizzo is an enigma. She's picky about who she wants to hang out with, but once you've been accepted as a part of her inner circle, she is loyal for life. And she'll make you feel like a rock star every time you stop by.  She'll patiently allow her little brother, Oscar, to playfully bite her face, her legs, her tail, but if he ever attempted to mess with our old cat TigerMan (TigerMan passed a few months ago), Oscar was quickly, but gently put in his place. Rizzo is a great napper, but even at 8 years old she requires and an exorbitant amount of exercise. She's bullet fast and can go forever if a ball is involved. And she can still out-race dogs half her age. She's stoic and thoughtful one minute, playful the next. She wants to be close but frequently needs her space. And when she's ready to cuddle, you better be prepared to drop everything for a 15 minute belly rub. She can be very convincing and somehow make you feel like she's doing you a favor. 

#rescue_rizzo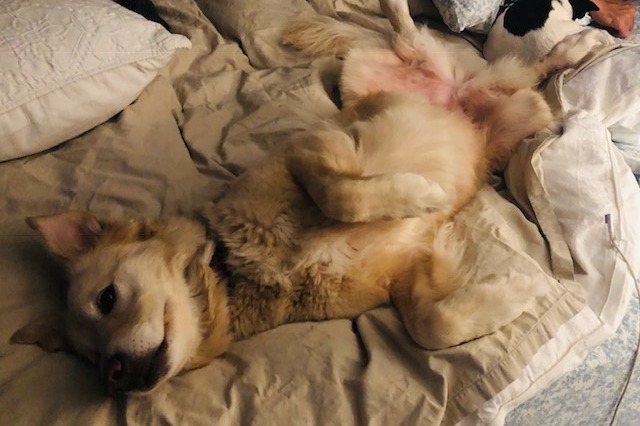 Oh! And she's a bit of a princess. She likes pillows. Lots and lots of pillows. 



____________________________________________________

Rizzo's Peeps

I'm Kim. My husband, Fred, and I are massive animal lovers, and when we're not running our small San Francisco business, we're devoting most of our time to our rescued pets, Oscar & Rizzo. We volunteer every year at Pawtrero's Dog Day Afternoon , an annual street fair, which donates it's proceeds to over 16 Bay Area rescues. In fact, we adopted our Oscar there in 2014. 

We're a childless couple and our pets are our kids. Over the years we've never not done our parental duty to give our four-legged kids, those still with us and those we've lost, the best care possible. We've weathered multiple surgeries, trips to the ER, chemo and even an amputation. Rizzo's unexpected illness came at a challenging time and we're grateful for all the help we can get. 

#rescue_rizzo 



____________________________________________________

Rizzo's Cost Analysis

***************************************************
UPDATE (Thur, Jan 10): PLEASE CLICK ON "UPDATES" (above) for all Rizzo's up to date care and current status. 

UPDATE (Sat, Jan 5 at 5:00pm): After additional emergency, overnight, hospitalization, followed by CT scan, Rizzo's team decided that the surgical plan (option 2) was the best course of action. This is the more costly of the two so we are adjusting our goal accordingly.

UPDATE (Fri, Jan 4 at 9:00pm): Rizzo's back in the hospital. Labored breathing and the fluid they removed is back. Requires additional drainage, sedation, oxygen and overnight observation. CT scan in the morning and we'll move forward with whatever procedure is warranted.

UPDATE (Fri, Jan 4 at 11am): If you read this earlier, Rizzo's treatment plan has changed. We will now be doing either one or the other of the below procedures, not both, based on the CT Scans. Apologies for any misinformation. We're learning as we go along and reworking Rizzo's plan as we get a better understanding of her situation (see below).

***************************************************
Medical Procedure (Option 1):   $13,024 (Revised Jan 4 - see update)
* CURRENT GOAL - IF CT SCAN SHOWS ONLY FLUID *

Cost Breakdown:

- Emergency Thoracocentesis $4736.95
This is the procedure which was used to diagnose conditions of the chest cavity. This included the removal of the infected fluid, oxygen, sedation, catheter, several x-rays & ultrasounds, blood & urine samples, in-house labs, off-site labs, consultations, and everything else that goes along with two days of hospitalization and observation. 

- Additional Emergency Thoracocentesis $1365

- CT Scan $1500
This is to look for an infected areas or   tumors. 

- Chest Tube Insertion $5422.05
This procedure will fully remove any remaining fluid. It includes oxygen, anesthesia, catheter, further x-rays & ultrasounds, consultation with her medical team and up to for additional days of hospitalization & observation. 

***This is our current goal and we're hopeful this is all she'll require.***

#rescue_rizzo 

***************************************************
Surgical Procedure (Option 2):   $19,463
* POSSIBLE GOAL - IF CT SCAN SHOWS BIG ABSCESSES, DEBRIS OR TUMORS *
This option will mean an additional goal of $6439.
(Yeah, we know. Did you just barf a little bit in your mouth? I know we did.)

Cost Breakdown:

- Emergency Thoracocentesis $4736.95
This is the procedure which was used to diagnose conditions of the chest cavity. This included the removal of the infected fluid, oxygen, sedation, catheter, several x-rays & ultrasounds, blood & urine samples, in-house labs, off-site labs, consultations, and everything else that goes along with two days of hospitalization and observation. 

- Additional Emergency Thoracocentesis $1365

- CT Scan $1500
This is to look for an infected areas or   tumors. 

- Thoracotomy $11,861.05
This is a surgical incision into the chest wall where any abscesses, tumors, or debris (likely foxtail) that is still lodged in the chest cavity will be physically removed. In layman's terms (because we're layman) the entire cavity will be opened up, cleaned, rinsed and sewed back together. This of course includes even more days of hospitalization, anesthesia, oxygen, catheter, x-rays & ultrasounds, blood & urine samples, labs, yada, yada, yada. You get the drift.

It's a pretty major surgical procedure and if Rizzo was older or had otherwise compromised health, we may not consider it. But barring this recent set back she is way too healthy and brimming with life. And we know she's not ready to give up.

#rescue_rizzo 

(Not sure if this video shows her extreme intelligence or the opposite. But it's awfully cute either way.)


+ Read More