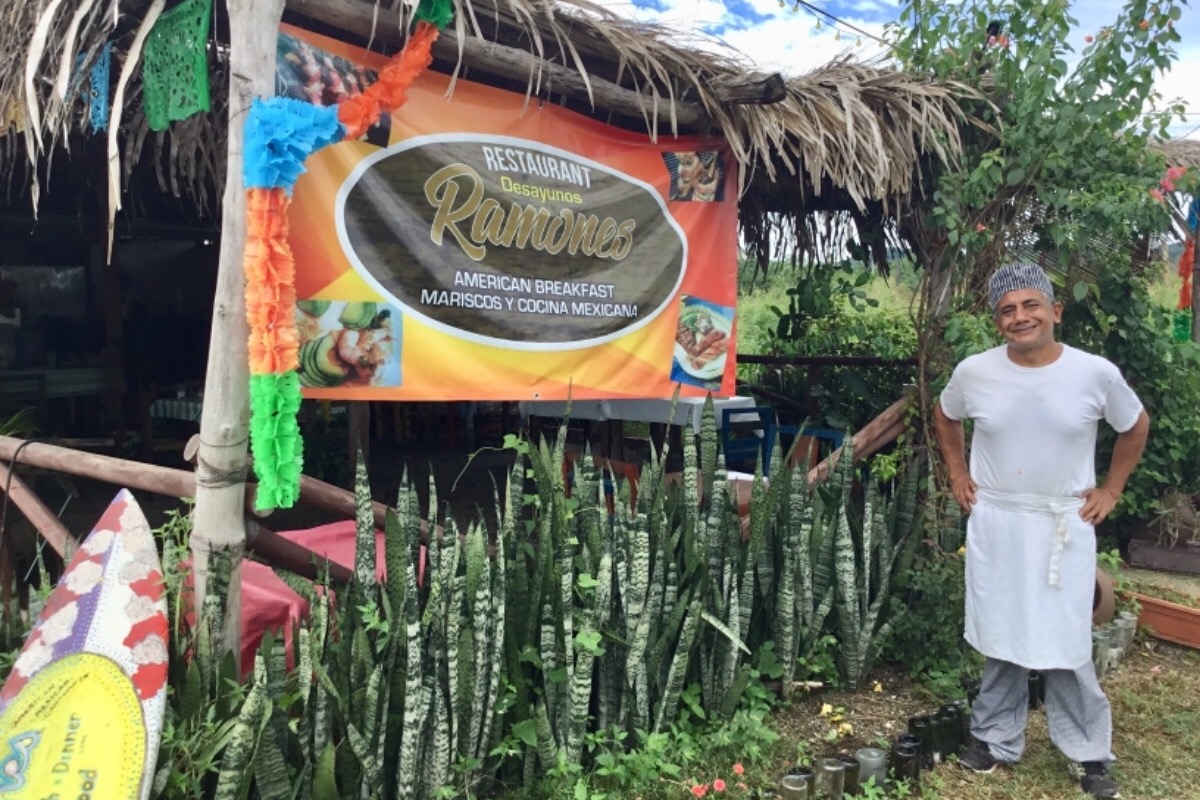 41
38
Rescue Ramón's Restaurant
$4,380
of $6,707 goal
Raised by
41
people in 10 months
MEET THE TEAM

Every Monday, during the high season here in La Cruz de Huanacaxtle, a group of ladies get together to enjoy one another's company over a delicious breakfast made by our favourite chef. On learning the dire circumstances of this beloved man, some of the ladies have organized this fundraising effort to help him rebuild his restaurant.

ABOUT RAMONES

Ramón's rustic palapa restaurant has a menu offering tasty Mexican meals along with specialities catering to the North American palette. Ramón serves only the freshest ingredients selected at our local markets and his fish dishes are absolutely note worthy and an experience not to be missed. Ramón is an excellent chef boasting 30 years of treating his clients to beautifully prepared meals. He has been retained by various well known people including Tony Hawk, the celebrity skateboarder.

BACKGROUND

Ramón has had many challenges over the past number of years. He moved to La Cruz de Huanacaxtle to get away from having to raise his children in the poor living conditions of "Cartolandia", a town made of shacks in an area of extreme poverty and crime. Having been robbed several times, he decided to take action and move away. He was determined to make this change a success. Sleeping for many months in his van and then camping on the floor of the restaurant's dining area with his wife and two children, Abergail now 9 yrs and Jeremiah now 7 yrs, until he had enough money to buy the materials to build a small room to accommodate them, was a situation they were willing to endure. Ramón was determined to give his family a better opportunity.

Helping Ramón to free himself from Cartolandia, his friend offered him a piece of land to rent and run his restaurant. After spending his life savings on materials and erecting a building, he discovered to his horror, that there was a huge error. He had been advised incorrectly and had built on a lot that was not deeded to his friend. Everything had to be torn down and moved to the correct lot. It was not a simple task but he accomplished it with the help, blood, sweat and tears of his wife, himself and his friends. They painstakingly dismantled and salvaged as much as possible to be used in the reconstruction.

Ramones was opened for business. Over the past two years, Ramón is now known to many of us here in La Cruz. He has established loyal patrons who enjoy his excellent cooking.

HAPPENING NOW

Due to unforeseen circumstances, his friend has also fallen on hard times and can no longer rent out the piece of land. Ramón and his family must vacate the property by November 30, 2018. Having invested his earnings into putting in new bathrooms and building a small room for himself and his family to sleep in, his funds are minimal in helping to start over, yet again. His beautiful wife, Teresa, continues her support in every aspect. She is working along side Ramón as they both tear down and arduously salvage as much as they can to rebuild on this third site, which is located a few lots over from the present location. Fortunately, they have been able to secure a three year lease with a first option to buy if the land becomes available. Construction is already underway.

REQUIRED FUNDS

Time is of the essence here as Ramón's eviction date is fast approaching. We need your donations and we urgently need them now so Ramón has the opportunity to participate in the upcoming high season. This is crucial to any business here as earnings have to be budgeted to last and carry them through the following low season.

Most of the reconstruction will be done by Ramón and Teresa and their friends but obviously some will have to be contracted out. They will salvage and recycle as much of the materials as possible.

APPROXIMATE COSTS

Concrete Floor $10,000 pesos.
Palapa Roof $2,000 pesos.
Building $25,000 pesos.
Sinks and Cupboards $12,000 pesos.
Stove $15,000 pesos.
Fridge $15,000 pesos.
Miscellaneous and Labour: $20,000 pesos.

TOTAL:           $99,000 PESOS.
                            $6707.00 CAD
                            $5127.00 USD

CONCLUSION

We would like to thank you for taking the time to read about our crusade. We hope we have inspired you enough to give generously to this campaign.
+ Read More