14
2
Rescue Animal Anti-Loss Plan
$1,020
of $2,000 goal
Raised by
20
people in 10 months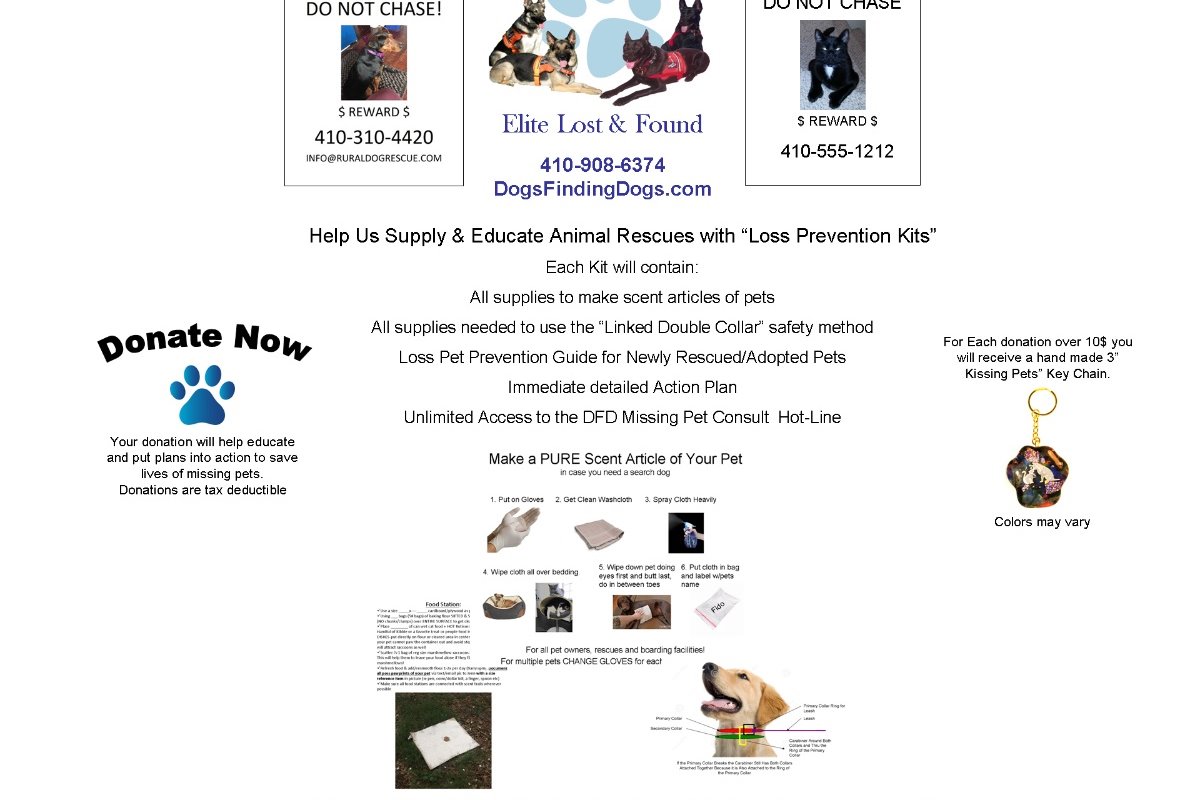 Dogs Finding Dogs "Elite" is a group of Lost and Found Pet Animal Experts who want to prevent the losses of pets that are :
1: On transport from a shelter to a rescue2: Are afraid and newly adopted or in a foster home


Funds are being raised for our group to educate rescues on loss pet prevention by supplying them with "Rescue Kits ".  The number of kits per rescue will depend on how many donations we receive.  Each kit will cost approximately 10$ before shipping.  All donations go 100% towards supplies and shipping.  The kits will be assembled and mailed out by volunteers.
Each Rescue Kit will contain:

1: Supplies to create a scent article for each pet in case it goes missing.
2: Supplies for the secure anti-break collar system.
3: Educational materials on how to prevent the loss of these rescued pets.
4: Contact information which contains recommendations on what resources can be used immediately to help locate the pet.
5: Educational materials on the behaviors of different types of pets when they go missing.
6: An immediate action plan on how to lure and catch the missing pet.
7. Unlimited support if a pet goes missing.


Dogs Finding Dogs has been in service as a 501c3 charity for 12 years.  Over that time, it has returned over 5000 missing pets back to their owners by using K9 Search & Rescue teams.  From these experiences we have gained superior knowledge that we want to pass on to animal rescues, shelters, and transporters to help prevent to loss of more pets.
Constant recurring pet loss situations arise during transport from a shelter to a rescue.  The pets have to be let out during a long drive so they can potty.  Being scared & confused, they will break free from leashes and collars.  Pets who have reached a foster or new adopter are also confused and scared.  The new adopters don't understand that this is the most critical time in which a pet will try to run off.  Our Rescue Kits will educate and supply the items needed that can be used to prevent pet loss and also locate a missing pet.
Education of the rescues is the key!  Many rescues are underfunded and we want to help.
Education and the receiving of these kits will help our hard working rescues enhance their care and protection of the abandoned pets they are finding new homes for.


Please help us educate and fund this project.  Your donation will help us to include more rescues as recipients of your good will.


If you work for a particular 501c3 animal rescue or have one that you cherish, you can certainly have it included as a recipient.
If you have questions about this fundraiser please feel free to call us at 410-908-6374, visit us on the web at
www.DogsFindingDogs.com
or view our Facebook page, Dogs Finding Dogs.  We can also be reached by email at
DogsFindingDogs@gmail.com


Your tax deductible donation is so appreciated......Thank you for helping the pets!

If you wish to ad your favorite rescue to our recipient list you may click this link....
http://bit.do/YesNoRescueList   You will see a list of rescues and at the end you can add as many as you like.


Below is a video that shows how DFD works and what pet owners go thru to try to find them.
+ Read More