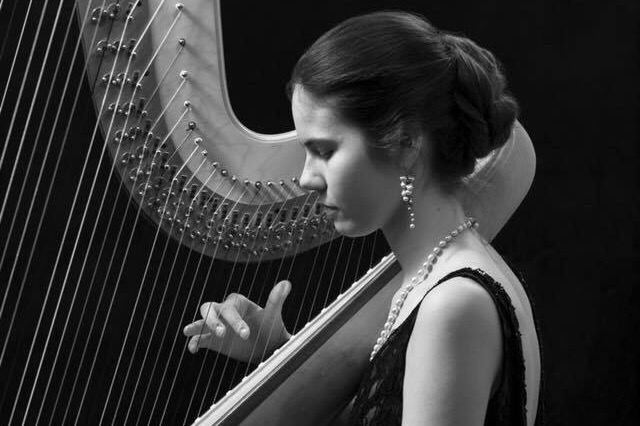 26
4
Raising funds for Music College
$4,140
of $6,000 goal
Raised by
22
people in 10 months
In 2009, when I was 9 years old, I discovered the Harp. This was a small Celtic harp but I was hooked. At age 11, I auditioned for a local youth orchestra, and the first piece that we performed was the Romeo and Juliet Fantasy Overture, by Tchaikovsky! We rented an orchestral pedal harp, assumingly only for that concert, but once I started, there was no turning back. My parents, Kimberley and Brian (a recently retired U.S. Navy Chief) have encouraged and given their time over the years, to help me learn the Harp.
Thanks to my parents' support, I've had the opportunity to study the Harp and Music with many great American and European Harpists. Since I was 12 years old, I've used my skills to volunteer as a Harpist in Hospitals, Care Homes, Rehabilitation and Cancer Centres – both military and civilian. I was honored to win Volunteer and Community Service awards for my work at these centres.
I have been able to play with amazing Youth Orchestras across America, such as the Boston Philharmonic Youth Orchestra, under the direction of Maestro Benjamin Zander, and the Seattle Youth Symphony Orchestra, under the baton of Stephen Radcliffe. I have also attended various Harp Festivals in the USA and Europe, and been able to play solo at venues such as the Redwood Library and the Newport Mansions. I have been fortunate to win some competitions for my Harp playing including: winner of the Junior Division of the Great Chicago Area Chapter of the American Harp Society's Scholarship Competition.
This past year has been very exciting and is now heralding a new road in my future life. My dream of becoming a professional harpist has started with auditions to three European Conservatories, and more auditions to come.
I have already been offered places in all three of the European Conservatories, but my top choice is to attend:
The Royal College of Music in London, UK on the Bachelor of Music in Harp Performance course.
The Royal College of Music have offered me a spectacular opportunity, but time is running out:
If I can match the initial annual Scholarship offer of £4,000 ($5,500) by the end of March, the Royal College of Music will then enter me into the secondary scholarship program.
I will, of course, also have other expenses associated with my course such as my dormitory costs and living expenses.  No matter if I go to school in the US or overseas, the annual combined costs will be upwards of $40,000 a year.
This is where I really need your help. My dream is to move forward with my academic career to hone my technique, my musicality and professionalism as a Musician and to give joy to people in my work as a Harpist.
Please can you help me to become a professional Harpist by attending the Royal College of Music?
Any assistance would be greatly appreciated.
(To find out more about me, please see
my Facebook page
, my
Instagram
, and my
webpage
).
+ Read More
Update 2
Posted by Arilyn Mitchell
10 months ago
Share

Thank you so much to everyone who has donated so far. I truly appreciate all of your support to help me reach my goals. <3

I had a wonderful audition at the Mannes School of Music yesterday. Even though my parents and I had to drive through the terrible weather on Friday, which turned our usually three and a half hour drive into a seven hour drive, we made it safe and sound to Staten Island. I was able to get a good nights rest, and head to Manhattan, my harp in tow, for my audition.


All in all, it was a wonderful experience, from the audition itself, to being able to see a dear friend, Ben Albertson, who was in town with his father for an audition at Julliard.

+ Read More
One of my greatest joys is using my music to lift the hearts of others, and to bring smiles to the faces of those in difficult situations. Words cannot express my own happiness when I see eyes shining, and burdens lightened. I have been very privileged to have been allowed into some very personal moments, and cherish the trust that has been placed in me by others. I have recently received two awards for my service, and I like to use my recognition to encourage others to share their talents in their communities, enriching the lives of others.
http://www.newportri.com/newportdailynews/news/page_one/music-to-their-ears/article_94e3a24b-0476-5d67-9558-4c8600879e86.html
+ Read More
Read a Previous Update