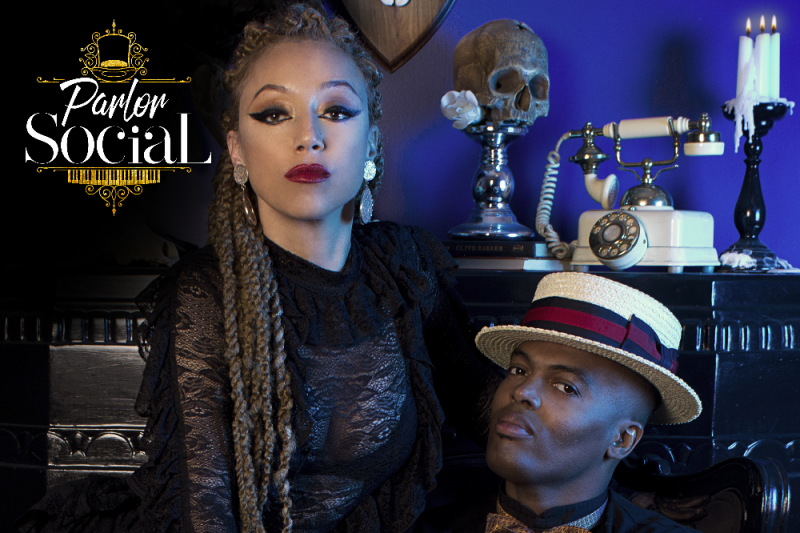 82
13
Help Us Fund New Song & Music Video
$5,500
of $5,500 goal
Raised by
90
people in 20 months
Many of you already know, we (Dessy and Ric'key) have been extremely dedicated to our duo Parlor Social.  The money made from the amazing opportunities of touring collectively with Madonna, Diana Ross, Cher, Dreamcar, Rocky Dawuni, Social Distortion, Cirque Du Soleil, and more, have almost entirely gone to paying everyday bills and self-funding our music that we feel so passionately about. And we've been doing so while maintaining the highest bar financially possible. In order to get something you want more than anything else, you've got to make sacrifices.
   As artists, we live in very challenging times where the old formula of making a living off of label advances and record sales is practically non-existent.  Although we are not seeing much of a financial return from creating our own music YET, we still believe that with the help of ''an ambitious manager and a booker with vision'' to quote a
'Say Hep Hep' EP review
  from Music Connection magazine, we will someday reach the masses with our music. Nowadays, the so-call ''big break'' for many up-and-coming acts is getting a song placed in a commercial ad, TV show, or movie as this results in sometimes great financial returns and/or immediate spike in fan base growth. 
   Many of you have seen our recent speakeasy-soul live shows, and you may have heard us
perform
  our rendition of the classic song 'I Put A Spell On You' by the late-great Screaming Jay Hawkins. As a result to the overwhelming reactions every time we perform this song, we decided to get the band in studio and record it.
   To fulfill our creative vision for this recording, we would like to complete by adding a 20-piece live string orchestra arrangement written by none other than Dr. Benjamin Wright before Friday Oct 20th to make our Halloween release deadline. You may know Dr. Wright's string orchestra arrangement work on Grammy winning albums such as Michael Jackson's 'Off The Wall'; Justin Timberlake's 'Justified' and 'FutureSex/Lovesounds'; and Outkast's 'Speakerboxxx/Love Below' just to name a few from his incredible catalogue which spans over the last 40 years. And we are proud to say that he has been a friend and mentor of ours for nearly the last decade.
   But as you can imagine, along with paying for musicians, studio time, mixing, mastering, and online ad space to promote a song, it costs a lot of money to hire an entire string ensemble. And in an era of social media and required visual content, we are also getting ready to create a music video for this single. This will be the follow up music video to our 2015 release '
Let Me Hear You Say Hep Hep'
.   All of these costs quickly add up, especially for a self-funding indie band such as ourselves.
   This is why we are reaching out to you, both our incredible supporters, Dukes and Duchesses, and those of you who may be hearing of Parlor Social for the first time, to help us raise money to finish the song and music video in time to release before Halloween.  We still have time if you donate now.
   We need to raise $5,500 to pay for the aforementioned expenses to complete the recording of the single and music video. And as a gesture of gratitude for your donations, we will ship to every North American-based donor one (1) Parlor Social USB Wristband for every $25 (US) increment (up to four (4) wristbands per donor), and we will also ship to every overseas donor one (1) Parlor Social USB Wristband for every $50 (US) increment (up to four (4) wristbands per donor).

   Each of these 8GB custom Parlor Social wristbands will contain both 'This Is Neo-Ragtime' and 'Say Hep Hep' albums, exclusive and unreleased music and videos, and of course, an mp3 and the official music video in HD of 'I Put A Spell On You' once they are completed.
Furthermore, for donations of $60 (US) or more (shipping to North America only), we will ship you one (1) Parlor Social t-shirt . Please remember to specify whether you wish to have wristbands or a t-shirt.

   The sooner you donate, the quicker we can reach our goal as this campaign is time sensitive.  Please share this campaign with your family, friends, and on your social media pages.  Help us spread the word. It would mean so much to us.
   We are asking you to please donate what you can as we would be disappointed to come up short from reaching our artistic vision for this song.  We would like to thank each and every one of you for your continued encouragement and support. #HepHep
+ Read More