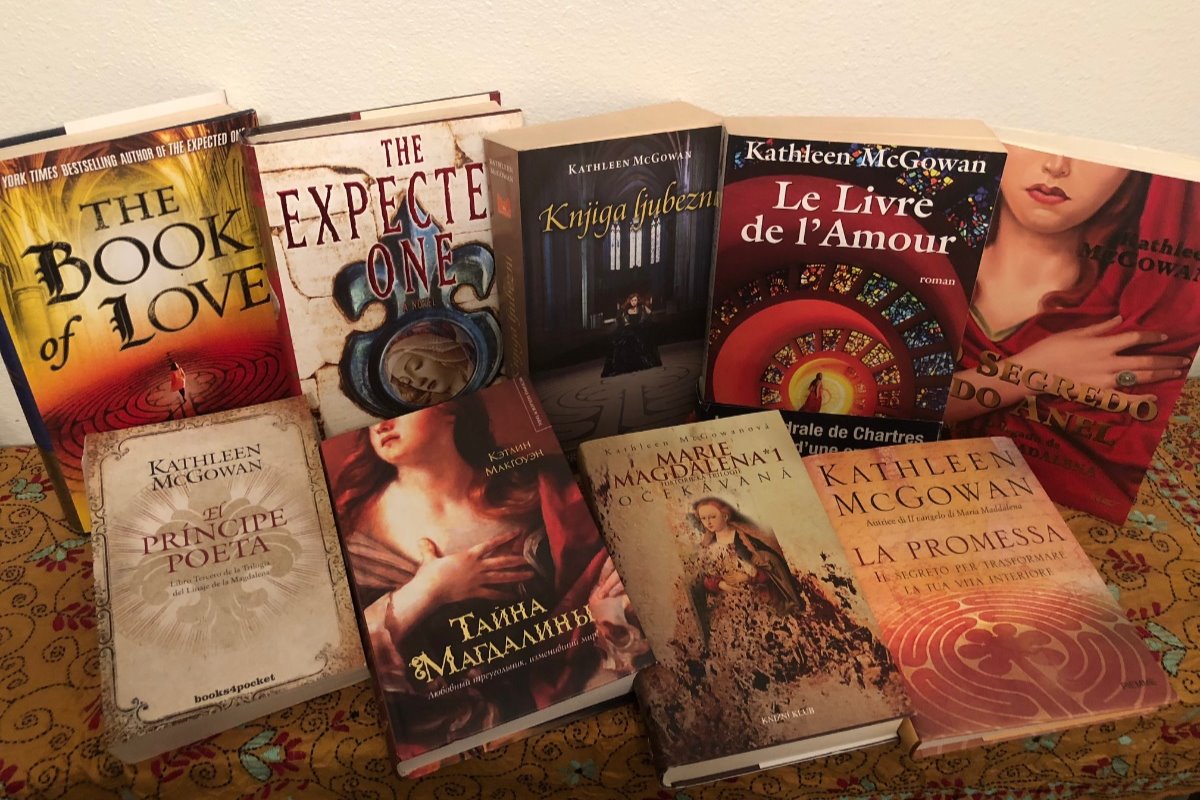 276
8
Publishing the Divine Feminine
$28,144
of $75,000 goal
Raised by
281
people in 10 months
A Unique Publishing Venture Devoted Entirely to the Voices and Stories of World-Changing Women, Past, Present and Future, by New York Times Bestselling Author Kathleen McGowan

The stories of the Divine Feminine are screaming to be heard, and there is no designated venue in which to give them voice.  This must change. 

The time has come for a new approach which gives women back their voices and restores them to their rightful positions as leaders, influencers and the makers of history. Historically and currently, traditional publishing companies are too entrenched in the old paradigm to embrace the re-telling of history's most enthralling and important stories.  

I have devoted my past 20 years as an author to avenging the maligned and misunderstood women in history.  Yet I have heard repeatedly from publishing professionals in the USA* that books which attempt to upset the historical norms, regardless of how well written and deeply researched, are simply too risky to publish.  I heard it in 1999 and I have heard it in 2018 and for all of the years in between.  

Frankly, women are tired of asking for permission to speak our truths .  We are past the time of hoping for traditional corporations to understand and embrace a storytelling mission which is risky and revolutionary by nature.  We are finished begging for validation of the stories that we need to tell NOW.  In spite of the fact that it is 2018 and I have proven the global desire for these stories, with over a million books in print in nearly 50 languages all over the world, the gatekeepers in the ivory towers are still very afraid of women with loud voices.

I am proud to be one of those women - a voice for those who have not had one historically.   But it is no longer enough to just write these stories and hope that they will land in the right hands.  We need to create a modern approach to reach our audience, faster and without interference.   We need to create a new paradigm which combines literature, history, community and publishing into one cohesive whole - a company founded by women, for the publication of women's perspectives.  We need a publishing model where the editorial aims are to deliver beautiful, powerful books rather than to erode the sharper edges of the truth or water down a controversial subject. 

(* Please note that we have found that European publishers are, in general, more open minded and we are hoping to partner/develop relationships with existing publishers overseas.  Our current focus is English language publishing in North America, but it will expand as needed).  

These are the reasons I am creating my own publishing company in North America, with the help of some brilliant, visionary women.  It is time to take our destiny and our stories into our own hands.  Our basic goals are:

- To publish fiction and non-fiction books devoted to re-experiencing history through the voices of women and/or highlighting the accomplishments of women past and present;

- To seek out and publish new, fresh and fierce female voices in a collaborative way and to model sisterhood and support in a professional environment;

- Expand global online community for the continued discussion and evolution of important conversations.


But to accomplish these things, we need your help to get started.  We are changing history and impacting the future.  And in order to do that right, we need some additional resources to launch this project.  

In the last 12 years I have poured most of what I have earned back into my research and I will continue to do that.  I am downsizing in my own life so that I can devote a majority of my time and resources to this important endeavor.  But I cannot do it alone anymore, not with such big stories at stake, and I am asking for your help to bring the following projects to life through our new venture:


Primary Projects for 2019/2020: 

1) Anne Boleyn:  Ground-Breaking Fiction and Nonfiction based in a decade of research in six languages; 2000 pages of material estimated.

2) Mary Magdalene:  Proprietary Nonfiction based in twenty five years of research with the power to change the narrative on women in European history and the evolution of spirituality in the Western World. 1200 pages of material, estimated.

3) Identifying female authors and artists for publishing outside of my own work 


Project 1 - The Boleyn Legacy:

Over the past nine years, I have been doing in-depth research into the early life of Anne Boleyn, the second wife of Henry VIII.  I resisted her call for years, but Anne would not let me go - and Mary Magdalene wouldn't, either.

Anne Boleyn spent her formative years in France, and whereas this is critical to the woman and the queen she became, it is also something that historians do not write about.  There is very little information on Anne's life in France that is easily accessible, and almost none of it is in English.  But I kept finding her in France, finding references to the fascinating women who were her teachers and mentors.  Literally the most fascinating and powerful women who perhaps ever lived in Europe were her primary influences.  This mattered.  And the more I dug into it, the more I found.  When I discovered that Anne Boleyn joined the queens and noblewomen of Europe on a six-month pilgrimage to honor Mary Magdalene, and that the itinerary of the pilgrimage was in the French record, I knew I was on to something important.

With the help of my now late husband, who spoke fluent French and Flemish and drove me many thousands of miles across Europe in search of Anne's origins, a story unfolded which I believe is one of the most significant and meaningful in history.  And I have spent years crafting it.  In fact, there is so much new information that my Boleyn book has turned into a Boleyn trilogy, entitled The Boleyn Legacy. 

The first, groundbreaking book in the trilogy, The Time Will Come, deals entirely with Anne's life in France.  It is painstakingly researched and entirely unique as there is no precedent for a book entirely devoted to Anne's early life.   This book is complete, edited and ready for publication. It is my intention to publish it in early December of this year.  The second book will be due a year later, in December of 2019, and the third in December of 2020. 

Project 2 - The Apostolate of Mary Magdalene 

I have spent 25 years on the trail of Mary Magdalene and her legacy in France.  As such, I have amassed over a thousand pages of material pertaining to her "apostolate" - her work as an apostle - from the time she arrived in France following the Crucifixion.   There are multiple manuscripts, amounting to hundreds of pages, from the 19th century which evidence that the kings, queens and noble men and women of France have revered Mary Magdalene as the ultimate apostle for 2000 years.  These documents, many created or accumulated by the Church over centuries, have never been translated into English or distributed.

The greatest immediate need for resources here today is for translation purposes of a number of stunning documents.  We have identified professional translators who also have a strong affinity for the subject matter.  In order to put them to work on this mammoth translation project asap, we need to pay them!

I cannot overstate the importance of this Magdalene Translation Project.  Our goal is no less than creating the definitive account of Mary Magdalene's  life in France as it has been preserved through history, from many and varied sources, and how her importance as a spiritual and social leader in the first century changes what we know about the history of women in Europe.  

No such book exists, not even close, nor will it ever if we don't create it.  Together.   And that is why we are asking for your help.  Because we are all in this together - and I hope some of our brothers will step in and support this sisterhood as well! 

And let me also state that this project is not just about Mary Magdalene.  It supports the new understanding that women have been the backbone of spirituality in the West for 2000 years.  There are many extraordinary female leaders detailed and celebrated in this project.  It also supplements the Boleyn books, with background data and information pertaining to Anne's journeys in France.  



SO MUCH GRATITUDE!

Listen, I know we live in a world where somebody is always asking for  money and I want to apologize for being one of those people now.  But some of you have followed me for many, many years, and I think you know how devoted I am to this cause - and some of the crazy things I have done to fund my research, from going on game shows (I won!) to selling my clothes, shoes and assorted valuables to finance my work.  

I am so grateful for the outpouring of love and support I have had from all around the world over the course of these last two decades.  Now I am asking, for the sake of this important work, for you to consider contributing to this opportunity to expand the platform for women's voices and to tell many more stories, much faster.  

If every single person who has ever told me that they can't wait for my next books donated even a few dollars, this venture would be funded overnight.  If every person who has ever wrote to tell me how much Mary Magdalene means to them would donate something, we could fund her entire translation and book project for the next two years!   

As the great Queen Boudicca said, The Truth Against the World!   Thank you for reading this far, and for your consideration, and for caring.  Let's do this!
 




+ Read More