How To Get Off The Shelf
$25
of $35k goal
Raised by
1
person in 1 month
My name is Prosperity Carter. I have started this campaign seeking your support for my forthcoming project, a book and CD of my music. Your contribution will help toward publishing and promotional costs, including design, editing and printing.
I Know Why Prosperity Carter Sings
By Nathan Hare
Prosperity Carter puts me in the mind of Maya Angelou, Oprah Winfrey, Iyanla Vanzant, Jill Scott and Mary J. Blige. Not only could they have been blood sisters; they all have suffered the horror of childhood and adolescent sexual molestation and its devastating but ambiguous shards of victimization, compelled to wrestle with a complicated invasion of their very person when they were too young to know or understand what's going on in the dark and dirty secrecy of a lonely and ill-begotten nocturnal encounter with some pleasure seeking older male.
All the way back to the slave trade and slavery in the antebellum South, when slaves not only were bred like cattle and sometimes black male slaves were kept for the function of breeding other slaves (called "Jackass Niggers"), black women have lived somewhat like caged birds. Today many may understandably feel subject to be molested at any moment. In any event today, any black woman you see, more likely than not was raped or molested in childhood experience (60 percent, some figures show).
What makes it worse, in nine out of ten times, ten to one, the penetration came at the hands of someone close to them, somebody who may have cawed that they loved them in the middle of the involuntary and confusing act (which is sometime mixed with attacker-induced and yet forbidden feelings of pleasure from the confusing force of the uninvited but seductive "finger fucking" techniques employed by the physiological invader in the usurpation of an ill-fated black girl's revered virginity, jarring and shattering her sense of right and wrong.
Leaving all other sociology aside that has befuddled and concerned black intellectuals, the experience of sexual abuse is likely to devastate a young rape victim's relationships in later adulthood love life. They may be left unable to love, to feel loved, to love themselves, and therefore any other. Beyond that, they may be inclined to mistake sex for love.
Most are threatened and cajoled into accordance with a culture of silence, which keeps them from getting the help and treatment they will need. Without medical and psychiatric help, they may lose and miss their very courage to heal.
Then, in adulthood life, when they can no longer keep all the bitterness in, they are prone to take up a self-defeating mission to get their mother or family to admit that they've been wronged. At that point, the family may not believe it or may not want to break up or even shake up their own love relations, to take up a war against an otherwise honorable family member. In the classical case, the sexual victim has grown up and now wants her embarrassed mother to announce it to the world that she has married a scoundrel for a man and then to turn against the man she loves, her long devoted husband who has done nothing to her and nothing she has witnessed to anybody else. To his own daughter? She may well not believe it, let alone assume that it is true.
I used to wonder when I was growing up in rural Oklahoma and a mother would be going away to the hospital or to visit her mother or whatever reason in another state, the old folks would say: "Don't leave your daughter with your husband (this said especially if he was a stepfather or a drinker) because people will talk about her." I finally came to the sociological conclusion that they didn't want to suggest that Mr. Jones would do such a thing, but they wanted to prevent the possibility.
Watch your children. Don't leave them with anybody at anytime and place that might leave them exposed to the peril of being sexually abuse. We can't prevent all sexual abuse anymore than we can prevent all car wrecks, but we are nevertheless admonished to drive safely.
Too many black girls, as things now stand, are left to languish on dusty shelves of despair and degradation.
But while most victims of childhood sexual abuse are relegated to prolonged and silent suffering in the dust -- their hopes and dreams and self-worth languishing on the shelf, diminished by their unfortunate ordeal, any good they have to give to be taken at the pleasure of someone else – others, like Maya Angelou and Oprah Winfrey and Prosperity Carter will sublimate their unrequited rage in artistic and socially useful endeavors entertaining and helping others, sometimes to considerable acclaim from society as a whole.
Through their art and service they are able to connect with others, including other victims. Imagine the healing power of the simple notion, just to know that you are not alone, that you are not the only one and, moreover, that you can get together with others and move to get yourself clean off the shelf – indeed, by harnessing and invoking the inviolate but largely untapped power of the group, that you yourself can begin to lead the way.
How To Get Off The Shelf Collecting Dust is a reflective, inspirational book on how I went from a static to a dynamic position in my life after recovering from parental violence, sexual and partner abuse.
This book is an easy read demonstrating principles on how to recover from the above issues . My life's calling is to help others with their issues and motivate them to express their challenges in a creative form.  Recovery is a process which requires support from many people.  You can support me by making a generous donation toward the cost of this project.
This book will help persons suffering abuse in any form, including self abuse leading to  depression and apathy. How to Get off the shelf collecting Dust will inspire action leading to a dynamic, joyful, healthy, holistic and love filled life. At this time, I am proud to say I am truly happy for the first time in my life. Praise be to God!
Excerpt From Manuscript: Draft #1 

Preface


Stop wasting time doing nothing! Your dreams must be a priority! Do not look at them as unimportant. You must decide not to waste one second, minute or hour of your time sitting on the shelf collecting dust. You can transform yourself into something beautiful and I know you may not feel beautiful but life shows us beauty everyday minus the negativity but we must look into the mirror. The fact that you are breathing and reading my book shows that you have taken the first step toward change. You may be in a cocoon right now but you can transform into a beautiful butterfly gliding and soaring. I know you want change badly and the route that you are taking may be a challenge but just know that you can achieve your purpose if you never give up and cut off fear and doubt, the great enemies of yourself. You have to start making better choices and start visioning yourself already successful even though you cannot see the unseen. This is where faith is highly important to grasp.
How badly do you want success this year? There are many people out there who don't want anything out of life. They are ok with just being normal and settling to remain in the bumpkin patch waiting to be picked for Halloween. Are you that person who is content with nothing? When you settle for nothing, it eventually catches up with you. Then, you become ungrateful, resentful, hateful, and blame others because you refuse to blame yourself. It is your fault because you became too comfortable on the shelf! 
How are you going to utilize your talents to contribute to the world? Are you going to withhold your talents from yourself and the world because of fear and doubt? Here are some guidelines that I came up with that has helped remove me off the shelf and may help you. To begin with, you must love yourself. I used to hate myself but now I love myself. I do not care what other people think about me and have learned to gain control of my feelings as I recovered my mental equilibrium. It is not about what people think about you. It is about what you are chanting in your head about yourself. If you truly loved yourself, you would not allow yourself to collect dust. Loving myself did not happen overnight but looking in that mirror and realizing I am beautiful helped transform my thinking. Likewise, you must shift your mindset and convince yourself that you have the energy, desire and faith to become successful. 
You must let go of your past completely! Let it go! Cut it off! Curse the devil! "Get behind me Satan!" I know some things you will try to hold onto until the bitter end or until the end of the world. Don't be a Diehard battery. Forgive, move on and most of all grow from your mistakes. While I was trying to move forward, reflections of my past, guilt and shame kept coming up to haunt me. I hear voices in my head saying, "Oh, you can't do this and you can't do that, or how about you do it like this and do it like that." Rarely did I hear, "Oh wow that was great, I would love to support your work etc." I was so used to criticism that it became hard to distinguish who was being real versus who was not. I thought everyone was trying to down me until I learned how to take constructive criticism.
 I know that we can get caught up in people's opinions and always seek validation. Start seeking validation from yourself! I know it is a challenge but you can do it! I realized success does not happen overnight. Too often we get so immersed in social media and other people's success not knowing what went on behind closed doors, or in the deep structure of their success.
Often I get exhausted trying to convince people they can be successful. It takes a lot of time and energy and it is very draining on my psyche. Nobody should have to beg you to be successful. Common sense should make you want a better future for yourself, children and generations to come. Think about the possibilities of your life off the shelf. How long will you continue allowing yourself to sit on that shelf collecting dust? Don't you see that dust piling up on you, covering years of doubt, fear, insecurities, shame, guilt and low self-esteem? There's so much dust on you we cannot see you anymore, where did you go? We think it is time to buy a new duster and begin again to clean yourself. Can you feel it? Can you see the dust falling off your body? Can you see it falling off your brain? Now you have your confidence back so hold your head up! You are off the shelf. Now run for your life! It is an emergency.
Excerpt #2: Human Tsunami Hits Tampa Black Expo"Prosperity Carter, thank you for your powerful voice and spirit. You revitalized the hearts and minds of many during the Black Heritage Community Expo."-Chantelle DanielsDirector of Black Expo
It is February 25, 2017 and today was the first day of the Black Expo. I was curious to see what the audience would look like and where my table was located. I was told to choose a table and check in and then started unloading my products. I placed two books on the table and did not finish setting up before people started picking up my book. I said, "Wow they are very interested to see what I have." So I told them please allow me to set up and come back.
After I set up people returned to my table. I showed them our Movement newspaper and told them that I was fundraising money for the Black Arts Movement 27 city tour and showed them my products. Before I read them my "On The Shelf" poem I dusted them off. Some people laughed and thought it was funny and others just looked at me with a weird expression. There expression said, "What the hell is she doing?"  I said, "You will see after I read my poem why I dusted you." I got positive responses and the people were touched by the poem. Some people bought the book on the spot and some gave me a donation.
There was an open mic session, and when it was my turn on the mic I recited my poem On The Shelf:
Left myself on the shelf to collect dust
Three years had gone by
Time had flown by
Was not feeding my talentsFelt like I was going to dieJust didn't know whyFear and doubtHad me in a choke holdStill struggling with the same thingsWant to break free so badSee the things I've never hadHow can I do that?When constantly in the boxDark hole with nowhere to goAfraid to express deep inner selfWorried about the next commentIt don't matterThe Lord knows my heartGave me my talentsParts of me started to shedAt the same timeThere was still a little fearKnow I'm almost thereCan feel itRight in front of my eyesSo blind to my dreamIn timeWill break free of this chainBreak free of this mentalityThat dreams are not to existWill continue to work on changing my actionsDoing things differentTake initiativeGo beyond the unthinkableAllow my spirit to get uncomfortableSee myself like never beforeBeing free from it allNo more talkingMore actionsMore receiving blessingsAs of 2015 I declare thatI will no longer be on the shelfCollecting dust
Before I recited the poem I went out into the audience and dusted them and then dusted myself. After I finished speaking people cheered and clapped for me while as I exited the stage. I made my way back to my table and started to pack . Then one more person purchased my book. I had a very successful day and anxiously awaited the second day of the Expo.
On day two of the Black Expo I checked in and set up at a prime location. Once I got set up people started coming. As I autographed my book more customers came. I was making a transaction with one person and then two other customers crowed around my table trying to get my attention curious about my books. It was a bit overwhelming but it felt great. I was very excited so I called my mentor El and shared my news. I was elated that every time I got on the phone a new customer would arrive. So I had to hang up and call my mentor back. I met an older lady who shared some of her life story with me. She said, "I just want to be free and I have a habit of every time when I want to move forward in life I always tend to move backwards. I lost custody of my kids and I'm trying to get them back."
I said to her, "You have a story to tell." Then I read her my poem,
The Enemy Is A LiarDoesn't want me to be successfulTold me plenty of timesWould be forgetfulDon't existDrenched my fleshTried it's best To keep me from being blessedWants me madDay and nightDon't want me to fightFor what is rightCan't feel wholeAttacks me soulLoves when I look in the mirrorAt my errorsHas a partyWhen I give in to those who judge meConstantly calls me uglyReminds me of my pastWants it to lastThe painFlooding my brainPuts suicidal thoughts in my headTelling me again and againHow my life could endWants me deadDwell in negativitySuffocate in self-pityJust doesn't want to release meFrom the box called misery literallyAll of these years the enemyHad my soul trapped in fearAfraid of who I amYou want to know something enemyI have been created differentlyWith a divine purposeTreasure my yearsNot just the moment
Keep on moving through itPeeling apart what has been ruinedShall no longer live in fearFor I trust in the lordWho is always nearFilled with love and joy

I told the woman to repeat after me:
I love me
I am free
I can be all that I can be
No matter what no one thinks of me
I believe in me
You no longer have power over me
Goodbye enemy
She felt so inspired and said to me, "I promise that your words and inspiration will not go in vain." I said, "Thank you so much." Then she departed my table. Another woman arrived to share her story. She said, "I had an accident and went through the wind shield of my car." I was speechless because I had a fender bender but could not relate to her going through the wind shield. After I gave her some words of encouragement and she purchased my book. I thanked her for her purchase. I was filled with joy at being able to inspire her. She said, "I have been writing for years and I just have those books tucked away on the shelf." I said, "You have a story to tell and the time is now to tell your story." I gave her a hug and then thanked her again. It felt so good to give hope to these people.
When I was called to speak, I read an excerpt from my book. I heard people cheering me on as I was doing my reading and then I got the audience involved. I said, "If you can hear me say I!" Then they said I! Then I said, "I want you to repeat after me, "As of 2017 I declare that I will no longer be on the shelf collecting dust!" I said, "I can't hear you folks upstairs in the food court, I shouted!" The people upstairs responded loudly. Within seconds it felt like I had the entire mall's attention. I closed out my speech and said, "Thank you and God bless you all. Back at my table I gave out free books including the Black Agenda by Drs. Nathan and Julia Hare. As I packed, people came by my table to thank me and purchased my book. This event made me realize that all it took was for me to be confident in myself and take the right action. My dreams are an emergency and when you look at you dreams in that perspective that is when you will reap your harvest.
Excerpt # 3:
The Low Down Dirty Truth


I thought that I would never be sexually molested again but I was wrong. When I was fourteen I was sexually molested at our cousin Vicky's house. She lived in Long Island City and our family went over for a cook out. I loved going to her house for a family function because we had so much fun. Sometimes we would not go home but spent the night. My mom would never spend the night but the rest of us stayed except my little brother who went home with my mom. My mother thought that my father's side of the family got crazy when they drank and smoked marijuana because they would start arguing and fighting. As crazy as my mom was, she was right on this issue. 
On this occasion, the adults were drinking, talking loud and dancing. Sometimes one of our older cousins would sneak me and my cousins a drink. A cousin snuck me a drink that was so strong it burned my throat but I soon asked for another. I started getting dizzy and everything was funny. As I started dancing by myself, I noticed Vicky's husband Joe standing apart from the crowd with a drink in his hand and his eyes on me.
When it got late, I was told to go upstairs to my cousin's bedroom to sleep. I took my clothes off except my panties and Vicky handed me a large t-shirt to put on. She said, "Goodnight" and shut the door. As I tried to go to sleep I heard footsteps coming towards the room. It sounded like someone was stomping. The room door opened and Joe entered. He said, "Come here I want to ask you something." I walked to the door scared because I had been molested before when I was eleven by my father's friend. I was apprehensive about Joe entering the room because his speech was slurred and I could see the cup of liquor in his hand. He said, "I'm going to the store, would you like anything?" I said, "Sure, you can get me a soda and some M&M's." He said, "Ok, I will be back."
It seemed like hours before Joe returned. I had fallen asleep with my head under the covers but awakened when I heard Joe open the door. He said, "Shhhhh", then proceeded to pull the covers off me slowly and then we made eye contact. He handed me soda but did not have my M&M's. 
When I popped open the soda and tried to take a sip, he put his hand over my mouth and said, "Shut up, don't say nothing!" Then he forced me to kiss him on the lips and then stuck his whole tongue into my mouth. His breathe was foul and hot with the smell and taste of alcohol. He was disgusting. Then he grabbed my breasts with his hands that seemed huge. My breasts were small like lemons so he played with my nipples, arousing me. I could feel my pussy getting wet. He pushed my panties aside and started finger fucking me. I didn't know what or how to think but his finger felt good in my wet tight pussy. I was still a virgin so I felt violated by everything he was doing to my body. I wanted to kill him.
As he finger fucked my wet tight pussy, he pulled out his dick and said, "Touch it, go ahead, hold it." I said, "No, I don't want to touch it." His aggression intensified. He grabbed my wrist and forced me to hold his dick. I wanted to rip his dick off as I was holding it. It was my very first time holding a grown ass man's dick and I said to myself, "Damn, his dick big, long and hard." He said, "Stroke it faster, I love you and always thought you were sexy." So I did and soon he shot cum all over my t-shirt. After his cum had shot everywhere he said again, "I love you baby." He pulled out some money and said, "Take this and don't tell nobody." Then he pulled out his gun and stuck it in my face and said, "If you tell anyone I will kill you, you little bitch!" I was scared to death. He kept on trying to give me the money but I refused to take it. Finally, he took the money and left the room. I could not sleep but cried all night.
When morning came he drove my brothers and I home. I was petrified of him and did not want to get in his car. He told my brothers to get in the back and told me to get in the front seat. So I sat in the front and he turned up the music really loud so my brothers couldn't hear, then said to me, "Remember what happened last night? It never happened, right? I will kill you and your brothers if you say anything." I said, "No, it never happened." It seemed like he was doing 90 miles an hour in and out of lanes. My brothers and I were clinging to our seats. When we finally got home and got out of the car, he got out too and tried to give me a hug. I refused to hug him and ran into the house straight to my bedroom and fell on the bed exhausted and disgusted. I was terrified that he would kill me and my brothers, so it was years before I told anyone.
PERKS

For a $20 Donation:
You will receive an autographed copy of How To Get Off The Shelf Collecting Dust 

For a $50 Donation:
You will receive an autographed copy of How To Get Off The Shelf Collecting Dust & an autographed duster

For a $100 Donation:
You will receive an autographed copy of How To Get Off The Shelf Collecting Dust, an autographed duster and CD

For a $1000 Donation:
You will receive an autographed copy of How To Get Off The Shelf Collecting Dust, an autographed duster, CD and T-shirt

Please click on the links below to view the full range of Prosperity Carter's many talents:
https://youtu.be/kFzU-qu7lbs
‌
https://youtu.be/PKntSdxk3zA
‌ 
https://geo.itunes.apple.com/us/album/overcoming-my-struggles-ep/id1002803435?mt=1&app=music
‌
http://www.smule.com/p/523289439_1100274214
‌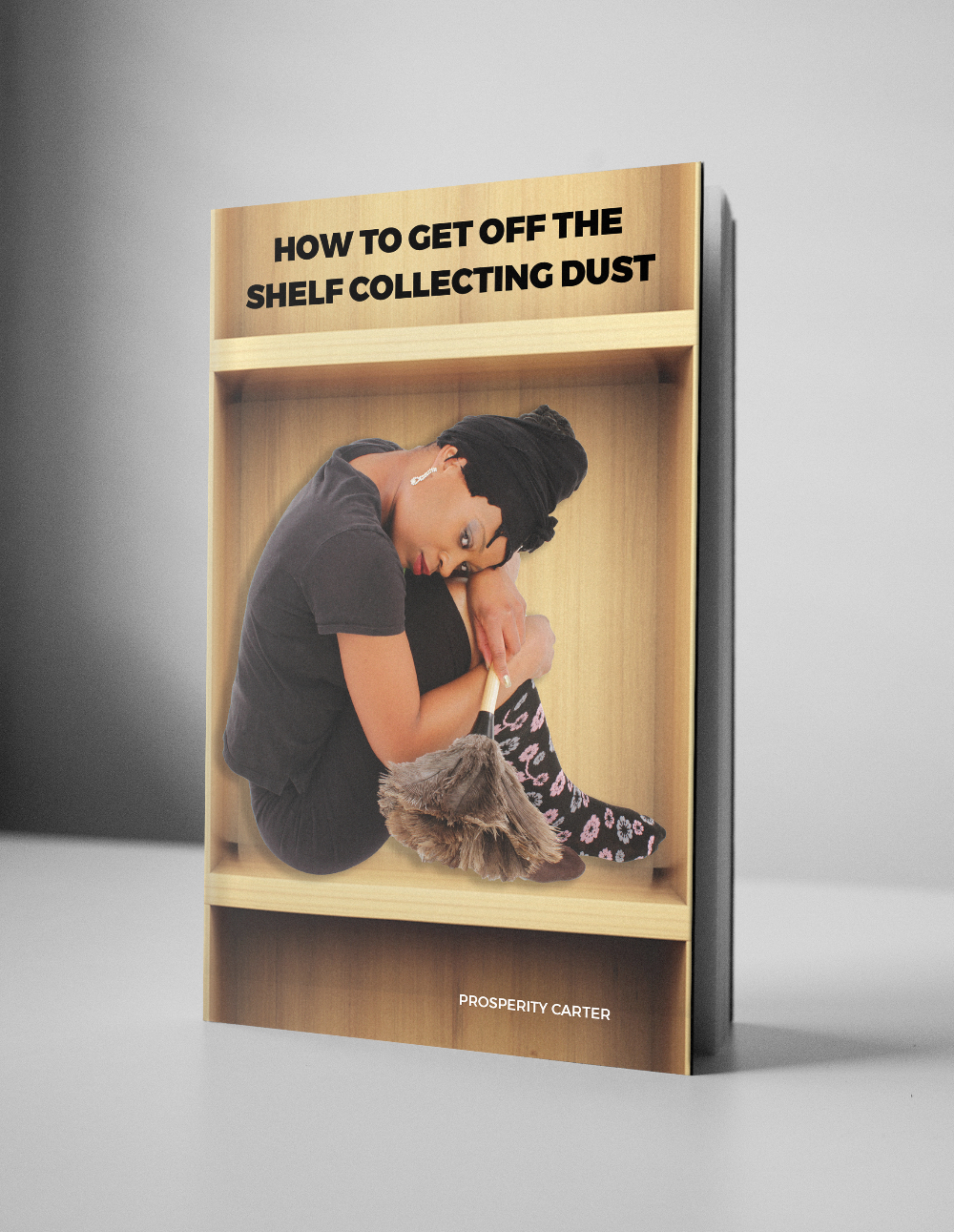 Budget For Estimated Project Expenses


Printing
2,000 books @ $5 per unit = $10,000
Editing Layout & Design
$3,000
Promotion
Advertising (newspaper, radio, posters, cards, mailing & handling, T-shirts, & bumper stickers)
$6,000
2,000 autographed dusters @ $1 per unit = $2,000
Book Tour
(Travel, lodging, car rental, food, & venue)
$7,000
DVD 
(Studio recording time, post production, & duplication)
$3,000
Legal Fees
$2,000
Misc. 
$2,000
Total Estimated Expenses For Project

$35,000
BIO

Prosperity Carter is a poet, author, rapper, dancer, vocalist and associate editor of The Movement Newspaper. She grew up in Queens New York and attended William Cullen Bryant High School. In 2011 she published a book of poetry I'm Already Famous. Her work appeared in the anthology Stand Our Ground: Poems For Trayvon Martin & Marrissa Alexander, Ed. Ewuare X. Osayande. At nineteen Ms. Carter was given her own column in the Oakland Post News Group. She performed throughout the Bay Area and Northern California with the living legend, Black Arts Movement co-founder, Marvin X. In May 2017 Ms. Carter will study at the University Of Ghana. While in Africa she will be on assignment for the Oakland Post News Group and The Movement Newspaper.
www.themovementnewsletter.blogspot.com
+ Read More
Be the first to leave a comment on this campaign.