Presteigne Community Barn
£385
of £10,000 goal
Raised by
6
people in 1 month
Sheep Music is working together with Presteigne and Norton Town Council and Presteigne Carnival to make a permanent venue for temporary events on Went's Meadow in Presteigne.
For years Went's Meadow has been used as a location to hold community events such as Sheep Music and Presteigne Carnival as well as one off events and performances. On most occasions the group involved has had to rent marquees and other equipment such as staging and flooring to put on these events. Our proposal is to build a permanent structure to replace the need to rent some of this equipment and to encourage more community groups to use the meadow.
We hope to show that a well built resource like this barn can provide possibility and opportunity for a community like Presteigne to build on its already rich history of creative events and arts programmes. As well as providing a venue for events the town already put on and know about, the barn can create a space to inspire future generations to create, support and experience new and various events yet to be dreamt up. 
THE BARN DESIGN
The proposed barn is a 15m x 14m space comprising of a 15m x 8m main structure modelled after old fashioned dutch barns commonly seen in the surrounding area with a 3.5m wide lean-to at the rear and 2.5m cantilevered lean-to on the front. We have tried to maintain the appearance of a traditional barn on the outside of the building with a bit of a sense of the theatre on the inside.
The idea is to provide a structure that will be open and exposed when not in use so as not to create a hideaway to loiter in and will be able to be closed up for events to keep the weather out. This will be essentially possible because of the sliding doors which will be locked open when the barn is not in use and closed up when it is. Our ultimate goal is to create a building that will be practical and intimate when in use and safe and unobtrusive the rest of the time.
The barn is oriented with it's open side towards the play park to strike a balance between maintaining a connection with the existing small barn which would likely be used for catering, bars, tickets etc. at events, keeping the open side of the barn out of the prevailing wind from the west and pointing the event noise away from nearby houses.
We will also run a supply of electricity into the barn to power lights, sound systems and any other equipment needed for events.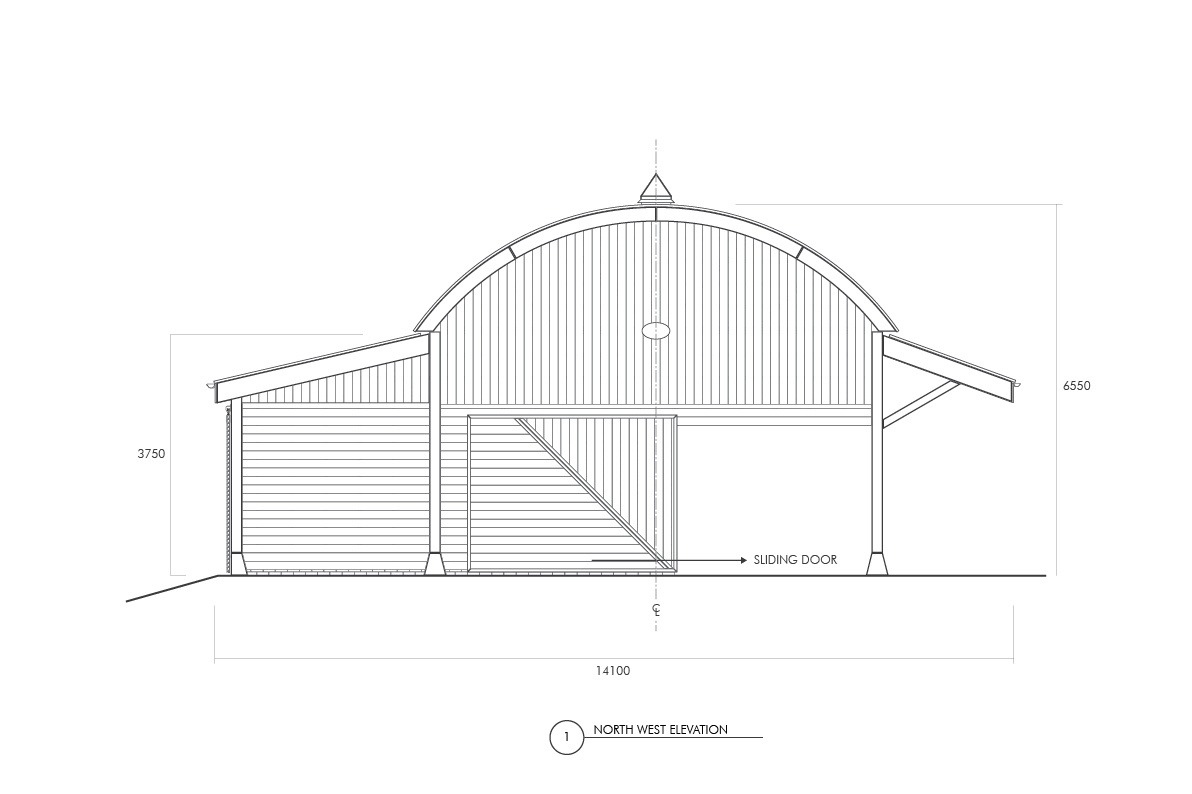 BUILDING THE BARN
The plan is for the barn to be built by the community. We have talked to lots of people in the community willing to help, from experienced builders to enthusiastic amateurs.
The build will be organised by the Presteigne Order of Shedwrights who put on the triumphant 2 day shed building competition 'Dawn of the Shed' and built the huge dragon bonfire for Guy Fawkes night in 2017.
We have planning permission and are hoping to start the build in early spring of 2019 depending on whether the funding is secured by then.
FUNDING THE BARN
The barn will cost £45000
We have received donations from local organisations like the Town Council, The Carnival and Sheep Music as well as very generous local individuals. We are in the process of applying for several grants but we are still in need of more money to make this project happen.
Please give whatever you can to make this project a reality and help Presteigne build this fantastic, unique resource.
Any donation of £10 or more will receive a Presteigne Order of Shedwrights pin badge. Or for £100 your name can live on in Presteigne history with your initials carved into the wooden column uprights of the barn.
+ Read More