Pray For Peru - Oren por Peru
$5,124
of $5,000 goal
Raised by
57
people in 1 month
Torrential Rains and uncontrollable landslides are ocurring all over Peru at the moment, killing people, animals and destroying everything on the way leaving more than half million families homeless. This gigantic (country-wide) flood started a couple months ago and it hasn't stopped, it's overflowing rivers, destroying bridges, houses, roads and leaving this third world country in a living nightmare. Running Water Supply has already been cut in many areas of the country and water sales are being limited to 6 bottles pero family. This is my country, the country I was born and raised in and it pains my heart and soul to see my people suffer like this so I decided to take action and do something for my people. I ask with tears in my eyes to please help us, with anything that you can, please open your hearts, any donation is greatly appreciated and will go to help all these families in need. And let's give thanks for everything that we have right now, the warm blanket that we use to cover ourselves at night, the nice breakfast we had today, the running water we see when we open the faucet, the food that we eat everyday and being able to kiss our kids and loved ones good night when we are ready to go to sleep in our cozy beds.
Thank you from the bottom of our hearts in advance.
I will be posting on Facebook the progress of all donations so everyone can monitor where we are at and once we get to our goal of $5K I will also post it on Facebook so everyone knows exactly where the money is going and how your donation is helping our people in Peru.  If you have ANY questions please ask me directly on Facebook, I will be responding to everyone. Thank youuuuuuu!
A little bit about GoFundMe and some FAQ:
- GoFundme was Launched in 2010 and is the world's largest social fundraising platform, with over $3 billion raised so far.
- People have raised more money on GoFundMe than anywhere else.
- Over $1 Million was raised on GoFundMe for Sommalia Relief in Less Than 24 Hours
- Any GoFundMe campaign features the very best in secure payment encryption technology so the online donors' payments are safe.
- Your donation is protected. If anything is not right, GoFundMe will give you a full refund.
- Protecting your generosity is their top priority. If you, law enforcement, or GoFundMe finds that campaign funds have been misused, then you are eligible for a refund.*
Karla Pinillos Rodriguez (Karla De Epstein)

ESPANOL

Lluvias torrenciales y huaycos incontrolables estan ocurriendo en todo el Peru en estos momentos, matando gente, animales y destruyendo todo en el camino dejando mas de medio millon de personas sin lugar donde vivir. Esta inundacion gigantesca a nivel nacional empezo hace un par de meses y no ha parado, esta rebalsando rios, destruyendo puentes, casas, pistas, dejando este pais tercermundista en una pesadilla. El agua potable ya ha sido cortada en muchas areas del pais y las ventas de agua en los supermercados esta siendo limitada a 6 botellas por familia. Este es MI pais, MI Peru, el pais en el que naci y creci y me dule el alma y el corazon de ver a mi gente sufrir asi, por lo que decidi tomar accion y hacer algo para ayudar a mi gente. Les pido con lagrimas en los ojos que por favor nos ayuden, con lo que puedan,por favor abran sus corazones, cualquier monto de donacion es apreciado e ira directamente a ayudar a esta familias tan necesitadas. Y hay que dar gracias por todo lo que tenemos en este momento, la colcha calientita con la que nos tapamos en las noches, el rico desayuno que tomamos hoy, el agua limpia que sale cuando abrimos el cano, la comida de comemos todos los dias y poder darle un besito de las buenas noches a nuestros hijos y seres queridos cuando estamos listos para irnos a dormir en nuestras camitas calientitas. Gracias de todo  corazon en anticipacion.
Estare posteando en Facebook los avances de las donaciones para que la genee este al tanto y una vez que lleguemos a nuestro objetivo de $5,000 posteare en Facebook para que todos sepan exactamente a donde va el dinero y como su aporte ayuda a los damnificados. Cualquier pregunta por favor mandenme directamente al Facebook que estare respondiendo a todos. Graciasss!!
Referencias de GoFundMe y Preguntas Frecuentes:
- GoFundme fue lanzado en el 2010 y es la plataforma mas grande de recaudacion de donaciones del mundo, con mas de $3 billones recaudados desde el 2010 para diferentes campanas. 
- Gente ha recaudado mas donaciones en GoFundMe que en ningun otro sitio.
- Mas de $1 Million fue recaudado en donaciones para los damnificados de Sommalia en menos de 24 horas
- Cualquier campana de GoFundMe campaign esta protegida con "Technologia de Encriptacion de Pago Seguro" para que todos los pagos online de los donantes siempre esten seguros y su tarjeta de credito no sea comprometida.
- Su Donacion esta protegida. SI algo no esta bien, GoFundMe le reembolsara su dinero. 
- Proteger su generosidad es la prioridad de GoFundMe. Si usted, la ley o GoFundMe encuentra que los fondos de cualquier campana han sido usados para otros propositos, usted es elegible para un reembolso. Para mas informacion, visite GoFundMe.com
Karla Pinillos Rodriguez (Karla De Epstein)
<iframe media_type="0" media_id="VLz1OTkDPjI" class="youtube-replace" title="YouTube video player" style="margin-bottom:20px;width:560px;height:315px;" src="//www.youtube.com/embed/VLz1OTkDPjI/?rel=0" frameborder="0" allowfullscreen="1"></iframe>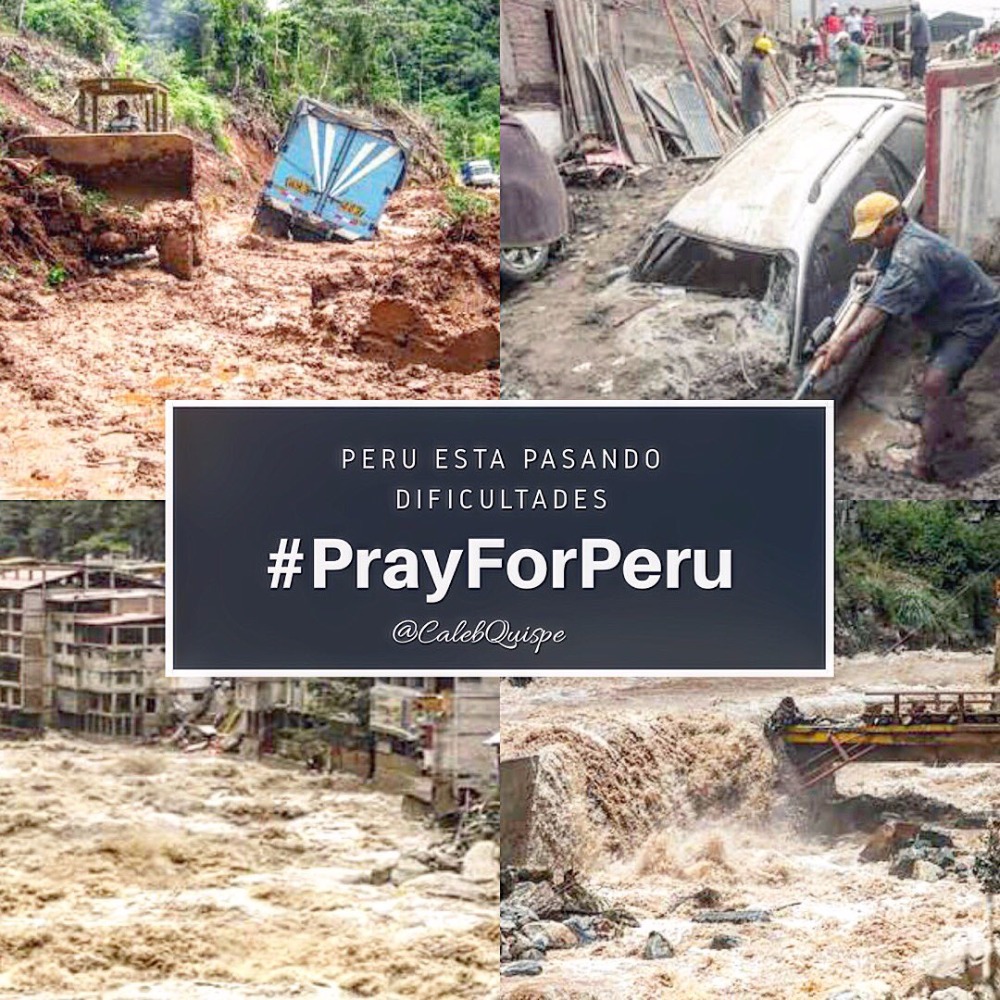 + Read More
Pray For Peru - Oren por Peru has reached 52% of its goal. Thanks to Supporters like you! Please spread the word and help us get to our final goal.
Mi Campaña de #PrayforPeru ya ha conseguido más del 50% del objetivo trazado, gracias a personas como tú! Por favor compartan el link en sus portales de social media y Ayúdennos a llegar a nuestro objetivo final! La gente de Perú se los agradecerá!
+ Read More
Update 1
Posted by Karla Pinillos
1 month ago
Share
Cualquier donacion por mas pequena que sea es una gigantesca ayuda.
Any donation, even the smallest is a huge help. Please REPOST #PrayForPeru #AyudenAPeru
+ Read More
Read a Previous Update
Be the first to leave a comment on this campaign.