648
14
Help Devotee Family in Distress
$26,192
of $32,000 goal
Raised by
242
people in 13 months
Help Advaita Chandra's FamilyEnd Their Heartbreaking 8 Year Ordeal. 
My name is Hari-sauri das and I have been a close friend of Advaita Chandra and his family for 38 years. Their son Chaitanya's  2 suicide attempts, 35 stays in hospitals, as well as massive medical bills  have had a devastating impact on their emotional, physical and mental well-being. Financially crippled with the loss of their home, savings and most of their possessions, they need help now to pay for Chaitanya's urgent hospitalization and medical care for Advaita's declining health. 
Many senior devotees are familiar with Advaita Chandra Prabhu and his wife Radha Sundari dasi. They have been active, full-time devotees since 1980. Both gave up successful careers, he in business in NZ and the UK, and she as a top model in New York and Europe, to dedicate their lives to Prabhupada's mission. Both are initiated by HH Sivarama Swami. They live in Sri Dham Mayapur with their two children, Chaitanya Nitai Prana das and Kishori Radha dasi. 
Advaita is a real gentleman. I have never seen him get angry in the 38 years I have known him. He is extremely hard working and has rendered invaluable service over the years. 
He has been a trustee of Srila Prabhupada's Mayapur Vrndavan Trust for 30 years. 20 years ago he founded Torchlight Publishing which has distributed devotional books world-wide in 27 languages.  In 2005 he moved to Mayapur with his family so he could assist Ambarish Prabhu with the development of the TOVP, and on completion of that service they continued to remain there.
Reversal of Fortune
Unfortunately the family has suffered a severe reversal of fortune since January 2010 when their son Chaitanya tried to commit suicide by jumping from the roof of a six-story building in Mayapur. At the time he was 20 years old and we have since come to find out, was suffering from mental illness. Due to his psychological imbalance and depression over his crippled life, he tried a second time to kill himself in September 2015. 
By Krsna's mercy he miraculously survived both attempts, but suffered multiple injuries including an L3 spinal injury and serious fractures to his sacrum (base of spine) and both ankles and wrists.
Hospitalization and Permanent Disability
Over the last 8 years Chaitanya has been in and out of various hospitals 35 times in Thailand, India, and New Zealand, undergoing 12 different operations.
He is clinically disabled and his physical condition, including bladder and bowel dysfunction requires daily assistance. He has nerve damage in his legs but after 8 years of treatment is now able to walk with crutches to some extent and is ambulatory in a wheelchair. 
Concurrent with his physical condition he has suffered mental instability and since 2010 has been receiving psychiatric care.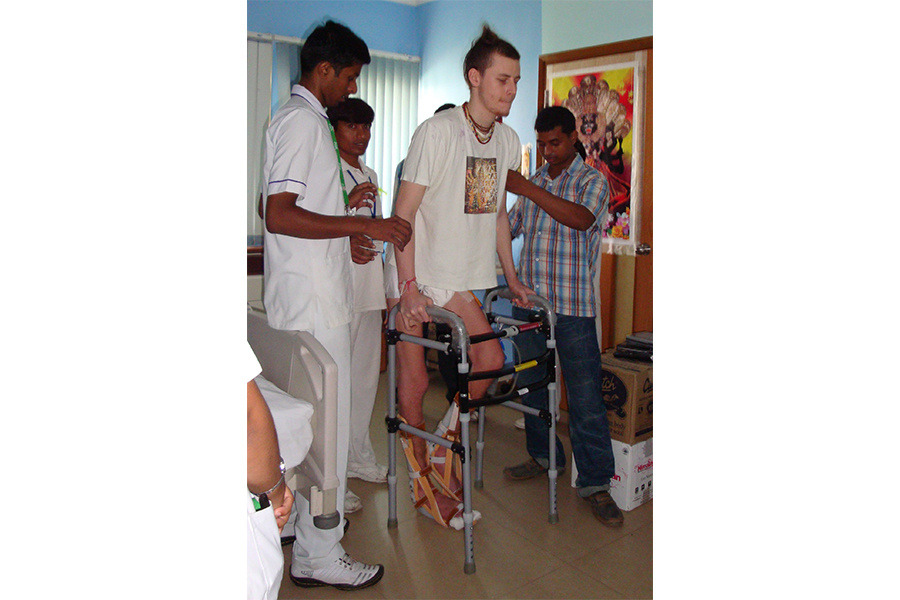 Re-integration into the Community
Returning to Mayapur it seemed that Chaitanya was on the road to recovery and that he could resume a semi-normal life within the ISKCON community. He was chanting 16 rounds every day, read all of Srila Prabhupada's books, learnt Bengali so that he could distribute books to the pilgrims, observed Nirjal every Ekadasi and was initiated by HH Lokanath Swami. He began helping his father in his Torchlight Publishing business. He appeared to be managing his daily life reasonably well with a helper who would wheel him in his wheelchair and assist him, particularly with his beloved book distribution outside the Temple.
Current Set-back
However, from late February 2018 he suffered a rapid deterioration of mental health. Whereas he used to be known for his polite and gentlemanly manner and speech, he began to display unexpected aggression, anger, and delusions. 
It became impossible for his parents to manage his care at home. At the beginning of April he was admitted by his psychiatrist, Dr. Basu, to a clinic in Kolkata and needs to remain under the care of mental health professionals in a protected environment for the next 6-12 months. 
Old Age and Disease
His parents are now 70 years old and beginning themselves to experience the debilitation that comes with advancing age. In 2012 Advaita Chandra Prabhu was diagnosed with Parkinson's Disease. Last year, after suffering a bad fall, he broke his hip and had to have two replacement operations to fix it (the first one was botched and the success of the second one is still uncertain). In the last 2 years he has also had three hernia operations. He is physically frail and realistically, his working life is over.
Radha Sundari has spent the last few years, often under intense emotional and mental stress, running the household and caring for the needs of her husband, son and daughter Kishori, all of whom have suffered in various ways from Post Traumatic Stress Syndrome.  
How You can Help
Advaita and Radha Sundari are wonderful, caring parents and committed devotees. For the last 8 years they have tried to the best of their ability to manage Chaitanya's care at home in Mayapur and facilitate his numerous hospital stays and operations.   
They are now physically and emotionally drained. Although initially, kind friends and family stepped forward in 2010 to help with Chaitanya's urgent surgeries, because of the ongoing expenses associated with his medical care they have suffered severe financial hardship, losing all their savings, their home, car, furniture and many of their possessions. Advaita still tries to work from home but he can no longer secure an income as before and they are scraping by on a small government pension and help from family.
As a result they no longer have the resources to cover the costs of Chaitanya's urgently needed hospitalisation and rehabilitation.
Realistic Goals for the Near Future
The doctors feel that with the right care and counselling Chaitanya can return to a reasonably semi-independent life as part of the greater Mayapur community.  
Our Aim with this Campaign is to Raise Sufficient Funds to Realize the Following Objectives:
·
  Physical rehabilitation to optimize Chaitanya's walking ability and mobility
·  
Through the implementation of psychiatric care and psychological counselling, to rehabilitate him to a point where he is able to live and work in the general community
· 
  To enable Advaita Chandra and Radha Sundari  to recuperate from the constant ordeal of the last 8 years so they have the time and resources to regroup and make positive plans for the future of the family 
As we all know, health care is expensive. Even in India, where it is significantly cheaper than in the West, to meet the needs of Chaitanya's treatment for the next one year will cost approximately $32,000.00. This funding will cover the expenses of Chaitanya's full-time medical and psychological care in a residential mental health facility. 
It is our humble request to our readers to help them realize this goal.  
Every contribution, large or small, will help.  
The family is feeling overwhelmed with humility and gratitude at the thought of devotees far and wide offering them assistance. They would like to reciprocate by doing a Nrsimha-puja in Mayapur for each person and family that makes a contribution.
Hare Krishna
Thank you for giving your valuable time to read this appeal 
Your humble servant
Hari-sauri das 
Donations can be made to the following: 
https://www.gofundme.com/please-help-devotee-family
+ Read More