Help Addi get her Service Dog Barry
$5,100
of $8,427 goal
Raised by
56
people in 35 months
This page is to help fund the purchase and upkeep of Barry, a Golden Doodle who will be professionally trained to become Addison's certified Service Dog. Addison lives with Tourette's Syndrome coupled with severe neurological tics. Medication and a complex treatment plan helps, but Barry will help fill in the gaps with his comforting presence and remarkable skills.
Mix 1/2 Golden Retriever with 1/2 Standard Poodle along with 3/4 awesome and you'll get Barry. He is an extremely intelligent rock star who showed an immediate interest in helping Addison when they first met. His mission is to be a source of comfort for Addison, a permanent 24/7 companion, not a cuddly pet with a fuzzy head. He'll keep her busy mind focused on him to help keep her Tourette's at bay. Barry will sense when Tic's are sneaking up and help provide distraction and deflection. Helping to keep the Tourette's under control is what Addison needs to get back into life, back into school, and go on to become the person she deserves to be.
Addison was a "typical" 12-year-old from middle-America who enjoyed singing, music, soccer and texting with friends. She woke up and went to school one day no different than any other. Not feeling well after lunch she went to the school nurse who prescribed the standard Tylenol and early dismissal slip. Shortly after getting home we noticed Addi had a twitch. Ever so slight, something new and odd. Concerned, mom took her to the after hours clinic. That morphed into the Emergency room, then a week stay in Childrens Hospital filled with dozens of tests, blood work and differing medical opinions. Those small twitches had grown considerably as had their frequency & intensity. In the coming weeks Addi had a Neurologist, the best in our area, who described her Tourette's as "the absolute worst" he'd seen in his 30+ years of practice. In typical Addi fashion, she had given it 110%.
For summer vacation Addison spent 2 weeks at Children's Hospital in Fort Worth getting better but growing no closer to finding a fix. That fall she was able to be seen by a world-famous leading TS researcher in Houston who normally has a 2-3 year waiting list. He prescribed a horribly expensive but very effective new medication that Addi is doing pretty good on. Retail-wise Addi takes a few hundred dollars worth of pills per day, so we are grateful for our insurance. Being stable on medication has eliminated the need for Addi to be confined to a wheelchair. But there is still a gap, a need for something more. A Service Dog has been suggested several times by various medical professionals and after months of research we're reached a point where we are ready to move on it.
Addi spends most of her days at her mom's office thanks to the caring and generous nature of Kim's employer. They were kind enough to offer Kim a private office with a second desk area for Addi to do online classes. Barry will feel right at home at the office and will surely grow to dislike Algebra more than any dog should.
We've put a significant down-payment on Barry and will make monthly payments on him until he is paid off. The initial purchase price is just the beginning of the expenses associated with a Service Dog. For the rest of his working life (12-15 years or more) Barry will be on a strict diet of rather expensive dog food. In order to ensure maximum mental and physical health is acheived and maintained, Barry will be on a diet of specialty dog food not found in your grocery store. We are looking at $100 a month just for food. He will require regular medical care and screening by a vet unlike that of a normal house dog. Since Barry will be with Addi 24/7, regular grooming and maintenence is required. Nobody wants to smell a dog while having dinner at a restaurant. To provide him protection while traveling or during storms, even Barry's cage is going to be expensive at over $300.
Requesting funds and donations is uncharacteristic of Addison's parents David & Kim. It was a difficult decision to make creating this page, but the fact that 100% of it will go to improve Addison's life certainly made it much easier. Please know that whatever you are able to give will be of tremendous help now and in the future. In the meantime David will continue to work his second job, always keeping an eye out for another 3rd.
Should Addi's condition improve in the coming years to the point where a Service Dog is no longer required, we will gift Barry to another family needing one.
If you have any questions, comments, or concerns for David, Kim, Addison or even Barry, please click on the 'contact' button below to email us. To learn more about Tourette's Syndrome, visit tsa-usa.org or Wikipedia
http://en.wikipedia.org/wiki/Tourette_syndrome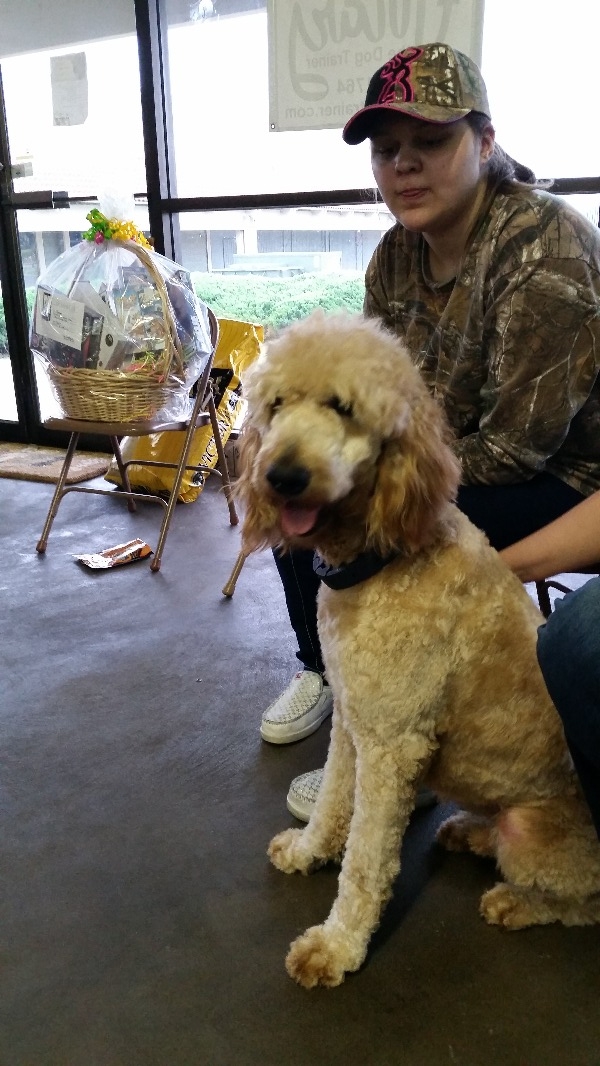 + Read More
Be the first to leave a comment on this campaign.