Uplift Washington DC Youth/Families
$160
of $80,000 goal
Raised by
3
people in 44 months
As a grassroots organiztion we depend upon the donations of concerned everday  citizens like you! It takes a villege to raise a youth!

The Amy Jacques Garvey Institute, Inc is a 501(C) (3) educational, charitable, humanitarian, institutional, social, friendly, constructive and expansive Institute. We have partnerships with local businesses and organizations in providing work experience to local youths. We are aware of the personal developmental issues that hinder our youth in progressing in the workforce as well as life. As the years progressed we incorporated more practical training programs such as Telecommunications training in voice, date, and video. Also our youth study office operations, computer tech positions, computer software programming, and life-skills training.

Starting in the summer of 2006 Amy Jacques Garvey Institute started providing work experience in health services, insurance, and graphic design to thirty youths. We also provided training in office operations, community outreach, literary correspondence, computer technology, media arts, gold and business management. All in partnership with Nationwide Insurance, Private media agencies, the R.L Christian community Library, volunteer writers and editors, local businesses, Free Advice, Inc., The First Tee Golf training, and the Peoples MEDIA Center.

2007 started the catalyst for more innovation. In summer 2007 our youth worked in a variety of areas including health services, community outreach, artistic management, library sciences, office operation, and historical research in partnerships with organizations such as DC ACORN, TransAfrica Forum, Young Woman's Drumming Empowerment Project, Family Preservation Society, and our local dentist: Dr. Heyward Burrell. Our Media Leadership Trainees received instructions in telecommunications systems, computer technology, Diversity and Conflict Resolution. Training in Audio/Visual Journalism was provided in partnership with the Peoples MEDIA Center, the American Friends Service Committee and WPFW radio station. Our Civic Leadership Trainees received instruction in Life science, D.C History American Sign Language, community Service, African Dancing and Drumming, Golf, and Life Principles, and Self-Esteem Life Skills from the Amy Jacques Garvey Institute in partnership with Gallaudet University, Green Plants, and Literacy Society.

Starting in 2008 we added more cultural experiences and parental involvement in our programming. We also included more project based learning activities to inspire academic principles and project time management without the youth feeling like they were still in school.Since 2008 Amy Jacques Garvey Institute has been providing year round services to 45 high school youths. We are providing them with daily tutoring, life skills, and leadership development programming, as well as career development, daily life, school, and family support services. In 2010 Amy Jacques continued community outreach: We marched in the 2nd annual Nannie Helen Burroughs Day Parade which inspired out next project: a summer time community Mapping/Urban Anthropology Project on Nannie Helen Burroughs Avenue in ward 7. Also we had a Public Service Announcement Project where our youth participants produced 4 public service announcements(2 video, 1 radio, 1 print) on issues such as don't text messaging while driving, don't do drugs, and don't smoke. All targeted toward At-risk youth in Washington, DC.


In 2012 we expanded our services to include a all day Summer day camp for youth ages 5-13.  And in 2013 our servces expaned again to include an ongoing project: The College, Career, and Life Mentorship year-round program.

Amy Jacques Garvey Institute continues to be on the front lines of a larger effort to save our youth! Our focus are Washington DC youth who are at-risk of becoming disconnected from their paths toward a fulfilling life and a benefit to their community and family We believe our program design has the essential elements necessary to best meet the needs or our target population: At-risk youth in Washington, DC., ages 14-24, living in wards, 5, 7, and 8 of Washington, D.C. These are the youths we have consistently served since 1985, with the majority living in wards 7 and 8. There is an urgent need to help at-risk and underserved district youth complete high school and continue their education to prepare them for productive lives in society. We continue our goal of surrounding a at-risk youths with caring people that have been consistent in their lives, that they have to do something positive with their lives, and they know who they can go to for any of their needs. This is the mission of Amy Jacques Garvey Institute!

As a grassroots organiztion we depend upon the donations of concerned citizens like you! Thank you!
+ Read More
Update 2
12 months ago
Share
Please view our 2017 Summer recap! We truly do appreciate all donations! We Focus on at risk youth in inner city Washington DC! Thank you!
+ Read More
Update 1
43 months ago
Share
This summer we will be training 160 teenagers at Randall Memorial United Methodist Church in the areas of Audio/Visual Production, Financial Literacy, Scholarships and Internships, and Entrepreneurship along with field trips to golf courses, Goddard Space Station, and many other fun and educational locations. We need the support of our community to continue and sustain this work for the youth of DC.

Kingsley Bryan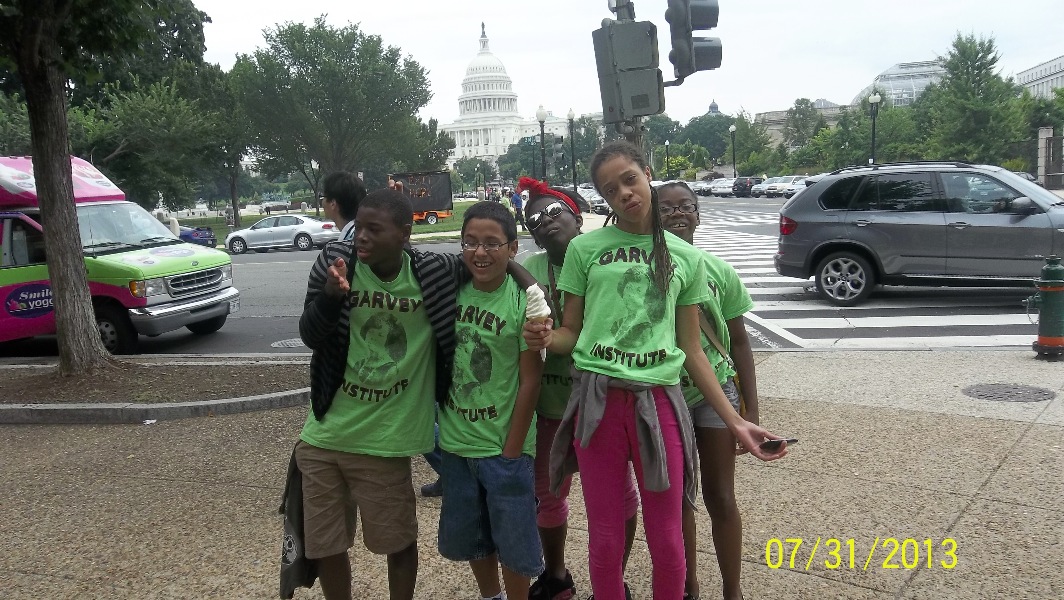 + Read More
Read a Previous Update
Be the first to leave a comment on this campaign.